Middlesex in a Stew(art)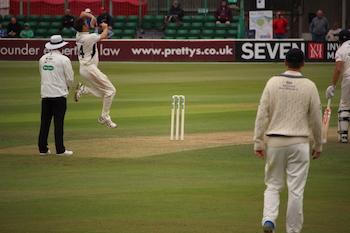 Murts bowled well
By London Leprechaun
June 26 2018
London Leprecahun gives us a remote view of the 2nd day at Canterbury. After the drama of day1 this is not much better. Not helped by constant drops in the radio feed.
Having decided not to go to Canterbury for health reasons- not the score but a serious attack of hay fever I am following this day by radio. Last night both commentators and even Kent supporters were calling the evening session close to farce. Be interesting to see what they say today.
Unfortunately, the commentary goes down after less than an over, although even in that time it is noted that the wicket is slower and back to the day time pace. Not that is matters either way because my phone tells me that Murts is out and it is all over. Am assuming Kent won't enforce the follow on so they don't have to bat tonight.
Meanwhile the 2nd XI nearly pull of another spectacular last over finish also against Kent.
The commentary comes back as Kent are making a solid start. But Murtagh strikes twice quickly. There is still some hope in the match but we need to bat again in the sunshine before twilight. Kent may declare at tea of course. The commentator conversation is about whether it is good for cricket for the tactics of a match to be decided by the twilight hour and for the winner of the toss to be almost guaranteed the advantage.
For me this is all part of the marginalising of the County Championship. Floodlights at the longest time of daylight; just a day between matches when we have had very little cricket before; two of our (and other Counties) best players pulled out of these matches for meaningless one day games which only impact one day in each match.
Kent are consolidating slowly, and the commentary chat is still about last night. When even Kent supporters are saying what happened last night was not right you know something went badly wrong in terms of balance between bat and ball. And that it was not just one of those things that can happen on green tops. And that the circumstances of this match are different to the other Division two games because Middlesex started batting later than the other matches.
The third wicket is Denly – with the ball stopping on him from a slow wicket. Is there still a chance and how can we make sure we are batting well before tea.
Commentary went off again just before lunch but Kent only three wickets down.
Post lunch session sounds like a waiting game. Unless we get seven wickets in a rush Kent will amble along and then declare around tea and the twilight zone will beckon. It has a slight unreal feel about it.
With Kuhn out after half an hour – unhappily and slowly walking off the match opens up possibly. Shortly after Billings is clean bowled and the game really is opened up if we can bat before that witching hour strikes.
When Rowse is out and Kent are 6 down for not much we need to bowl them out quickly now and bat while there is still sunshine. Not that this is the easiest wicket to bat on anyway. The feed goes again but two more wickets go before I manage to get it back on the phone.
The feed is back with nine wickets down and Kent on a charge. Declare or be bowled out. Assuming of course the carnage repeats itself. It's not quite as late as when Middlesex batted yesterday. But we do need to recover our ruthlessness when sides are 6/7 wickets down whatever kind of match we are playing in.
The charge turns into carnage as Stewart gets to a century with some massive blows; shades of Scarborough two years ago. But it won't be as easy with a new pink ball. Stewart gets to a whirlwind century and gets out.
What a tough environment for Max Holden and sadly it does not last. The ball already hooping and a third ball dismissal does not bode well. The feed goes again but the ominous beep on the phone signals Eskinazi's wicket. But thankfully no more beeps and two wickets down is a minor victory. Now how many did we chase against Yorkshire a while ago? OK I'll get my coat.
View a Printer Friendly version of this Story.
Middlesex in a Stew(art)
Middlesex till we die (IP Logged)
26/06/2018 22:06
What do you think? You can have your say by posting below.
If you do not already have an account
Click here to Register
.
Edited 1 time(s). Last edit at 2018:07:01:20:00:39 by BarmierKev.
Re: Middlesex in a Stew(art)
27/06/2018 06:13
May I thank LL for an informative report. It has been a quite remarkable match. We would prefer it if our own last pair would be able to put on 100. Especially with the last man blocking heroically for 36 balls for his 1*.

We trust that the wicket settles down today so we can start building some significant partnerships.
Sorry, only registered users may post in this forum.