Like Peas Poor in a Pod More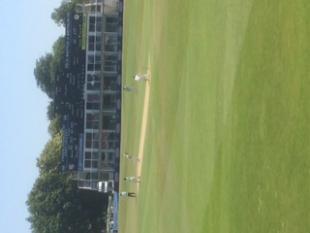 Our season upside down
By Rogers and Out
June 28 2018
Despite some late entertainment from Tim Murtagh, this was yet another day to forget for the Middlesex faithful as we were well and truly thrashed by Kent, to the tune of 342 runs, at a sun baked Canterbury After the narrow win at Leicester had appeared to re-ignite our flickering hopes for promotion, this abject performance surely points to a second season in Division Two.To add insult to injury, the recently released Harry Podmore was our nemesis today, and his 6/36 in 14 overs in this innings was too good for us to handle.


I had missed day one due to holiday commitments and opted for Second XI T20 action at Uxbridge yesterday although we were beaten by Kent then as well in both games.

I read and heard all the excuses about twilight and different pink balls, although it didn't seem to affect Kent's number ten Grant Stewart, whose century had left us a mountain to climb today.

On arrival at the ground, I took up my seat in the excellent Underwood/Knott stand with Seaxe Man and The Power, hoping for at least a show of gumption.

Sadly, a few cameos apart, this did not happen. Sam edged Stewart to the slips in the second over of the day and at 27/3, the writing was already on the wall.

Our captain came in and lasted all of two balls, Rouse taking the catch behind off Hammersmith Harry. A pair for him and we're 36/4.

Ravi had battled away as night watchman, but he departed after he fended a brute of a ball from Stewart to Bell-Drummond at fourth slip.

George Scott was next man in and facing his first ball, he did well to dig out a wicked Yorker from the in form Stewart.

Hilton, in what I'm assuming is his last game for us, was next out, leg before to Poddy for four and we are on the brink at 48/6.

Simmo and George managed to notch a few boundaries at this point as the bowlers tired. Just as I thought that Harry was about to be taken off, he struck twice, removing both Simmo and young George, who will be disappointed that he edged a wide one to Dickson.

JK Fuller hit a couple of boundaries before he became a victim of Ivan Thomas, again caught in the slips by Dickson.

All that was left was for Murts to show up the rest of the batting by bludgeoning forty runs off twenty one balls, before Thomas's slower ball castled him and we were all out for 124.

I have seen some poor days of cricket this season so far. Day two at Derby was dire, as was day one at Leicester. However, today took the biscuit and we appear to have some serious problems at our club.

Kent are a good side, and look set to be contenders for promotion, but we are way off the pace at present. Had it not been for that last gasp win at Leicester, we would be contenders for the wooden spoon.

I consoled myself with a few beers at the very good Thomas Tallis Alehouse. I got talking to some knowledgeable Kent fans, who were surprised at how poor we were.

On a final note, I'm beginning to tire of some of the platitudes trotted out by our hierarchy, culminating in Richard Scott writing off this match as a 'farce'. I understand that it was also said that it would be 'unimaginable' if we failed to get promoted this season. Arrogance coupled with complacency have left us in this poor situation and maybe a few heads need to roll to get us back on course.