Stirling Remains Strong Throughout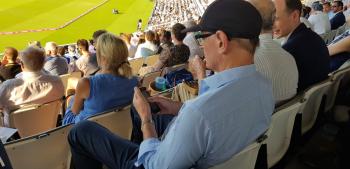 Enthralled fan
By Fozzie
July 6 2018
A pulsating, enthralling, exasperating but ultimately joyous start to our T20 campaign, and of course putting one over Surrey is always a cause for celebration. Those of you watching on TV will have had a far clearer view of the ins and outs than I did from the back of the Upper Tavern, so rather than a blow-by-blow account here are some random thoughts and impressions.
Starting with:
An oxymoron
A beautiful summer evening, a packed-out Lord's, and the two teams come on to the field….to the accompaniment of the Lightning Seeds singing "football's coming home". What's that all about? Give us back our cricket season!
A mixed day in the field
I thought we looked a bit off the pace at first, with Burns benefitting from consecutive boundaries in the opening over off a missed chance by Bravo (of whom more anon) and a misfield. Cue a close-up of the unfortunate bowler, Tom, looking somewhat disenchanted with life. And it looked like Surrey might get away from us in the power play, despite an early wicket by Stirlo. I got rather perplexed by the continual bowling changes in the first eight overs, and at times it seemed as if Dawid Malan had almost too many options – James Fuller seemed surplus to requirements, while, bizarrely, Ravi was only given two overs after Stirlo and Nathan had already shown the effectiveness of spin.
Rickeee Clarke made a very impressive 50, showing all his experience and wiles, but just when he might have taken the game away from us he made a huge mistake, trying an extravagant scoop of the first ball of Tom's spell at the death. Hilton ran out Pope in the same over, and Tom and Bravo took the wind right out of the Surrey sails for the rest of the innings. 158 seemed somewhat under par.
The legend that is Paul Stirling
Just a brilliant all-round performance, starting with four single-over spells against the Surrey top order, taking 3-26 and a smart diving catch off his own bowling. Then a wonderful knock of 66, initially keeping the ball on the ground before launching Morkel for two big 6s once he had his eye in. He was simply a joy to watch, and he even found time to pick up the Player of the Month award for June in the interval.
I hoped that Stirlo wouldn't take Nora Batty on, though I did enjoy Nora's dropped return catch. Still, you can't really complain when someone who's going as well as him gets caught on the boundary, having basically set up the victory. Even though Gubbo (a good knock, ticking along at a run a ball and giving the strike to Stirlo as much as possible) was out next ball. But that brought in
Dwayne "the champion" Bravo
As the PA announced him, and for all I know is contractually obliged to do so. Bravo had had a mixed start, with that missed chance and his first three deliveries being a wide and two boundaries, though his bowling at the death made amends. Now neither he nor Eski had faced a ball, but there was only 70 to win off 11 overs. So what does he do? Only try to hit the second ball he faced out of the ground, giving a simple catch. Eski goes next ball, and we're on an omnicluster, with yet again two batsmen who haven't faced a ball.
The description "glory-hunter" sprung to mind, and I couldn't help noticing that as Bravo slowly trudged back to the bench he went to sit alone and nobody came to speak to him. Though maybe I'm reading too much into that. But anyway, that brought in
Our other overseas player
Now I don't think one could describe Hilton Cartwright as a star, and one definitely wouldn't want to stake the mortgage on his batting. But he seems to me to be appreciated by his team-mates for always trying to put a shift in, and he, Simmo and JK delivered sensible, level-headed batting, with plenty of good running between the wickets, to see us home. I was really pleased for Hilton, and for JK too who played a very good cameo just when it was needed. Phew!
Surrey get their excuses in early
I gather that much was made of the absentees from the Surrey team, and even Kevin Hand was getting in on the act. So kudos to someone called Alex who tweeted Kevin to point out that we were missing Morgan, Agar, Finny and TRJ without making a big fuss about it. Sometimes you just have to do your talking on the field…
On to Chelmsford…
So, a great start, but now we've got to do it all over again 24 hours later at Chelmsford. The batting looks a bit suspect, particularly with Mala returning to England. Try not to leave it all to Stirlo to do, lads!