Our glass is less than half Fuller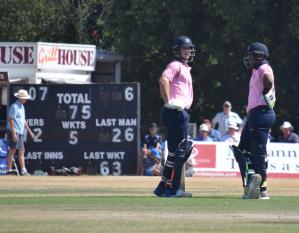 How much are you paid?
By Darren Gosling
July 8 2018
Darren Gosling provides a full summary of a comprehensive defeat to our 20/20 nemessis team. This report carries a MYWD health warning.
Having lost their opening game against Somerset batting first, Gloucs skipper Michael Klinger - having won the toss - had no hesitation in asking Middlesex to bat first. Gloucs made one change with Matt Taylor in for Liam Norwell, while Middlesex welcomed back skipper Dawid Malan (for Max Holden) and George Scott (I believe) a very late replacement for Ravi Patel.
The Middlesex innings got off to the worst possible start with our leading run scorer in this format Malan departing for a duck, chipping a soft caught and bowled chance back to David Payne with the score on 2. Things got even worse next over with Paul Stirling departing for just a single, edging Matt Taylor behind to keeper Gareth Roderick.
Nick Gubbins and Stevie Eskinazi set about giving the innings some impetus with Gubbins in particular looking good, hitting 4 fours in his first 7 balls faced. Unfortunately Gubbins' innings came to an abrupt halt on 19 when a huge swing and a miss resulted in a feather to the keeper off the bowling of Thisara Perera.
Eskinazi and John Simpson managed to hit 13 off the final powerplay over to lift Middx to 49-3 off 6 overs.
Benny Howell and Middx reject Tom Smith then put the brakes on Middx in the next few overs with disaster striking in the 9thover with Middx losing two wickets in 3 balls. Simpson (13) was the first to go with Jack Taylor taking a running catch square of the wicket off the impressive Howell. Howell then limped off two balls later with another former Middx man Ryan Higgins asked to complete the over. Having begun with a wide Higgins then removed Eskinazi (26) caught behind, with his first legitimate delivery to leave the Middx innings floundering at 63-5 with just 9 overs gone.
Our two (current) overseas players Dwayne Bravo and Hilton Cartwright were now at the crease and had the unenviable task of trying repair the damage and getting us up to a defendable score. The next 5 overs yielded just 22 runs for Middx with Bravo in particular struggling to get the spinner Smith away. Smith finished his spell with vey impressive figures of 4-0-15-0 which included 10 dot balls and no boundaries, leaving Middx 85-5 off 14 overs.
Higgins bowled the 15thover (for 15 runs) as Bravo went after him hitting 3 fours (2 of which landed just short of the boundary rope) as he looked to up the scoring rate. Unfortunately his partner Cartwright (24) departed off the last ball of the next over with Jack Taylor taking his second catch this time off Payne to leave Middx 110-6.
Following a tight 17thover from Perera, Bravo once again lashed out in the 18thover, hitting the game's fist six before unfortunately hitting his own wicket (for 34) off the bowling of Matt Taylor. This left Middx on a woeful score of 127-7 with just 15 balls remaining as James Fuller joined George Scott at the crease.
The penultimate over from Perera was the highlight of the day for Middx fans as Fuller went ballistic smashing 22 runs off the over (including 2 x 6 and 2 x 4) as he proceeded to make a complete mockery of his no.9 position on the scorecard.
The Middlesex innings closed with another six from Fuller off the last ball from Payne to lift Middx to 160-5, Fuller all but top scoring with 33 off just 12 balls at a strike rate of 275.00. The general consensus was that Middx were at least 20 runs short of a competitive score – if only Fuller had come in earlier.
Gloucs's openers Michael Klinger (15) and Miles Hammond (28) got off to a flyer seeing their team race to 47-0 off the first 5 overs, during which Middx used Stirling, Helm and Fuller to try and stem the flow of runs. The final powerplay over saw the introduction of Dwayne Bravo to try and break the partnership. Hammond hit Bravo for two fours before substitute fielder James Harris took an excellent diving catch to remove him. Hammond departing having hit 36 off 21 balls.
Iain Cockbain joined Klinger at the crease and the pair proceeded to tick the scoreboard along without having to take any risks, Gloucs reaching the 10 over point on 91-1 with just 70 needed from 60 balls. Cockbain (15) then holed out to Cartwright who made amends for an early misfield by taking a good running catch on the boundary off of Stirling.
Roderick came to the wicket and quickly looked to the keep the scoreboard moving while Klinger continued to play a more sedate but important role in anchoring the innings as he passed 50 off 42 balls which included just two boundaries.
Roderick had reached 24 off just 15 balls before he lofted a simple caught and bowled chance back to Malan to leave Gloucs on 137-3, needing just 24 runs off the last 4 overs.
Helm then went for 12 runs in the 17thover before Bravo returned to finally bowl a weary Klinger (58) leaving Gloucs on 152-4 with just 9 needed runs off the last 14 balls. Jack Taylor smashed Helm for a six and a four as Gloucs coasted home by six wickets with 8 balls to spare.
Gloucs left Uxbridge remaining very much our bogey side in this format – just 1 win in 14 attempts for the Middle. Uxbridge too is becoming a bogey ground in this format – having been undefeated here for the first six years we have now lost 9 of the last 13 T20's played here. But on this showing it wouldn't matter where we play to be honest!