Middlesex not Abell to Hold on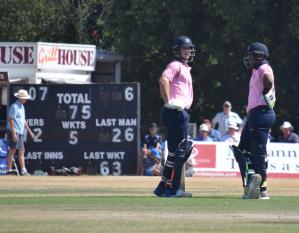 Nearly a Bravo match
By London Leprechaun
July 20 2018
London Leprechaun reports on another disappointing perforamnce after a decent start. Not much more to say really.
It felt a bit strange to be preparing to go to a cricket match this afternoon. The bizarre T20 fixture list by which we played three games in a row and then twiddled our thumbs for ten days meant I had lost track of the whole competition and to be honest a little bit of interest.
Anyhow a smooth journey and easy entry meant I arrived in plenty of time for the match and could see all the attempt to hype up the game and create atmosphere. A decent crowd was gathering though judging by conversations in the Warner Stand very few were interested in the prematch hype – announcing players by name, interviewing spectators and showing the toss live. The hubbub of noise went on through all of that, though it might have helped if we could hear the sound clearly.
There were lots of cameras at the game and, in between crowd shots, hamper giveaways and tshirts thrown at the crowd they showed the cricket as if it was on main stream TV. But the live stream, I gathered from others not at the match, was only the fixed camera. Which seemed a bit odd.
Writing about all this is diverting me from writing about the match itself, which I have no great desire to remember after the first ten overs. We started well, both Stirlo and Max Holden looking busy, wanting to rotate strike and crunching a few boundaries. Even when Stirlo was out to a soft dismissal, the busyness continued. So much so that we got to ten overs with 81 on the board and only one wicket down. A good platform. And considering that Somerset were rotating their bowlers every over (no one bowled two overs in succession) which must be unsettling for batsmen I felt we were in good shape. But we failed to accelerate. We rotated singles well – something we have not always done – but we could not get boundaries. Max was a good anchor but he got stuck, could not hit the ball cleanly and the run rate subsided. Sadly, Simmo can't buy a run at the moment and probably should not have come in when he did. From looking good for 200 after ten overs, we looked to be struggling for 150 until Bravo and Ashton Agar thumped the ball for a series of sixes over the last two overs which got us up to a potentially defendable score, though lighter than it should have been. Would the last ball of the innings prove decisive? Agar drove the ball to mid on, they set of for one, Bravo turned for two, Agar didn't; both batsmen ended up at the bowlers end, only for a Somerset misfield to gift us a boundary rather than a run out. Remarkably Somerset did not bowl a single wide. And only two extras in the whole innings.
Seeing Eoin Morgan captain the side, rather then Finny made we wonder if coaching decisions earlier in the season are now being changed or was he only ever going to captain the 50 over side? Anyhow, whoever the captain we needed to get wickets early to stop Somerset racing away. An early wicket with Stirlo calling early and taking a smart running catch gave us some hope, but Somerset got away too fast. Using Finny's speed and Agar's lack of something they were well away by the end of the power play. Bravo pegged them back with two in two balls, but some brutal hitting by Trego and then Anderson took the match way beyond us before Tom Helm got a couple of late wickets – one caught by James Fuller – whose sole purpose in the match seemed to be to take the catch to give us a little hope before Somerset strolled home courtesy of more brutal hitting from Lewis Gregory – who is not coming to Middlesex – and then four byes through Simmo's legs before the final runs with much time to spare.
Reflecting afterwards –
we so often end up twenty runs short – this time it was shortage of boundaries, rather than willingness to run singles;
we often seem to have one person who does not bowl; to the bafflement of spectators – this time it was Fuller, Stirling and even Holden.
Are really pacy bowlers the best option to open the bowling when runs can leak quickly;
Will we stick to one overseas player when Bravo goes next week; has Hilton Cartwright left for over;
Is our rotating captaincy helping things this season.
We have won six matches all season and it is mid July. We need something to happen quickly.
View a Printer Friendly version of this Story.
Middlesex not Abell to Hold on
Middlesex till we die (IP Logged)
20/07/2018 17:47
What do you think? You can have your say by posting below.
If you do not already have an account
Click here to Register
.
Edited 1 time(s). Last edit at 2018:07:22:13:15:25 by BarmierKev.
Sorry, only registered users may post in this forum.