We are on the Rhodes to Nowhere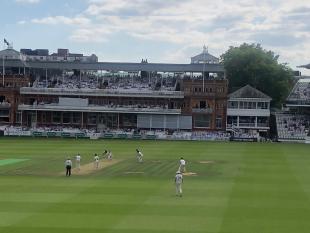 Under Pressure
By Barmy Kev
July 23 2018
The last time I was at Thomas Lord's ground was for the full house against Surrey. My views on the awful atmosphere of that day have been well documented. Today, it was more pleasant having space, proper cricket fans and no "Football's Coming Home" music at crucial times .
With match evenly poised and a result likely an early wicket for us is needed. It didn't materialise with the ball swinging and boundaries in that third man, long leg area. Wright eventually out with a wild swipe after a frustrating 25 minutes. Woakes and Ambrose didn't last long and we are back in it. As I am saying Warwickshire seem to always manage big late order stands against us, my comment produces the wicket of Patel when they are close to our score. We could not bowl them out before lunch. Rhodes on 93 Warks have a slight lead.

There was a meeting of our ex players in the Coronation Gardens during lunch. To my surprise Compo was not there. As I was circulating the ground visited the Middlesex Room and got through the MCC Police with no collar and wearing beach shorts.

Back to cricket. We got OHD out hoping the lead would be small. Rhodes who I heard yesterday was dropped on 7 made a ton and then scored 17 off next over. This was becoming depressing. Rhodes finally out and the lead of 40 seems too much.

Stirlo is in 20 20 mode again. Not his fault when out to a brute of ball . Like in first innings all his 16 runs in 4s. After that a few loud LB shouts not given and Gubbins and Eski see us safely tea. 83-1 Match now even.

After tea as 100 stand bought up and West Ham Tony said this now looks like a flat wicket with thoughts this could be a draw. I remember this season a similar conversation at Hove. So what could possibly go wrong?
Jeetan Patel is putting a stranglehold on our run rate. There is a sound of car crash outside the ground and our innings followed suit. Gubbins out that looked like a dodgy LBW This was followed by Eski for 73, nothing he can do about it when you are caught at short leg having middled ball. Morgan was struggling it was a painful 3 runs. Just need to Holden but out for 8 after 2 fours getting a bit carried away. Mala bowled by one that kept low from OHD who was bowling well. Simmo and night watchman Ollie (no idea who he was protecting) see us through to a very nervous close.

We are effectively 143-6 . Our season could be over tomorrow. Matron!