Ambrose fails to Cream off Runs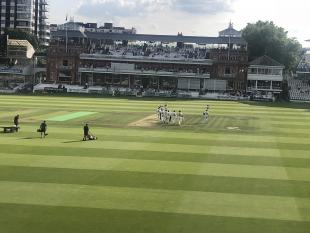 well done Middlesex
By Grizzly Bear
July 25 2018
Grizzly Bear our guest reporter from Warwickshire reports on the ebbs and flows of a tight game. We hear about proposed visits to the Zoo and three wishes that never materialised.
Posh Margaret provided me with a chance to read Kev's match report from yesterday, which I complimented him on. Having put me in a headlock I agreed to report for him today. I corrected Oliver Hannan-Dalby nickname is not OHD, but OMG or OCD depending how badly it goes. On saying that I have never seen him bowl so well as yesterday.
It was going to finish today and we had booked to stay for all four days. Kev asked what I was going to do tomorrow and I said would go with Mrs Grizzly to London Zoo? I suggested I would feed her to the lions, which Kev thought was scary for the lions. We had also booked to see the show Aladdin. I was asked if I could hire the genie what would my three wishes be for today. The first would be a miraculous Warwickshire win, the second would be for Kev to move and the third I don't think Kev would allow to go on print.


I unlike Middlesex fans think they are favourites. Half an hour into the game well caught Trotty diving at slip and Woakes bowling better for Rayner's demise 213-7 (subtracting 40 for lead)

We were doing lots of reminiscing of old Middlesex players having seen some yesterday. I fondly recall Mike Selvey, AA (grunt) Jones. Not forgetting Mike Brearley who looked the same as in 70's. although wasn't wearing the schoolboy cap with hound dog-ears.

Middlesex fans lied saying Simpson would not score many. New-ball due soon, with the match in Middlesex favour. Jeetan bowls him forcing him to play back; this is his 3rd 5fer of season (it took me a while to get Kev's Michelle joke). 236-8. Fuller took an age to move going for a run to the safe end a direct hit from Woakes and he is gone. 239-9. OMG he knows where the stumps are. Middlesex all out for 242. 202 needed. I know this is going to be tough despite what Middlesex fans think?

During break I asked Kev who is Middlesex captain when Malan is playing for England. I did not expect his answer to last through the change of innings and Sibley's and Bell's early dismissals. It's 1-2

After lunch Rhodes is bowled from one that kept low full and straight (Posh Margaret said for one more than he should have got 1st innings). 21-3. Trott looked good on front foot but Murtagh started to pin him back and eventually Taylor gave him LBW on back foot It was nice Middlesex fans applauded Trott off on his last performance at Lord's, although we needed him to be out their longer. 57-4

Woakes hasn't had best of games and shouldn't be in test team. Rayner pinned him back LBW 64-5. I'm now checking what time London Zoo closes today.
Hain looks promising and there were some glorious cover drives. Then why did he play across the lineand leave himself trapped in front of stumps? Another LBW 108-6.
With Ambrose around digging in there is some hope. At tea 60 needed with 4 wickets left it's all down to Ambrose. After tea Jeetan looks like he wants to get winning runs by himself off of the expensive Fuller 11 runs off first 4 balls. Ambrose facing next and is well caught at slip by Rayner 153-8. The game is over for me, although Middlesex fans still worried.
Blackwell adjudged Jeetan LBW on one that look far too high. Perhaps he was compensating for Taylor at other end, who seemed reluctant to give Middlesex anything unless it was plumb. 153-8. OMG he is out caught behind never looking comfortable. 162-9,
Can our last wicket make 40 runs with the other Ryan Sidebottom a genuine no. 11, although Chris Wright can bat a bit? Runs dried up but we were pushing the singles and whittling away at target. As tension was mounting I was surprised to hear a Middlesex fan with a loud voice talking about premiership football. Then a fan unbelievably left saying he needed to get back for dinner. Kev explained he is a Surrey fan. Kev's jokes were getting worse but he put this down to his way of coping with his nerves. Wright was playing and missing regularly and target below 20
Fuller was put on which seemed a bold make or break move. It was the accurate Fuller on parade. An inside edge just missed leg stump. Then one straight through him he is bowled. Middlesex win by 18 runs.
We really lost this match, day 1 after lunch allowing Middlesex far too many runs. It was an enjoyable 3 days in excellent company. My next dilemma is at London Zoo whether I pose with the bears in my Warwickshire attire and then formally introduce Mrs Grizzly to the lions. Alas the genie will appear a little too late for me.