Agar The Horrible destroys Hants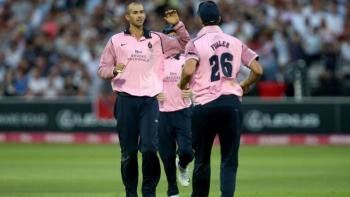 Agar The Horrible
By Cranners
July 27 2018
Cranners makes his debut 20/20 report describing the twists and turns of the match and various journeys to the ground
Middlesex vs. Hampshire 26 July 2018 – View from the Back
After watching Middlesex stutter to a below par score on the parched terrains of Uxbridge it was with a certain degree of trepidation that I entered the North Gate to watch the latest Blast action featuring the Panthers.
After a friend backed out at the last minute from attending the game, I had to find two new recipients for his and his friends tickets and it is a testimony to the popularity of Blast cricket that this proved little difficulty. Having landed at Stansted 3 hours previously from a holiday in Montenegro my first friend heroically made it through the hustle and bustle to emerge unscathed at St John's Wood at 5:30pm.
Stationed in JJ in the Upper Compton I ascended the stairs with a degree of trepidation as the sun blazed down overhead, only to find that our seats were in the welcome shade of the media centre. A pint of cider later and we were underway. My jet lagged friend was furiously searching for the pink fluffy headdresses adorning spectators within the ground (I have two at home!), while the other was running late from a meeting in London, and ended up missing the first innings entirely, as it was to transpire, he did not miss much!
Middlesex's innings started brightly with Stirling and Holden providing the perfect blend of fire and steel as Stirling's belligerent hoists into the stands were matched by Holden caressing the ball to the boundary. Holden's departure sadly heralded a familiar collapse in the Middlesex batting lineup as a team shorn of Eskinazi and Malan found it difficult to get to grips with the Hampshire spinners on a parched wicket. Stirling stood bewildered as his colleagues trooped on and trooped off just as quickly, and finally his increasingly watchful innings was ended when he attempted something violent against the inoffensive seam of Munro. Some lusty blows from Helm pushed the scoring towards near respectability but if Middlesex were to have any chance their bowlers would have to do something special.
At this point our friend emerged from the murky depths of the Bakerloo line, and having ascended the stairs and gratefully grasped his (now warm) pint, we were ready for the Hampshire reply. It emerged that our newly arrived friend had a fine line in Kevin Pietersen impressions, and we spent the opening overs wondering WWKD (what would Kevin do?) as Hampshire ran riot.
After Finn saw off Vince, Munro got to work, plundering the Middlesex seamers during the powerplay. Middlesex's total suddenly took on an even more inadequate sheen as Helm took some fearsome punishment off of Munro. After 8 overs Hampshire were bolting along at 10 an over with 9 wickets left and all seemed lost.
Step forward Ashton Agar. Exploiting helpful conditions, Middlesex's new recruit tormented the Hampshire batsmen bowling 4 overs off the reel and claiming 3-17 including two in two balls. Despite his heroics, the damage inflicted by Munro meant that Hampshire were still well in the game. A 30 run partnership between Dawson and Alsop seemed to have tipped the balance back in Hampshire's favour until Fuller managed to snag Dawson.
This triggered a massive collapse as Finn, fully fit and whistling in off a long run up took two wickets in two balls and with wickets clattering at both ends Hampshire's innings limped to a close with 7 balls to go. Middlesex had somehow snatched victory from the jaws of certain defeat.
A brief stop off at the Duke of York for a well earned pint or two, and use of their hobbit toilets, and we were on our way home.
Last night was a perfect example of the glorious unpredictability of T20 cricket and how quickly the tide can turn. I am looking forward to the next stop on the Middlesex roller coaster!