Mamma Mia Here Trego Again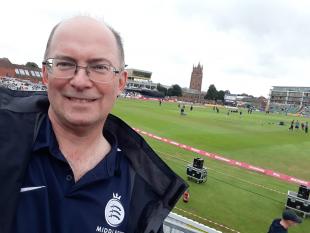 Was "Lucky Shirt"
By Chesham Steve
July 30 2018
Chesham Steve makes his debut report on a defeat againt Middlesex , a guest apperance of a cat and some Max level of confusion. .
When the fixtures came out and I noticed that this game was to be on a Sunday afternoon, I knew that this weekend would be an ideal opportunity to visit my 90 year old parents who had recently moved to a retirement village in North Somerset and make my first visit to Taunton Cricket Ground. Tickets booked 3 weeks ago, when the sun was shining. What could go wrong. Sadly the weather was wrong and with the forecast changing hourly on the BBC Weather App, I decided that I should still make the effort and left the old folks at 1.30 arriving at the Ground at 2.30.
Caught the end of the women's match, some big scoring in this 6 over game, noticed that the boundaries appeared short and concluded that we were probably going to have a high scoring game. Went for a stroll around the ground admired the pictures on the Somerset hall of fame, noting the number of their players that then became first class umpires. I also saw an advert an Abba Concert coming up at the ground ( What's The Name Of The Game). Found a coffee and took my seat in the Priory Street Stand. Realised that my seat was directly in front of the flames and the sound system. Ears took a battering throughout but at least the flames warmed me up from time to time.
We won the toss and decided to field, which with the uncertainty of the weather appeared sensible to me. Ravi opened the bowling, a wide first ball and a couple of boundaries. Somerset openers looking comfortable until Tom Barber bowled the 3rd over, a worrying fall as he approached the stumps on the second ball, fortunately he got up with no injury and suddenly over the next 4 balls 3 wickets. Good to see Tom having a decent game and only 2 or 3 wides from him. Much improved. Hope to see more of him this season.
We were doing well up to the 8th over, when Peter Trego scored 24 off Agar's first over, and suddenly the game had changed and was looking more difficult. 60 from Trego and a big hitting 62 from Lewis Gregory. He went to a great catch from Ravi in the final over, but the damage had already been done and a total of 229 looked formidable. Looking at my scorecard 2 overs went for 18 and another for 17 in addition to Agar's 24. Couldn't see us winning us this one. One observation was that we appeared to almost miss the cut off time to begin the 20th. Some of our bowlers appeared very slow in getting back to their marks.
During the break our stand was visited by a ginger cat, obviously looking for scraps. Makes a change from pigeons and seagulls.
Our new oversaes signing?
The Middlesex innings began and there was a shout of Come on Maxi and I thought I was not on my own and that there was someone else cheering on Max Holden, then realised Max Waller was bowling, and what an over from him, a wicket maiden. Our Max, I think got a little frustrated after 3 dot balls being caught on the 4th.
If Stirlo stayed we might come close I thought. At one point he was hit in the face and had to change his helmet. At that point we had to listen to Sweet Caroline in almost its entirety followed bizarrely by the Benny Hill music. Stirling was out for 30 by a superb catch on the boundary by Overton. Look forward to seeing that again on my Sky recording. 50-4, game over now, although thought Eskinazi did well for his 55. A couple of rain breaks, thought about leaving but hung on till the bitter end. Fielded a couple of questions from Somerset fans, Where's Dwayne Bravo and when I told them, his contract had ended they said they no longer have Chris Gayle in their T20 team as he only wanted a 6 game contract. Maybe next year our second overseas player should commit to more than six games.
Somerset fans were amused by my efforts to encourage our team and good banter was had. The kids in the family stand tried to start a Mexican wave and Somerset ended up winning by a comfortable 38 runs. Highly impressed with the Somerset performance and would point out their fielding and running between the wickets was excellent compared to ours. Even when chasing such a large total our running appeared hesitant.
Game over and a 3 hour drive back to Chesham was waiting for me.