Middlesex Slayed by the Dragons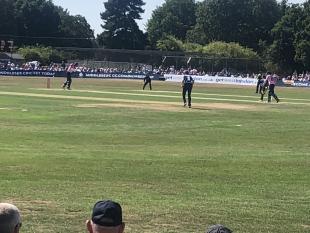 Yawn
By Lower Mound
August 5 2018
Lower Mound reports on another depressing day for Middlesex
On a sun-drenched packed Richmond, Glamorgan won the toss and put Middlesex in to bat. George Scott and Steven Finn replaced Ashton Agar and James Harris from the line-up which played in Friday night's match v Surrey at The Oval.

In what was probably the worst Powerplay what you have witnessed, Middlesex found themselves 20-4. Nick Gubbins was the first to go in the 2nd over with the score on 5, caught by Graham Wagg off Ruaidhri Smith. With the score still on 5, Stevie Eskinazi was out in the same over without troubling the scorers. Things didn't get much better two overs later, when Smith took his third wicket, bowling Eoin Morgan for 1, making Middlesex 11-3. Our chances of making a large total seemed over when Paul Stirling became Smith's fourth victim off the penultimate ball of the Powerplay having scored 8 and only found the boundary once. Smith finished with figures of 4-1-6-4. If anyone knows of a worse batting Powerplay by Middlesex, could they please put pen to paper and let me know?

The next batsman in was George Scott, who joined James Franklin. These two pushed the score on to 39, when Franklin was the first of Timm van der Gugten's four victims after scoring 12 off 20 balls with 1 four. Things got worse two balls later, when Robbie White was lbw to van der Gugten without troubling the scorers. At this stage, Middlesex were 39-6 after 9.3 overs.

Things stated to improve in the second half of the innings when James Fuller arrived at the crease, as he and Scott put on 40 in 5 overs, before Scott was caught by van der Gugten off Wagg for 32 off 29 with 2 fours and 1 six to leave us 79-7 with 5.3 overs left. Next in was Steven Finn, although he became van der Gugten's third victim when he was bowled for 3 to make it 84-8. At this stage, I said to Jonathan "will we make 100?". Next in was Ravi Patel, who at least tried to push the score on, and made 12 off 10, before being caught by Colin Ingram to became van der Gugten's final victim. Last in was Tom Barber, and he and Fuller took the score on to 131, before Barber was run out by Smith for 2 off the last ball of the innings. About the only disappointment for van der Gugten was when he was rushing to ensure that Glamorgan started the final over by the cut-off time, but bowled a wide off what would have been the final ball of the 19th over, which delayed the start of the final over and gave us six penalty runs. The pick of the batsmen, not for the first time this season, was James Fuller, who made 46 not out off 30 balls with 5 fours and 1 six and a strikerate of 153.33.

Craig Meschede and Aneurin Donald opened the batting for Glamorgan, and it wasn't too long before we took our first wicket, when Meschede was caught by Gubbins off Finn to the second ball of the innings without troubling the scorers. Next in was Ingram, who took the score on to 25, before Donald gave Finn his second wicket when he was bowled for 15. Next in, to lots of cheering from nearby Glamorgan fans, was Kiran Carlson, and he and Ingram made hay of the Middlesex bowling, pushing the score on to 77 after 7.4 overs, before Stevie Eskinazi took a low diving catch off Scott's bowling to dismiss Carlson for 40 off 22 with 5 fours and 2 sixes. The next man at the crease was Chris Cooke, and he and Ingram secured victory for Glamorgan with 7.1 overs to spare. Ingram scored 46 not out off 30 with 5 fours and 2 sixes, while Cooke finished with 25 not out off 13 with 3 sixes.

In conclusion, it wasn't much of a contest. Glamorgan won their 4th successive visit to the home of London Welsh. There are certain players I feel shouldn't be in the Middlesex side, such as James Franklin, who took 20 balls for his 12 runs, while Eskinazi isn't suited to this format. I have seen lots of Middlesex 2nd XI's Twenty20 cricket this season, and I can think of at least two players who should be given a chance, but have sadly not been picked.