Middx Cock up with the help of the Bain of our lives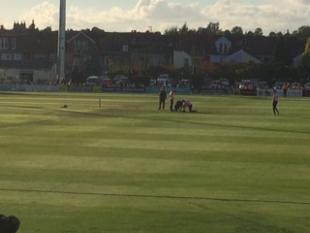 Franco down and not out
By Rogers and Out
August 10 2018
Rogers and Out reports on how our desperately poor T20 campaign managed to plumb the depths even further when Gloucestershire crushed us by 70 runs on a cool evening in Bristol.

Some baffling team selection, odd decisions by the captain, atrocious bowling and uninspired fielding, combined with a very fine century by Ian Cockbain meant that Gloucester recorded 242/4 in their twenty overs, 82 of which came from the last thirty balls. Some reasonable bowling by Ravi Patel, despite him bowling only three overs and a decent half century from Stevie Eskinazi were the only glimmers of light on an evening when we were second best by a country mile.

Prior to the game, I had a few pints in the Drapers Arms, which is a fine micro pub not far from the ground. One of the home fans there suggested that it would be a good game this evening. After I had stopped choking on my beer, I realised that he obviously had no idea about our ability or form in the competition.

The selection of James Franklin instead of Max Holden did not seem right. We are out of the competition and this was a chance for young Max to gain some more experience. Not exactly a selection with the future in mind.

We also won the toss and put them in to bat. 242 in 20 overs - enough said.

After Tom Barber induced a false stroke from Miles Hammond in the second over with Stirlo taking the catch, Klinger and Cockbain began to lay waste to our attack.

I have seen Cockbain described as 'mediocre' on the pages of this website, but every time I have seen him play, he has scored a packet of runs, admittedly always against us. If only we had more mediocrity like his, we might not have two wins from eleven in this competition.

Quick runs were also scored by Noema-Barnett and Taylor towards the latter part of Gloucester's innings but I could not understand how Franklin ended up bowling his full complement of overs. He had broken down half way through one of them and it looked possible that he would not complete that over. Not only did he manage to do so, but he completed his allocation meaning that Finny and Ravi bowled only three overs each. George Scott did not bowl at all.

Cockbain holed out for a most impressive 123 from 61 balls from the last delivery of the innings. Whilst our fielding was not noticeably bad, every shot by Gloucester that went towards the boundary seemingly went over it. Whereas when we batted, they managed to save around a dozen or so boundaries with their enthusiastic fielding. We badly miss the energy of both Sowter and Gubbins in the field.

Our odds against chasing this lofty target were about the same as a pun not appearing in a MTWD headline. Stirlo was out for a rapid 21 in the third over and although JK Fuller came in up the order to score equally quickly, the inevitable occurred and he holed out for 22. Malan had already departed for 15, but we were rolling along at over ten runs per over.

Morgan and Eski maintained this momentum and put on 86 runs in just under ten overs, but once Morgan went, Eski departed from the very next ball. He made 51 from 31 balls, but there was no way back for us and Gloucester cruised to victory.

We still have yet to beat Gloucestershire away in T20. On this performance, it will be a very long time before it happens, if it ever does.