Maxi Effort with an Extra boost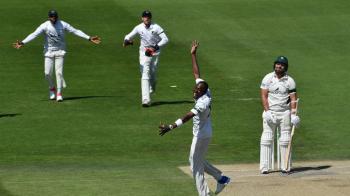 Archer on Target
By Barmy Kev
August 30 2018
With lousy wet weather this morning I had feeling there would be no play before lunch. At 11:15 I was surprised play due to start 11:30 and White was dropped to-make way for Ollie and Eski keeping wicket. As left home same time first ball was bowled my hope was too arrive at ground with no more than 3 wickets down.

As I enter the North Gate we are 27-0. I take my seat in the Upper Compo I hear we had just lost Robbo. As West Ham Tony was explaining how often we were playing and missing Eski out for 0, so much for keeper being a specialist batsman. Gubbo shortly caught at slip having played a dreadful shot. Biggest cheer of day when eventually Moggie got off the mark. Mala out stuck in his crease familiar story. Moggie and Holden really battled it out to lunch with Archer's swing unplayable. 4 down at lunch could have been much worse

Was in beer ( who was not playing ) festival for lunch. Back to my seat 15 minutes after lunch and Moggie still on one. He was caught at slip for a painful 78 ball battling 6. There were a late cameo from JK with attack becoming best form of defence. Otherwise every innings was a struggle. Extras became top scorer when reached 30. Disappointed they did not push on for 50 . However, Maxi diid, then next ball Hi Fi bowled. 169 seemed bad score but apart from Gubbins this was due to good accurate swinging bowling and no dropped catches.

So let's not judge a score till both teams bat on it. Sussex are off to a flyer with nothing beating bat and our bowlers not finding the same rhythm. 45 for first wicket at 6 an over. Salt then Wells give their wickets away with wild shots and it looks slightly better. When 3 down hooray we have first bonus point , except we are -2 on over rate. Luke Wright always worries me but was out for 0 one that looked plum LBW , umpire took ages to decide and Luke looked most unhappy.
In the gloom our bowlers were suddenly finding their line and length. Two more wickets it's 120-6 when umpires took them off for bad light under floodlights ( don't ask). Anyway we are now honours even.

Decided to attend meet the players event after. Was most disappointed our star player Extras didn't turn up.