Early Dent to our promotion hopes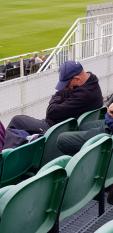 Exciting stuff
By Rod Ed
September 5 2018
My two day trip to Bristol started at 6am and all went well including using my 'old gits' bus pass to the airport. Through security and called to departure gate on time then the delay started. Due to fog we took off over an hour late.
Surely it would sunny in the south ...wrong! On the slightly ironically named Bristol Flyer bus I checked the score at 4-0 after 7 overs. Then on the no.70 from Temple Meads it was 15-0 after 15 overs. I wasn't missing much.
I arrived at 12.20 just in time to see Stirling drop Hammond at 2nd slip. However one ball before lunch Mala caught him in the gully to make it 63-1.
After a couple of pints of Prophecy ale with Beefy and Dingy we returned to our chilly vantage point to see JK trap Bracey LBW for 3.
Stirlo then had an over which brought up Dent's 50. That experiment didn't last so Bamber was now on and produced an edge between 2nd slip and gully.
Harry then replaced JK and the attrition continued and concentration wandered among the MTWD faithful with the discussion on Beefy 's hat leading seamlessly to the Niagra Falls!
Thankfully Bamber found Howell 's edge and Robbo took a good catch at first slip to make it 106-3.
Murts was being very economical and getting variable bounce (we have to bat last) but Holden was tried for 3 overs but was easily milked so JK back as a hint of blue sky appeared at 3.15pm.
Mala tried his luck before tea and his first ball was lazily helped to Gubbo at mid wicket to remove Dent for 82. Tea taken at 130-4.
Another Prophecy both in the bar and stand as Dingy said Harry was due a wicket. And so it came to pass! Caught by Stirlo. Robbo soon caught Roderick 162-6.
At 4.25 JK pulled up and couldn't complete his over and we feared a pulled hamstring.
We now repaired indoors for warmth and to watch Mala and Holden bowl up to the new ball. It wasn't having much effect until Harry got one to lift to Higgins 196-7. JK returned in the 92nd over , so probably not hamstrung.
With play over we headed for the excellent Draper's Arms where discount is available if you were at the cricket!
With the help of Beefy 's map reading skills I found my digs which, unlike in Leicester, wasn't among the drug dens and late night 'saunas '.It does pay to read the reviews before you book!