Charles Worth his place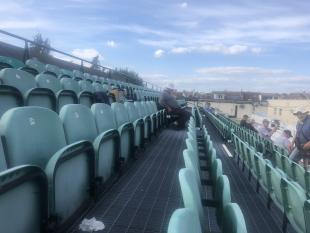 Scintilating Stuff
By Barmy Kev
September 6 2018
Barmy Kev reports on a difficult day for Middlesex with usual conversation distractions
This is probably my last away trip of the season. In an emergency I may make Durham. Due to late booking the only way of getting a cheap ticket is catching 10.15 train to Bristol, which was delayed by 15 minutes, and I'm going to miss most of first session. Given overnight score I think it was reasonable to expect us to be batting on my arrival.

My entry to ground we just achieved our final wicket. This chap I have never heard of Ben Charlesworth is 77 not out. I found out later we failed to gain a 3rd bowling point. Rod Ed who was there from the start said the wicket didn't seem to be doing much to which I replied then again we haven't batted. Pig Racing their fundraiser was topic of conversation. Cricketers Kyle Hogg, Mike Bore, Heath Streak, Hammond, Adil Rasheerd and Nathan Sowter were some repeatable suggestions from the Middlesex masses Meanwhile there was a tricky 8 minutes to follow, which we survived too lunch.
Lunch was spent at the Annexe pub. It was really tempting to stay there. all afternoon The conversations I will share,
A Glous fan thought this is a 600 hundred wicket. For Middlesex!!!
A Middlesex fan thought Morgan's best batting place in the side is 12
Still in pub our score was 8-0. Same fan said extras must have hit a 6.

As leaving pub we are making way to ground we heard Robbo out. As we entered ground we crossed paths not ideal timing. He acknowledged us and we were diplomatic back.

Rest of afternoon was attritional while we were fighting back. Gubbins plum LBW only wicket till tea. The main entertainment was following score at Taunton it ended up a tie. Mixed views it virtually gives Surrey the title, but justice for Somerset's dodgy pitches.

Then after tea Charlesworth aged 17 no name on his shirt who needed a teacher's note to be here had a superb spell I believe 3-12. The loss of Mala just after he achieved his 10,000th first class run just before close a major blow as balance of the the game close to being redressed. Bamber comes in as "night watchman". We close 182-7
No bonus points all day and we are again up against it. Haven't we been here before have been here before and have somehow found out a way to win? It's really hard work passionately following our team but great to be in the company of our supporters.