They Think It's 1 Over. It Is Now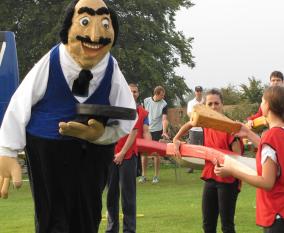 Our future game!
By Barmy Kev
April 1 2019
Unbelievable, announcement today of all days the latest ECB initiative one over a side cricket.
Teams will be formed from franchises of different villages around world. The BBC have bought the rights to screen this 5 days a week at 7'o clock and have already called the programme The One Over Show.
Yorkshire Grocer Colin Graves says we are trying to look at a new wider audience with a low attention span. We have done our fool proof research, for example, I have been following that Middlesex Till We Die website and see there is a potential fan base for cats.
Target audience for this catastrophic idea
The rules are simple. One 10 ball over for each side with each ball being delivered by a different player. The game will be finished in 15 minutes so no one will have time to get bored.
More rules are under discussion. The batsmen will wear a grossly oversized kit with large boots. The wicket area will be greased up with two fielders sliding the mat from each end of the wicket. Two more fielders will throw water at running batsmen. You have heard of the Big Bash, well this is the Splish Splash. The batters when reach the other end will pour their team's coloured water from their bucket into a cylinder. The runs will be measured by a dipstick. Colin Graves has volunteered for this role.
Stuart Hall will be on day release from prison to provide commentary. As I type he is in training practising his hyena laugh,
Ex Middlesex Chairman now involved with ECB when asked about the idea said "I Luv It".
All candidates for the Middlesex Board election apart from Andrew Dow are in favour of this initiative. Vote for Andrew now!
Colin Graves said in broad Yorksire accent " Ey ooooppp, It's a knockout idea"
The ECB are sending out a survey requesting the true supporters of cricket their views of and have promised to look at all opinions and then put their agenda first.
Whether you like it or not this is the way forward for our precious game.