Not What the Proctor Ordered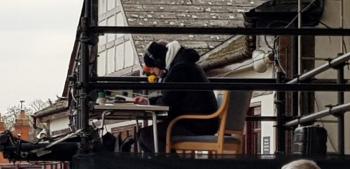 Kevin Hand
By Beefy Roberts
April 6 2019
Beefy reports on a thoroughly depressing , cold miserable day for Middlesex. This reports carries a MTWD health warning
On way to ground decided to buy a jumper, much needed. In the ground good to see high turn out of Middle here, let's hope is worthwhile day for them. My first mistake was walking up muddy stairs towards the player's entrance. This set tone of the day.
As discussing names of Grand National horses I missed Murtagh claiming Holder. Then missed the next Finny wicket. I did see Buck caught behind, but had no idea of score as one scoreboard shows 383-9 other 387-9. Proctor frustrates us and we have very late lunch for final wicket. Just before 1:30 445 all out with Proctor 81 not out. Murtagh takes 6 wickets and we have only 2 bonus points
I move to other end of ground that seems 10 degrees warmer. It's still so cold we are 84-4 with some truly awful batting. The Middle faithful were very unhappy. I feel like giving up for day, but stay. I missed Holden out 104-5. I'm watching the Grand National in warmth with MorGone, it's 130-6. No it isn't 130-7. I'm out of here and to be honest I wish I never turned up in the first place. Law has a lot to work on , it's like last season has carried on from where we left off.
Over and Out. Beefy.