"Occupy Batting Crease"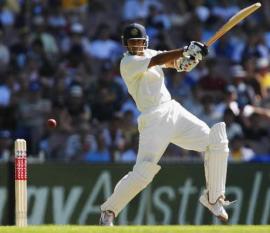 By Gaurang
November 10 2011
All over the world people are trying to occupy some pricey real estate, to make a statement about various issues. One place that folks seemed to have forgotten how to occupy is the batting crease.
With a few notable exceptions, such as Rahul Dravid, Shivnarine Chanderpaul, and Jacques Kallis, most modern batsmen it seems have forgotten how to occupy the crease. They forget the old maxim that Sunny Gavaskar used to say about bowlers: "give them the first hour and the next five are yours" How else do you explain two good batting sides, being dismissed for under 100 runs and under 50 runs respectively on a pitch that while lively, quick and bouncy, was in no way substandard. Similarly a few days ago a slow, low wicket in the Indian Capital was made to look like a minefield by batsmen who should have had no problems with such wickets, having grown up on them. Nor should have another pitch, a few months ago, this time in Sri Lanka, which provided a bit of turn and some bounce made to look similarly diabolical by batsmen who simply had forgotten the art of Test match batting.
If the modern spectator it is assumed like to see the ball biffed, banged and bludgeoned, in match box sized arenas where with modern bats, even mishits and top edges fly off for sixes, then the administrators of the game who are pandering to the lowest common denominator, should not be surprised when modern batsmen no longer seem to have the technique, and probably even more crucially, the will to play long, patient, substantive innings, which Test match cricket often requires.
There is of course a positive corollary to this, in that modern limited over cricket has made chasing seemingly impossible targets of 5 or more runs per over, even in Test cricket, which has no fielding restrictions or other similar impediments to tight bowling, seem achieveable. And scoring rates of 4+ runs per over even in normal circumstances are commonly achieved, despite the fielding standards having improved beyond recognition from just a couple of decades ago, resulting in far fewer drawn games than in the past.
However, it is clear that in the quest for entertaining cricket, the art of occupying the batting crease has been lost. It is an art that needs to be revived if Test match batsmen are to once again be worthy of that title.