Slow Rise, Rapid Fall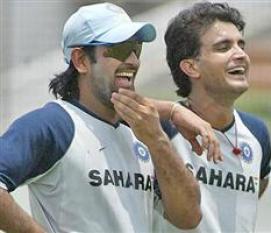 By Gaurang
January 21 2012
Except for a brief period in the early to mid seventies, on the backs of the Indian spin quartet and the batting genius of Sunil Gavaskar and Gundappa Viswanath, India were until starting with the early years of this decade tigers at home, pussycats abroad. They have once again reverted to form.
The glorious achievements starting with Kandy 2002 and including Port of Spain, Headingly, Adelaide, Multan, Rawalpindi, Jamaica, Johannesburg, Nottingham, Perth, Galle, Hamilton, Colombo, Centurion, and Jamaica again in 2011, now have been washed away in the ignominy of 7 straight Test match defeats overseas.
What took a decade of blood, sweat and tears to achieve has come crashing down in the space of hardly 6 months or so.
What caused this precepitious fall? It is a combination of factors, but the biggest one among them would have to be the unnatural prolongation of the career of India's famed middle order batsmen. When Mahendra Singh Dhoni was handed the Test captaincy on a permanent basis after the retirement of Anil Kumble, India had begun the process of retiring its senior batsmen. The first to go was Sourav Ganguly, the architect of the slow rise of Indian Test cricket, since the start of the decade, but clearly on the decline as a batsman, though statistically, he was no worse than some who survived. At the time, one felt, fine, India had a plan to replace the aging greats with infusion of fresh batting talent, so if a batting legend had to go so be it.
But that plan to replace never happened. Rahul Dravid who suffered a lean patch following Ganguly's departure, somehow weathered the downturn and emerged as a Test specialist, retiring from the shorter version of the game. VVS Laxman whose game is not really suited to the pyjama version, was also made a Test specialist. Sachin Tendulkar, whose remarkable appetite for runs never seems to be satisfied, volunarily took "Sanyas" from ODIs except a chosen few, to concentrate on Test matches. For a while that formula worked wonders, as India continued to win series and matches at home and overseas.
Like the giant Banyan trees of legend, these legends of batting, thus unwittingly prevented many saplings of Test batting to grow. In the one open spot where the Banyan tree of Test batting called Ganguly was removed, several saplings were planted, but none thrived. Yuvraj Singh and Suresh Raina flourished briefly to raise hopes, but they both soon found the soil of Test cricket too harsh, and instead chose to flourish in the easier dirt of ODIs and IPL Twenty20 cricket.
When Ganguly took over as captain in 2000 India too had it's entrenched Banyan trees then, players such as Dilip Vengsarkar, Sanjay Manjrekar, Novjot Sidhu, Sadgopan Ramesh, Vinod Kambli etc. who were all slowly cleared and a new crop was planted including Ganguly himself, but also Dravid, Laxman, and Sehwag. Only the young but vibrant Evergreen called Tendulkar was left standing.
When Dhoni took over, he did not touch any of the entrenched Batting banyans. Unlike Ganguly, his forte was not in picking talented youngsters and nurturing them, but managing the veterans and others to work together as a fighting unit. Now however, it is time for a drastic removal of deadwood, no matter how massive and impressive the tree may have grown. The lack of a serious culling at this juncture would be highly damaging to the future of Indian Test cricket.
There were other factors no doubt, such as the complacency induced by the easy money and fawning adulation following the World Cup win of 2012. The IPL riches are also a factor, though the success of young David Warner of Australia shows that it depends a lot on how a player lets the riches impact them. Finally the removal of the Constant Gardner known as Gary Kirsten, as well as the general neglect of saplings which could be nurtured into potential future Banyan trees of batting by the BCCI which abandoned the India A tours right after Sharad Pawar took over from Jagmohan Dalmiya, all contributed to India's current woes.
For the sake of Indian fans one hopes the huge forest fire now ravaging the batting Banyans of Indian cricket clears the ground for some strong young saplings to take seed and restart the cycle which hopefully will once again lead to a return to the top in Test cricket for India