India Need To Be Bold In Southampton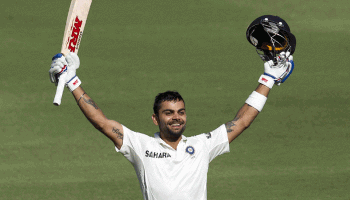 By Gaurang
August 25 2018
India won a famous Test at Lord's in 2014, but then proceeded to lose the next three by big margins. Their complacency after the big Lord's win was evident under MS Dhoni. One hopes that under Virat Kohli this is not repeated.
Starting on Thursday India will return to the scene of one of their biggest losses last time, Southampton, where they were comprehensively outplayed by England last time. So what can India look forward to and how can they ensure that the tables are turned on England?
First, maybe they could win the toss for a change. Losing all three tosses so far India has had the worst of conditions and started each game at a disadvantage. In Birmingham and Nottingham it was not such a big deal. At Lord's it was incredibly important.
Next, India need to pick a team suited to the conditions and to the requirement that they MUST WIN this game. A draw is of no use. So they must pick a bowling unit that will be able to take 20 wickets, and at a relatively economical rate. It is early days no doubt for Rose Bowl as a Test Venue, but it has shown in the two previous Tests played there that it is much more batsman friendly than some other places in England.
My inclination would be include both Ashwin and Jadeja in the team. They rank in the top 5 Test bowlers in the world, and it is unbelievable that Jadeja has not got a game yet. So who to drop? The odd man out would seem to be Mohammad Shami. His bowling style is similar to Hardik Pandya's and last time both him and Bhuvneshwar Kumar were not too successful at Southampton. India need the hit the deck kick and bounce of Ishant and Bumrah as well as the spin of Ashwin and Jadeja. Pandya can supply the swing if there is any on offer.
The other more radical option would be to drop Dhawan and ask Pant to open, or to ask KL Rahul to keep and drop Pant. That way both Pandya and Shami can play. The argument that this weakens the batting line up does not hold water as Jadeja in place of Dhawan or Pant is about the same, and he brings much more with the ball and in the field.
Do Virat and Shastri have the stomach for such bold moves? Or will they stick with the same playing eleven, something they have not done in 38 straight matches. Of course, this discussion is based on the assumption that Ashwin will be fully fit. If he is even 10% unfit, it may be better to rest him and only play Jadeja keeping the rest of the team the same. That way both the Ravi's would be ready for the fifth and hopefully deciding Test at The Oval.