The Dazzling Rise of Avishkar Salvi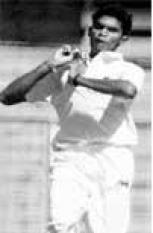 By Anil - 2 April, 2003
April 3 2003
India eagerly awaits the upcoming ODI debut of one of its most exciting fast bowler prospects ever: 21-year old Avishkar Salvi of Bombay. The highly-acclaimed young speedster from Bombay, Avishkar Salvi, is set to receive his India colors this month. The rapid climb to the highest levels of cricket for the tall, strapping young paceman who has modelled himself on Glen McGrath has been nothing short of amazing. He took up cricket seriously only 4 years back, and first-class cricket less than a year back. But he has come a long way indeed in that short time!
Salvi's runup and action are based on his study of McGrath. He bowls in the mid-140's Kph, already visibly quicker than the veteran Aussie paceman who is his idol, but the steepling bounce he generates from just short of a good length, his ability to bowl accurately within the channel, and a lethal incutter are all reminiscent of McGrath. Most of the victims in his short career to date have been bowled, LBW, caught behind, or caught in slips -- classic fast bowler dismissals.
Frank Tyson was the first to take note of Salvi two years back, and Sachin Tendulkar commented on his high promise early last year. Since then, he has terrorized batsmen both at the first-class level, and then half an international Test side comprising West Indies batsmen on their own turf in Jamaica. Salvi has now come under the full glare of attention of a nation which follows its cricket avidly.
Tyson and Lillee
---
In May 2001, former England fast bowler Frank "Typhoon" Tyson came to Bombay to run a fast bowling clinic under the auspices of the MCA (Mumbai Cricket Association) for 5 selected Mumbai promising kids: among them, Avishkar Salvi and his older brother Omkar Salvi. After the conclusion of the clinic, a clearly impressed Tyson declared that Avishkar would be playing for India inside 2 years. His words were to prove prophetic.
The following month, in June 2001, former Aussie pace bowling legend Dennis Lillee, who plays a key role in the MRF Pace Academy in Chennai, selected 19-year old Avishkar as one of 12 "promising boys" across India to receive training in the academy. Two other notable names in that shortlist were Tinu Yohannan and Irfan Pathan, Jr. Lillee put them through an endurance and strength program similar to that of the Australian Cricket Academy, and Sandy Gordon, a well-respected sports psychologist out of ACA, was also at hand to provide guidance on the mental aspects of the game during the clinic. It was a quick session, but it was the second splash Avishkar was to make on the national scene, and his second taste of techniques at the top level.
Then, early in 2002, Salvi went through a comprehensive 45-day stint at Bangalore-based National Cricket Academy (NCA), brainchild of erstwhile BCCI chief Raj Dungarpur. The new generation of quickies swear by this cricket school, which was established only 2 years back. It houses modern training and gym facilities, and an expert team of coaches, physios, dietitians and psychologists. Bowling (and batting) techniques are captured and analyzed on camera. Mental strength training receives emphasis, and Sandy Gordon has been contracted for regular visits to the NCA. Salvi says that it was the NCA training which was the biggest reason for his advances in performance later that year. "The total atmosphere at NCA is so different from all the camps I have attended. The regimen involves weight training, as well as drills specific to fast bowling, all of which have helped me a lot," he said.
Debut for Bombay
---
Avishkar Salvi made his debut for Bombay on Nov 9, 2002 against Hyderabad. The fired-up rookie shocked Hyderabad with a 5-wicket haul in 24 fiery overs for 40 runs in the first innings, helping bundle them out for 130. Salvi returned in the second innings to claim 3 more scalps, helping Bombay win the match easily. His debut for Bombay had brought him 8 wickets.
He continued the domestic season in much the same vein. Against Delhi, a top domestic side, he shot out the top 3 batsmen, with Agarkar cleaning up much of the middle and lower order. He took another 2 in the second innings and Mumbai wrapped up the match by the comfortable margin of 9 wickets. Bishen Singh Bedi, Delhi coach at the time, said at the end of that match that he wanted to see the 21 year old be handled carefully and avoid being overbowled at all costs. The former India bowler and captain rated Salvi a top prospect for India.
In the next match, Salvi destroyed Andhra with a 5-for in the first, to help Mumbai crush the opposition by an innings.
Salvi ended his first domestic FC season as India's top pace bowler. The selectors had seen enough. Salvi was announced as part of the 30-member squad for the World Cup. Former selectors and ex-players like Madan Lal and Bishen Bedi, who had an opportunity to see him in action, had even made Salvi part of their preferred 15 for the World Cup! In the meanwhile, media was asking just why Salvi had not been selected for the New Zealand tour, where he would have been far more lethal than Rakesh Patel on the underprepared, pace bowler-friendly Kiwi pitches.
The Windies tour
---
A couple months later, Avishkar Salvi fulfilled his huge promise as a top quickie after he was selected for the India A team to play in the West Indies Carib Beer Cup, narrowly edging out Irfan Pathan, Jr. During this tour playing first-class Windies sides, the young paceman had world-class batsmen Wavell Hinds, Marlon Samuels, and Chris Gayle hopping on their own home ground: the famed Sabina Park in Jamaica.
Salvi was not selected for the first two matches. He was brought in for the 3rd match against Trinidad, where he grabbed 4 wickets in the first innings, India A winning by 6 wickets. Notable was the manner of the dismissals -- Salvi had bowled two top-order Trinidad batsmen, got one LBW, and one caught behind.
In India A's match against Guyana at the Bourda, Salvi ran through the opposition side in the first innings with a 5-wicket haul. Once again, every victim was either caught-behind, LBW, or caught in the slips. As is typical for Guyana, the match was interruped by rain, but in a major landmark for his career, Avishkar Salvi had just won his first international Man-of-Match award!
The next match against Jamaica, Salvi made entirely and memorably his own. In a magnificent display of hostile fast bowling, he bulldozed through a lineup consisting of international Test batsmen including Gayle, Hinds, Samuels, and Garrick on their own ground with a 5-for in each of the two innings. His 10-wicket haul helped India A defeat Jamaica and won him a second successive Man-of-Match award -- but observers said even those amazing figures did not do him justice after the way he had the West Indian batsmen missing or edging countless times, dropping short of wicketkeeper and slips, before they finally succumbed. Later, Salvi was to say that his dismissal of Windies Test and ODI batsman Wavell Hinds, clean bowled for zero, was his favorite wicket. But it wasn't just his bowling performance that won him accolades; in this match Salvi also achieved something that continues to evade McGrath -- he hit the winning runs with a sweetly struck boundary in an unbeaten 21, to take India across the winning target by 2 wickets!
Although India A narrowly missed reaching the semifinal of the West Indian domestic tournament, Salvi had snagged 30 wickets in 4 international games at an early stage of his career and his rapid induction into the India team was a given.
National Debut
---
With Javagal Srinath deciding to drop out of the triangular series in April with South Africa and Bangladesh in Dhaka for a well-deserved break, the selectors announced that Avishkar Salvi would be part of the India team for this tour. An overjoyed Salvi said that he was honored to be given the India colors, and would do his best to earn them.
The low, slow pitches of Bangladesh may not provide an ideal India debut for the young tearaway, yet his arrival on the international scene is perhaps one of the most anticipated of any world cricketer in recent times. Although the Indian audience has had its fill of ODIs, the arrival of Avishkar Salvi will be eagerly taken in by millions. As the natural successor to Srinath in India's troika of world-class fast bowlers, along with Ashish Nehra and Zaheer Khan, Salvi promises to make India's visit to Australia's seam-friendly conditions late this year a memorable one.