Agarkar and Raina heroes in Indian win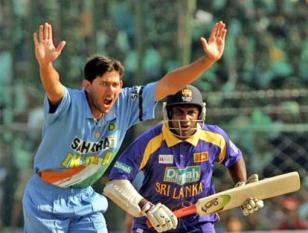 By Amit S
November 3 2005
India clinches the 7-ODI series against Sri Lanka by winning their fourth straight game at Pune as fast bowler Ajit Agarkar turns in a match-winning 5-wicket haul. Pune, 4th ODI, India v Sri Lanka: India won the toss and chose to field on a good batting pitch.

For India, Ajit Agarkar and Irfan Pathan started off bowling well and found some swing early. Rahul Dravid dropped an easy catch at slip to give Sanath Jayasuriya a life, but he didn't last long. Agarkar was the pick of the bowlers as he snapped up both openers Jayasurya and Sangakkara LBW.

For Sri Lanka, Upul Tharanga batted well as he hit a few 4s taking the attack to the Indian bowlers before he was out for 21 caught by Agarkar at fine leg trying to hook a Sree Santh delivery. Captain Marvan Attapattu, who was out of form, dropped himself down to the middle order to No. 5 hoping to get some form back.

Attapattu and Dilshan steadied the Sri Lankan innings, batting well and building a solid partnership. Dilshan was particularly severe on Sree Santh as he took 14 runs consecutively off his 2 overs. After Dilshan was out, Russell Arnold took over. Although Arnold got off to a slow start, after the 40th over he started picking up runs especially off Sree Santh. He did not last long after that as Pathan removed him clean bowled by a ball which was a reminder of his Gilchrist dismissal in Australia with a reverse swinging yorker.

Arnold's exit for 32 sparked a collapse in the Sri Lankan innings, with Agarkar returning to the attack to immediately remove Maharoof clean bowled. Next was Sehwag's turn, who won a soft dismissal of Attapattu for 87 in the next over, before Agarkar removed Muralitharan clean bowled after he had scored 9 runs. In the last over, Zoysa was run out by Agarkar off his own bowling as he was found halfway down the pitch in a mix-up with Vaas, who was himself the last man to go out in the 2nd last ball of the innings, again off Agarkar, caught behind for 11. Due to this collapse, Sri Lanka, ended up on 261 all out at a time, when they were looking well set to score well above 280. For India, Ajit Agarkar was the pick of the bowlers taking 5/44.

In reply, India started off with 2 consecutive maiden overs as Chaminda Vaas and Dilhara Fernando bowled at a tight line and length. However, Tendulkar opened up in the 4th over as he hit a 4 and an edged 6 over 3rd man off Fernando. Shortly thereafter, he was out bowled by Vaas. Sehwag at the other end lived dangerously as he was dropped twice, first by Muralitharan at long-on and later on, Sangakkara spilled a simple catch off Nuwan Zoysa. This time, India decided to send in Yuvraj Singh in at no.3, but it was an unsuccessful move as Yuvraj was out caught in the covers off Zoysa for 10.

Sehwag and Dravid then put together a valuable partnership with Sehwag, taking 15 runs off Maharoof's first over. Sehwag's luck did not last long as he was out in Muralitharan's first over. Muralitharan's entry was delayed due to the power-plays and he was brought in only after the 20th over. Sehwag failed to see that a slip had been placed and was out caught by Arnold for 48.

Y Venugopal Rao came in next and along with Dravid, put on a useful partnership. Rao batted well and scored a useful 41-ball 38 and was severe on Maharoof even hitting him for a flat 6 over third man, something which Tendulkar did to Shoaib Akhtar in the world cup 2003 match v Pakistan. Rao took 14 runs off Maharoofs next over, before Muralitharan came on in the 31st over. Muralitharan triggered a small collapse and put India in some trouble as he dismissed Y Venugopal Rao out caught behind. Dravid was the next to go as he was out caught by Vaas at mid-off off Fernando and Muralitharan in the next over removed Irfan Pathan out caught behind. India had slipped from 176/3 to 180/6.

India delayed the introduction of the super-sub Suresh Raina and sent him out to bat at no.8. Raina and Dhoni then shared a useful partnership, with the required run-rate slowly creeping up above 5.5. Raina was the quicker scorer of the two as he consistently rotated the strike taking 1s and 2s and scored a 39 off just 30 balls with only 2 fours.

Dhoni batted extraordinarily well at the other end towards the end of the innings. He was slow to start and controlled his aggressive instincts to reach 16 off 32 balls, but once he sensed that India were out of pressure, he exploded hitting a 4 in the 43th over off Fernando. In the 46th over bowled by Arnold, Dhoni finally opened up hitting 2 huge sixes and finished the match off in style getting 45* off just 43 deliveries, the last 11 balls to him yielding 29 runs. Dhoni along with Suresh Raina shared a valuable partnership of 82 under pressure which took India to a 4-wicket victory and also gave India an unbeatable 4-0 lead in the 7-match ODI series.