It Never Rains But It Pours - Rashid Injury Blow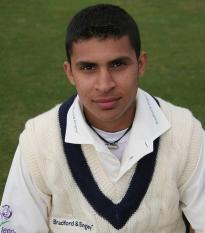 Adil Rashid
By JMB
November 18 2006
Scans have shown that teenage spin ace Adil Rashid is suffering from a stress fracture of the spine. Rashid, one of the most exciting prospects in the English game has sustained the injury through over bowling. Rashid has the same injury that kept Mitch Claydon out of the Yorkshire side for most of last season (a partial fracture of the lumbar spine)and is set to have a scan next month to determine when he can play again. Yorkshire have stated that Rashid could be fit to bowl in the nets before Christmas and then be back to full fitness by new year.

The injury highlights the heavy demands placed on the teenage spinner in the latter hald of the 2006 summer, when in the space of two months he bowled 327.4 overs for his county and England Under-19s. Yorkshire's chief executive Stewart Regan admitted the county were keen to be sensible and ensure they do not ask too much of one of their brightest young stars. He said "Whenever somebody mentions there is an injury to an up-and-coming young player, you obviously have to take it seriously, but I've spoken to Adil and the coaches and the consensus is that this is not a big deal; he's basically got a hot spot that needs some rest. The advice I've had is that it's not something to be unduly concerned about, but we will obviously continue to monitor his progress to make sure he is okay. Adil is certainly very highly regarded by everyone at Yorkshire and we will look after him as best we can."

Scott McAllister, the Yorkshire physiotherapist, said Rashid had rested up since the end of the summer and was making good progress towards a full recovery.
"It's an over-use problem, and although you'd expect to see that sort of thing more often in the faster bowlers, Adil is still young and his body is still developing," he said. "Everyone's body is different and no one is to blame for this injury. It's just circumstance. Adil just needs to get some rest and we will look at having his back scanned in a few weeks' time. It will probably be mid-December-January when he bowls again, and it's just a case of working with him and making sure he does not do too much too soon."

Also recuperating at the present time is Yorkshire seam bowler Ajmal Shahzad, who has undergone an operation to repair a small hernia tear. The problem came to light last season but was sufficiently minor to allow Shahzad to wait until now before undergoing surgery.
More Yorkshire CCC headlines
Yorkshire CCC Poll