LEHMANN THANKS FANS FOR HALL OF FAME HONOUR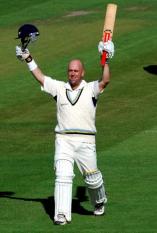 DARREN LEHMANN
By JMB
January 18 2007
Darren Lehmann and Wilfred Rhodes have been elected to join The Corridor's Hall of Fame. Darren Lehmann spoke to us to express his thanks and speak about his time with Yorkshire CCC.
Since The Corridor of Uncertainty began in July I have been privileged to interview some of the great names (past and present) of Yorkshire cricket. On a personal note, my favourite Yorkshire player is Darren Lehmann. When I was lucky enough to arrange an interview with Darren, who spoke to me from his home in South Australia, it was a fantastic experience to talk cricket with one of my heroes.
†
I began the interview by informing Darren that he had been elected to our Yorkshire Hall of Fame.
†
Mate itís a great honour. Any Hall of Fame honour you get, especially from a new fan site and to get voted by the people that are involved in it is something thatís really special to me because Yorkshire was a great part of my life. It was something I really enjoyed. Itís a great honour and I know itís a personal honour but it only happens because you have so many good players around you that help you along the way. I was really lucky to play in a great era for Yorkshire cricket. We had some good times and bad times I suppose. Yorkshire was like a second home to me. The fans are great, the people are great and to get honoured in this way is something that Iím over the moon about.
†
To put it in perspective there have been four other people elected before you and they are Geoffrey Boycott, Fred Trueman, Sir Len Hutton and Ray Illingworth.
†
Thatís bloody good company to be in. They were great for Yorkshire so to be thought of amongst those players is something very special. Iím really happy, over the moon about it to be perfectly honest with you. Iíd like to thank the fans that voted for me and supported me along the way. To be considered in that company when Iím still playing is really very special to me. †
†
When weíve been collecting questions from our readers to ask you the thing that comes up more than anything is your 339 against Durham Ė a pretty good way to bow out wasnít it?
†
Oh mate, you canít get any better than leave the county you loved playing for over so many years and to produce my highest innings was something Iíll never forget. It would have been better to get 342 but that wasnít meant to be. I was just really happy with what happened and the main thing was that we stayed up which was the greatest thing we could do.
†
You went out on a huge personal high and the team were on a high as well.
†
Thatís exactly right the team were on a massive high. We didnít have the greatest start to the year. We didnít play well until halfway through the summer, but for those young guys to stay up and for me to be a part of that was great. To get 339 and be a part of staying up was something very, very special. That was my highest score in twenty odd years in first class cricket and the highest score at Headingley Ė it was very, very special.
†
Was there a time where you were thinking of coming back to play for Yorkshire or did the 339 make you think you couldnít better that as an exit.
†
Oh you canít get any better than that to be perfectly honest but you never say never. If circumstances had changed or if other people had been in charge I might have come back.
†
Is you relationship with David Byas something youíd be prepared to talk about? Was that a factor in you not returning?
†
Yes I can talk about that. I think we could have changed things and the team could have been run a little bit differently last year instead of being just one man, which was David Byas last year, and Craig White as captain and Craig didnít get a lot of say in what was going on. So that could have certainly improved. David is obviously a pretty strong character and thatís the way he went about it and thatís fine as well, but there were a couple of scenarios last year where he wanted it his way and I thought it was the wrong way and we had our disagreements. At least heís honest and heís able to stands by his reasons but sometimes I didnít think they were right. You always have discussions about various things along the way and at the end of the day itís the coaches and the captains call, but last year I felt it was really the coaches call and not the captains.
†
Have you kept in touch with proceedings at Yorkshire over our winter, with the Chris Adams situation, etc?
†
I have yes and it was disappointing with the way that transpired, I thought he would have been a great addition for Yorkshire, but obviously it wasnít to be.
†
The clubís replaced you with Younus Khan and we learned yesterday that Matthew Elliott is going to come back at the start of the summer, so weíve got 2 players there that can get at least some of your runs.
†
Thatís right theyíre good players and things move on. I think theyíre good signings and theyíll do really well. Itís one of those things you really enjoy. I really enjoyed playing for Yorkshire. I loved the fans, I loved the club and I loved doing what I did. Matthew Elliottís played there before so heíll do a good job anyway and Younus Khan will love it. Itís a great Asian community to get involved in. Iím sure theyíll do really well.
†
As far as you are concerned will we see you back in Yorkshire?
†
I would love to be involved with Yorkshire at some stage in the near future.
†
In a coaching capacity do you think?
†
Oh definitely, Iíd be mad not to.
†
There was a news story in the winter when you were linked with the England coaching job. Was that just mischief or was there any truth in that?
†
That was Goughie (laughs) but Iíd be interested in any role in England especially Yorkshire. I donít want to close that Yorkshire chapter just yet. After Iíve finished playing Iíd still love to be involved as I love doing what I do. I think I have a role to play there in the future because I love Yorkshire cricket. Hopefully one day after I quit playing I can be involved again. Iíd love to come back to Yorkshire pretty soon. I enjoy playing but itís getting harder and faster.
†
Have you made efforts to go into coaching, done any badges or anything?
†
I did the Level 2 Certificate over here in Australia and Iíll do Level 3 and then take it from there. Thatís what itís about in this day and age.
†
When you played for Yorkshire you were known as someone that took a keen interest in the progress of the young lads there. There seem to be a lot of good youngsters, is there anyone you think has the potential to make it big?
†
I really like the two leggies Ė Rashid and Lawson. I think they are really good players and they are guys who work hard on their game. Theyíve just got to work as hard as they can on their game Ė good luck to them. Rashid is very, very good and Iím very excited about him, heís focussed. Heís good mate, exceptional and if he works hard could definitely go on and play for England - heís just got to keep learning. Heís a guy that Iíd love to see do really well. Iíd love to see them all do well.
†
Howís Jason Gillespie looking forward to coming back to us in 2007? Is he fired up?
†
Heís pumped. He had the best time of his life playing cricket for Yorkshire so heíll be concentrating for now on getting the best results as he can and taking as many wickets as he can when he gets back over there. Heís in good form here (South Australia) so heís bowling really well. Heís really happy with that and weíre really happy with the way heís going so itís a case of keep going and keep getting wickets.
†
When you are sat in the Australian sun with a beer in your hand in 20 years time what will be your memories of your time with us in Yorkshire?
†
Oh very good memories mate. It was a change in my life. I obviously married a Yorkshire girl so I was pretty pumped with that for starters. It changed my life in cricket. It was fantastic for me, I enjoyed it, I learnt about myself, helping young players along the way - it was a great experience for me as a person and as a cricketer.
†
With The Ashes tests just finished the mood in Australia must be quite good at the moment?
†
(Laughs)
†
Is there much difference in the way that county cricket is in England and state cricket is over in Australia?.
†
I think thereís a bit of difference only because weíve got time to rest, we can plan better because we only play 10 games. Everything else is very similar, the sides are very similar, but we get a lot of time to prepare before we play hard for a few days.
†
Iíve got a couple of Aussie mates and they have the theory that although Australians are laid back they also completely focussed on winning.
†
Oh bloody hell, weíre borderline obsessive in that regard, but we only have 10 games, over there you have 16 and thatís a big difference.
†
Have you managed to catch up with Michael Vaughan and Hoggy while theyíve been over there?
†
Yeah, Iíve caught up with them a couple of times. Obviously Hoggyís back home now, but Iíve seen him a few times. Vaughnyís over here next week for the one-dayer so Iíll hopefully catch him again when heís in Adelaide.
†
And obviously youíll be hoping for an England win?
†
(Laughs) Iíd be mad to say that wouldnít I?
†
Iím doing some pre-season interviews with the Yorkshire players and Iím speaking to Craig White tomorrow. Have you a question I could ask him?
†
Ah beautiful. Send him love from his brother-in-law. Does he regret introducing his sister to an Australian whoís now his brother in law?
†
And what do you think heíll say?
†
I donít know (laughs) deep regret!
†
In your autobiography you said a possible plan was for you and Craig to settle down for a retirement side by side in South Australia. Is that still the plan?
†
Well I suppose a lot of thatís up to him but you never know Ė Iíve not really looked beyond the end of this Australian summer. Weíll have to see what weíre both doing and take it from there.
†
One last question Ė you are hugely popular on the site and we would like to honour you not only by placing you in the Hall of Fame but also by asking you to be Honorary President of The Corridor of Uncertainty.
†
That would be no problem Ė it would be my pleasure. Thank you!
†
So there you have it. The Corridor of Uncertainty has itís 5th Hall of Famer and an Honorary President we can be proud of. We are going to be changing the name of the message board to Boofís Board in the next few weeks too.
†
When we tied it all up I thanked Darren for sparing me the time to talk to me and he said Ďno worries mate it was a pleasure.í I can assure you Darren the pleasure was mine.