Captaincy 2009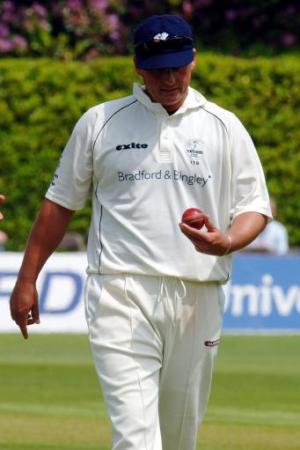 By Nick Pyror
February 22 2008
Without wishing to ignore or write off the coming season (which I expect to be full of intrigue and excitement), I would like to take a quick look ahead to the 2009 season. More specifically, I would like to address the future of the captaincy at Yorkshire County Cricket Club.
To do this, I will take a look at a few possible candidates and assess their chances of leading the team next year as well as looking at their suitability for the role. Please don't take this too seriously as it is just intended to be a light-hearted bit of fun and I am well aware that anything could (and probably will knowing YCCC!) happen between now and then.
Darren Gough
The incumbent in the position is quoted as saying that he is "95% certain" that he will be retiring at the end of the current campaign. However, the 'Dazzler' is famous for his numerous comebacks at both international and county level and after a very successful 2007 season (37@23.67) could he be tempted into one more year by a good 2008? He will be 38 at the start of the 2009 season.
Anthony McGrath
'Mags' is perhaps the favourite for the role, should he want it, given his present status as vice-captain and the fact that he led the side during the 2003 season. The issues of last winter now appear firmly behind him and he is committed to Yorkshire for the long-term. His batting is beyond reproach (he has averaged 60.00 and 46.55 respectively in the last two seasons) but his leadership qualities and tactical nous have been called into question in the past.
Joe SayersA Boycott-esque figure at the top of the order for Yorkshire, a strong 2008 would help further the 24 year-old's claim. This quote is taken from his ecb.com profile; "A highly talented opening batsman who has an excellent cricket brain and was touted as a future captain of both Yorkshire and England before even making his first-class debut for the county. He is a former England Under-19 captain and his performances as skipper of Oxford University, which included first-class centuries in both the 2003 and 2004 seasons, have earned him a lot of respect." However, his batting deteriorated badly in the second half of last season so a consistent season is crucial if he wishes to be considered.
Jacques Rudolph
The South African Rudolph joined the county before the 2007 season on a three year 'Kolpak' deal. He was by far and away the club's best batsman in 2007, scoring 1078 runs at an average of 56.73. However, speculation has mounted that Rudolph's motive in signing for Yorkshire for three years was primarily so that he would qualify for England selection at the end of that time. This could be an issue in the 2010 season and beyond.
Someone Else?
At that this moment there is no hint of anyone else being lined up for the role. However, there is a long time yet before this issue needs serious consideration and it is perfectly possible that YCCC could bring an experienced man, perhaps from overseas, to do the job.
View a Printer Friendly version of this Story.
Capitancy 2009
Discussion started by Unofficial Yorkshire CC , 22/02/2008 17:41
Fanfango
28/02/2008 15:49
I think it will be McGrath followed in a couple more years by Joe Sayers
Pinch-hitter
28/02/2008 19:01
How about Michael Vaughan. Maybe not 2009, but if he gets dropped from the England side and finishes off his career with Yorkshire we could have one of the best captains in the world leading YCCC.

Heck, Hoggard might even be an option in a post England situation.

More likely though, if Sayers can sort out his batting form he could be the captain of Yorkshire for a very long time.

I see Mags being captain for a couple of years, maybe even until he retires, then handing over to Sayers.

It depends on results though and form. If the captaincy turns Mags or Sayers from batsmen into scarecrows then Moxon will come up with an alternative.
Forward Defensive
29/02/2008 00:42
Hoggard is a great thought, when his England career is over.

It is often considered that bowlers make poor captains, mostly because they struggle to use themselves effectively in the heat of the battle. But bowlers are accustomed to analysing batsmen and thinking on their feet - and Hoggy would command respect, is obviously bright, and has a pleasant manner that should make him good to play under.
Tykemania
29/02/2008 13:10
Its going to be a tough call, and I am not entirely sure that Moxon will not recruit from outside the county in the short term as the existing candidates are not yet rock solid of their places (Sayers), England players who may never return to County Cricket (Vaughan) or players whose previous records might count against them (Mags). One other possibility, not one that I particularly like, but feasible nontheless, is Chris Taylor - remember that Froggy commented when he resigned that he had always had a good cricket brain, and again later that he was a "great thinker on the game" - and he does have the sort of temprament that leads itself if not to great captaincy, then at least to captaincy without loss of form.
utopian indigent
06/03/2008 09:53
"motive in signing for Yorkshire for three years was primarily so that he would qualify for England selection at the end of that time"

What has that got to do with it? Don't all committed cricketers dream of playing internationally? Rudolph has emigrated, in other words his intention was to settle in Yorkshire and become a full-blooded Tyke. What more can you ask for? He wants to be one of you.

Jacques was captain of the South Africa A side. He has his strong points but in the view of some people in South Africa he does not have enough aggression to be captain. I don't agree that aggression is the captain's job.


---

But that is what I've been saying, you fool! (Chief Inspector Clousseau)
Pinch-hitter
06/03/2008 23:06
With Jakes being our best batsman I'd be wary of lumbering him with the captaincy if its not going to be a great fit.

We need him to score runs and if the captaincy is going to interfere with that I'd rather it went to someone else.

But he may well be the most qualified and ultimately if Moxon deems him suitable then fair enough.
UI - I was not making any comment whatever on Jacques move and motives. I was merely stating the obvious; if he goes to play for England he will not be able to be Yorkshire captain.
Sorry, only registered users may post in this forum.
More Yorkshire CCC headlines