Naved back on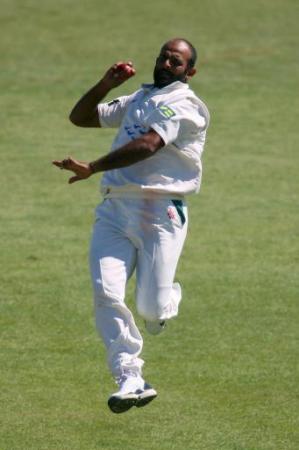 By Richard Watts
March 27 2008
The on off saga of Rana Naved joining Yorkshire now appears to be resolved and after protracted negociations between the ECB and Pakistan cricket board Naved is now set to join Yorkshire subject to being granted a work permit, which as he has been playing regularly for Sussex should be a formaility.
Press release from Yorkshire states:
The Club are pleased that the uncertainty surrounding Rana's status as a Yorkshire player has been removed. Martyn Moxon and his management team are now able to plan properly for the domestic season and the Club has a quality overseas player at its disposal.
It is still the Club's intention to allow Rana quality time and assistance to fully recover from the shoulder injury he sustained when playing for Sussex towards the end of the 2007 season. The South African paceman, Morne Morkel, will take up Yorkshire's overseas position until Rana fully satisfies the Club that he is able to bowl, bat, throw and field effectively without any aggravation to his shoulder following the injury he sustained whilst playing for Sussex last season.
A relieved Rana Naved said, "I have maintained throughout the last few weeks that I would be allowed to play cricket for Yorkshire and that my participation in the Indian Cricket League would not get in the way of that dream. I am not contracted to the Pakistan Cricket Board and could not see why they should wish to prevent me from playing the game I love in Yorkshire. I made many friends in the county when I played club cricket a few years ago and I am really looking forward to pulling on a Yorkshire shirt. I will give everything I have for my county."
Martyn Moxon
, said: "Rana has always been a player I've thought very highly of and I am extremely relieved and pleased that he will be with us this year. We are conscious that he needs time to fully recover from his shoulder injury, which is why we have Morne Morkel for the early weeks of the season, but a fully fit Rana will be a huge boost for the Club. He has proved in India recently that he can bowl and take wickets but we want to be satisfied that he can also cope with the demands of fielding, especially throwing, before we play him in the first eleven. He is a very determined man and his desire to play for this club and cut through all of the politics involved, has been particularly impressive."
Stewart Regan
, Yorkshire's Chief Executive said, "The last few weeks have been very complicated for the Club and we have tried hard to cope with the conflicting feedback received in relation to whether this player could join us in 2008 given his participation in the unauthorised Indian Cricket League. I'm extremely pleased that this now appears to be behind us and we look forward to welcoming Rana to Headingley Carnegie in early April when he will join up with the rest of the squad."
View a Printer Friendly version of this Story.
Naved back on
Discussion started by Unofficial Yorkshire CC , 27/03/2008 19:16
What do we do then play him in the seconds or in Bradford/Yorkshire leagues to prove his fitness,otherwise is it a risk playing him in the first team.
Well he wont be playing for thee firsts whilst Morkel's about,so looks like he'll be turning out at Pontadullais for starters.
Sorry, only registered users may post in this forum.