Almost.... again Part 2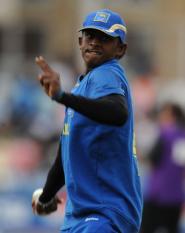 Sri Lankans in Spring!!
By Grockle
December 27 2011
Men in 'the know' predicted Somerset would sweep the board in terms of trophies. We were the strongest in the land in the four day and short formats and it was all going to come right in 2011. But it didn't quite did it? Why not?
So the 2011 season started for us without Thomas, Kartikand and Dockrell. It started with friendlies against Worcestershire which we won and a draw against Gloucestershire to try out Taunton. Things looks sharp for Warwickshire at home on the 14th of April, an early start against a side in something of a mess at the end of 2010.
Ajantha Mendis arrived 24 hours before the game started and was immediately slotted into the side even though he was jet lagged and wearing 'skins' and a number of jumpers. Warwickshire seemed determined to defend and make sure they did not lose this game. No Bell no Trott and no Yousef suggests they were going to struggle.
6 overs in and we had a wicket, our bowling looked aggressive but the feelings of something going right didn't last long as the Bears just accummulated and accumulated and we failed to make in roads. 416 for 6 at the end of the day was not the start we wanted and it got little better on Day 2 when we finally removed them for 642 after lunch with 12 no balls to Mendis and bowling that suggested little early penetration.
37 to us by Tea turned into chaos as we fell to bits and we ended Day 2 at 147 for 6 and wondered what went wrong with our preparation. We seemed to have come into the season without an idea how to play four day cricket. Our new boy was all at sea (though that could be jet lag) how could a man with a three step run up bowl 12 no balls by over stepping? The batsmen got no better on Day 3, Trego and the tail tried to put something together and an aggressive 28 from Mendis did something to get us to 210 before we capitulated an hour into Day 3.
It was going to be hard to stay in this one but we had two days and a line-up that could put it together at home. So jaws hit the ground when we capitulated for the worst innings defeat in our post war history after failing to get past 260. Bowled out in just over an hour for 50 and no positives to report. An innings and 382 run loss for heavens sake!!
It was a miracle we came back from this at all. The four day campaign was on the back foot from that day on. A second innings defeat away to Lancashire meant that our CC1 season didn't start until we put Hampshire down.
What did it tell us? Mendis wasn't going to help us much. Whether he had blown out at the World Cup or was much easier to find out on English pitches or just couldn't get his act together, he was not the force we hoped he would be and when he went it was almost without people noticing, we dropped him for his last game because he was ineffectual. The Lesson? Don't sign Sri Lankans for the spring.
The bowling was struggling to take early wickets . Charl was not making the usual early paths into their batting, Kirby was doing better than expected but Hussain was taking longer to be consistent and the backups were part timers or didn't seem quite ready though they worked hard.
But the batting, oh the batting. Where was it? When the captain went where were the rest? Arul looked in two minds far too often, James had no luck for so long it became embarrassing and it didn't help that although Nick seemed to have find some form early on, he still couldn't run between the wickets and ran his partner out during almost his first time at bat. Jos was not the devastating shot maker he had looked to have become and Craig seemed so conscious of making a score that he lost his early aggressive streak in an innings. Pete was showing something with the bat but was coming in with almost no support because a a lack of frnt end 'backbone' and although he had some support from the tail the guys were stickable rather than run makers.
Our slow bowling was ineffectual from our international substitute and the selectors seemed unwilling to put Max Waller into a four day game. They turned to Arul for this and got more wickets than they bargained for as he seemed to develop into the role and gave us significant teeth when we turned to him. By the end of the month we seemed to be ready for the season but for the second year running we had been slow out of the traps and were playing catchup to the usual competitors.