Middle Eastern Travels - Dubai or what?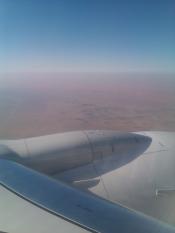 Sun and Sand
By Grockle
January 17 2012
A couple of days early from my planned update but these automatice computers have no concept of flexibility it seems. Thursday sees me leave Grockle Minarets for the desert air of Dubai and the England v Pakistan Test series... Let's hope they last until then!!
Pakistan can't play at home and the Gulf is desperate for these world events to be played at their modern sports facilities. Hence the arrival of the two squads in an unfamiliar enrivonment to play a Test series. Three Tests, Four ODI's a a couple of T20's in January and early February. Also hence the arrival of a Somerset webmaster from just down the road to do a 'Bagpuss' of old and give you a bit of internationasl cricket for your non too warm winter evenings.
I arrive in Dubai at 9:40 on Thursday morning on the "Muscat Redeye" to have a look at the Dubai Sports City and the new International Cricket Stadium. The radio commentary today suggest this is not a heavily attended match even though the tickets are cheap and the facilities should be second to none. The ODI crowds are expected to be much bigger but for now parts of the ground seem to be cordoned off and some Barmies have bought two tickets for different stands so that they can pop between the area in the sun and the area that has a bar.
I've never been here before so I hope to give you a new eye on the world HQ of cricket. That is if I can find the main office to get my accreditation on Thursday morning. It'll be an adventure anyway - looking forward to my evening in the Coral Oriental Hotel - wherever the hell that is and a sedate Friday breakfast before popping to the probable end of the match on Day 4 - Pakistan stuffed us today for less than 200 and go into Day 2 with all 10 wickets after proving we still can't play good spin.
More in a couple of days people....
Day 3
Arriving in the strange shopping mall come building site that is Dubai is strange in itself. That's before you even think about the fact that you are coming to the heart of the desert to watch the English summer game. But the temperature is a warm 20 degrees C and once the taxi driver has finally worked out where the hell Dubai Sports City is (he only had to ask four other drivers on the way)and has deposited me at the Head Office (only to find that despite being told to go there I need to pick up my accreditation from the stadium itself) it is nice to see bat hitting ball again.
The strangeness continues with the fact that the press corps almost outnumbers the spectators in this blue bowl of a stadium - 25,000 seats, probably 2,000 of them occupied by a predominently English crowd.
Anyway I get into my place between the Times and the Metro just in time to witness Cheema being stumped to end Pakistan's first innings. England need 146 if Pakistan are to bat again and my first Test really starts with Cook and Strauss walking out to face Gul and Cheema just before lunch.
Taking a three off the first ball bowled is a positive start but it doesn't take long before debates are hotting up as Strauss is given out by Bowden caught behind trying to flick the ball away. The captain refers the decision and the third umpire, using 'Hotspot' (allowed in this game) confirms the decision even though there is no evidence from the technology that Strauss hit the ball. Within 15 minutes the clack of wordprocessor keys suggests that the major debate today is why use 'Hotspot' if you aren't going to accept its' evidence. Lunch arrives with England on 16 for 1 with Cook on 2 and Trott on 8. A long afternoon is ahead for the men from the Northern climes!!
After a lunch where you can watch four England captains stuffing themselvews because the BBC line has gone down (name them then people....). It always surprises me when I see these guys at these does.... because;
a) They are all a lot bigger than you think they would be (not in terms of fat but in general terms of size - tall and big boned most of them)
b) They are all looking old this winter - I'm not sure whether it's the light but it is something, ITB isn't looking bad by the side of some of the others though NH is still looking like he could pop out and bolster the England innings any time they ask him.
The game resumes and within 3 overs England's woes increase as Cook gets tucked up by one he seems to want to pull from Gul. He neither pulls it or gets his bat out of the way and simply provides an easy catch to the men behind the wicket and after 12 and a half overs England are 25 for 2 with a patient but pretty worthless 5 from 'our Alistair'.
In comes KP and immediately on comes Ajmal!! But don't expect patience from Mr Pietersen. Two overs later and he is looking to put Umar Gul into the seats, top edges it and succeeds in putting the ball into the hands of a grateful Pakistani fielder coming in from the boundary. 8 balls and it is 25 for 3. The malls beckon me towards their tempting doors this Friday!!
In comes Mr Bell... on a king pair and probably expecting another doosra. Luckily he has a ball from Gul first and he copes with that quite easily. We now get to watch Ian versus Saeed and the Pakistanis increase the pressure by putting Rehman on at the other end. The cameramen don't help the situation for Ian when he sees on the huge screenin the stadium a closeup shot of his name on the scoreboard follwed by a panning shot to the 0* by his name. But in true Belly style he proceeds to shimmie up the wicket and hit Ajmaal over his head for a four to get off the mark. Well done sir!
It doesn't help though because Ajmaal goes back to his proper end (he finished an over for Cheema when he pulled up with a hamstring after 2 balls) and 'doosras' him with the first ball fo the 21st. Bell asks for the review, turns to see it, sees how plumb he was and gives himself out before the umpire can confirm it. 35 for 4 and we already have Morgan in before 2:00 on the third day. The only promising thing is that Trott is still there and scoring really slowly which suggests that he is going to make a hundred plus!!
The 50 comes up with a very comfident cover drive from Mrogan but it belies the postion to be honest because this has all the makings of a significant defeat (the sixth big one of the Strauss era - thank you Mr Kidd for the statistics). Most people here are happy they are going to get the majority of a day off tomorrow.
It seems even more likely when, after it looks like Trott and Morgan have steadied things, Rehman gets one to drift away from the newer man and he is dismissed for 14 at 74. England trail by 72 but in batting terms, they trail by a hell of a lot more than that!!
By Tea we have staggered to 75 for 5 and we are now hoping that Trott and Prior either make a fight of it in the last 38 overs with a turning ball or get out and we fold up in about an hour meaning we all have no reason to return tomorrow. The latter seems the more likely scenario.
After Tea we are looking for a foght back but we have a spinner on at one end who is getting something from the pitch and has considerable ability to use it and a paceman at the other who is having one of his good Gul games rather than a poor one. Trott is struggling to get the extra run he needs for a dogged 50 and eventually tries too hard to cut it off Gul and is caught behind for 49. Really the hope of making a fight of this goes with him. Broad joins Prior but not for long as Ajmal then fires one in that keeps low and strikes our keeper straight in front. 87 for 6 becomes 87 for 8.
It gets even worse when Swann is also ajudged in front at 88 off the rampant paceman but the Pakistani celebrations are cut short when the Englishman is reprieved by a no ball review by the umpires.
To take my head away from this rubbish and show you how artificial this whole scene in front of us is, let me show what it looks like 'around the back';
Blasted Earth behind (and all around) the ground
The 100 arrives 4 balls into the 45th over, followed by a Pakistani review of Swann which was found to be going over. That's all the reviews done and we are back to umpire defined cricket.
I also thought we ought to continue the occasional series "Where the great and good pee"... it's also quite a good visual metaphor for the batting I have seen today;
Dubai International Cricket Stadium's little boys room :-)
'Nelson' arrives after another 'nearly out' to Ajmal but the two bowling allrounders are putting up some resistance in the shadows of the late afternoon with 25 overs left.
A spirited rearguard by Broad and Swann looks on the cards as Rehman and Hafeez take over the bowling requirements. It ends just after Swann has his a six when Broad is caught trying the same thing at 135. Tremlett comes out and faces one ball before he is also caught behind and we are one wicket left with 11 runs to avoid the first innings defeat since Johannesburg. It doesn't look hopeful. Rehman is on a hat-trick as Anderson just pulls his bat out of the way to leave a ball that just slides past the top of the off stump.
With Jimmy on strike, Gul looking for a five fer and Ajmal looking for a match ten fer this has a morbid fascination but as a game of cricket it was over the other side of Tea (possibly even one hour after lunch).
Nevertheless there is a cheer as Swann top edges over the keeper to make Pakistan bat again, he then shows he can do it by gliding the next one through the covers to take his country past 150. Then the joy is all over as Swann is fooled by a slower one and gives a catch off a leading edge in the covers. 160 all out is abysmal but Ajmal's 10 wickets is worth the ovation he gets and Gul would have been as deserving of 5 if he had got it. Swann got 39 and made as many in that innings as Strauss, Cook, Bell and KP made in both (thanks once again Mr Kidd)!!
Just about sums it up really. Very poor. We can only hope it is a bit of a glitch and nothing more.
15 to win and many here seem to think Pakistan will manage that tonight in the 14 overs they have left. I'm going to go out on a limb and agree with them. Hafeez and Taufeeq come out with the umpires while 5 coaches take the English bowling attack and Matt Prior through some kind of warm-up. Jimmy nearly gets Hafeez with one that goes away from him off the pitch but goes wide of second slip just off the ground. He gets four and takes 3 off the next ball and it's 7 off the first over.
Broad takes the second as the 'Ring of Fire' (400 spotlights around the top awning of the stadium which light up every area of the pitch because of the angles they are set at) sparks into life at 5:14. Stuart bowls a maiden so the challenge is down to get them in the third. No chance, James goes for nothing as well.
Two fours in the middle of the fourth put the English out of their misery and sends the very small but highly vocal Pakistani supporters into hysteria along with the press corps who now have a day they weren't expecting.
Me too, lie in, breakfast and then a wander around the sights of Dubai before a leisurely flight back to reality. More to come from Abu Dhabi next weekend.
Enjoy the rest of your day one and all - and leave the highlights.... they really aren't worth it unless you want to watch quality foreign bowling.
The Strauss Press Conference
Andrew agreed England were caught off guard in the first session of the first day and Pakistan made sure they never got back on an even keel. He was disappointed with the batting performance especially on Day 1 when the wicket wasn't a 50 for 5 strip. He said batsmen needed to be "clear about their method". Ther was little turn but he said that against quality spinners the first 12 to 18 balls faced are the most important and players who negotiated that period seemed to find it easier. Unfortunately not many got past that phase of their innings. England did well in the build up to this Test series and did not come into it 'under-cooked or under prepared.
He was asked about the DRS and stated that the decision against him wasn't anything really significant in the course of this game but a system with less errors was desirable.
Pretty honest - let's hope they come back stronger in a week's time.