A little bit of women's cricket in my life. England v SL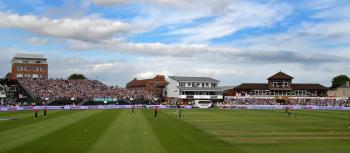 By Grockle et al
July 2 2017
Two years ago it was a little more hand to mouth with the press sent to the Ondaatje Pavilion and a game in front of school kids. Now it is a professionally organised competition with professional players in what feeels like an international tournament. The sun is out today and the crowd is very decent with 2000 plus here to see a must win game for England if they don't want complexities in qualification.
England V Sri Lanka WWC @ Taunton Sunday 2 July 2017
Taunton looking a picture on a Sunday for a women's one day international is unusual I suppose. A crowd of over 3000 I am offically told is even more unusual for a femal international. The women's game is moving on and to some extent we are the prefect place to play the games. Sri Lanka won the toss and elected to bat.
The opening pair confuse us all because although their overall kit is the usual shade of blue, their sweaters are almost day glo yellow and the weather means that one bat arrives in yellow while the other arrives in all blue. Anyway Hansika and Perera face an aggressive Anya Shrubsole first up who has toned up from the player I remember from 2015, she looks taller and is definitely faster and significantly straighter than she was against Australia last time.
While the Windies are facing South Africa after being bowled out for 48 in Leicestershire, England are steadily getting to grips with a Sri lankan batting line-up with quite a deft touch. The opening pair were chalk and cheese however. Steady at one end (Hansika) with a swing and a miss merchant at the other end (Parera). Shrubsole was unlucky and Parera was the opposite after being dropped by Hazell off a top edge. However the front end weathered the storm and settled until 44 when Hansika is out caught Wilson off the bowling of Sciver.
The 50 arrives in the 14th but the second wicket goes not long after as the very dangerous Athapaththul/Jayangani (2 name Sri Lankans just what you want) goes for 1 again to Scriver. England's slower bowling is excellent with Marsh being the pick of them Taking the next three wickets at 84 (Perera who deserved her 50 after a wafting start but went for 46), 118 (Siriwadena) and 130 (Samarawickrama).
We were looking at a a score of about 230 ish but by the 37th it seems doubtful that SL will get to 200 with a score of 136 for 6 after the impressive Manodara (a batswoman under 5 feet I think) is the second to go at 130 to an excellent diving catch from Fran Wilson off the bowling of captain Knight.
Despite some very good solid bowling from Brunt and Hazell at the end Sri Lanka did get to 200... just. Anya Shrubsole could feel hard done by after going past the bat on numerous times in her first spell and having THREE catches spilled during her bowling. Two of them were pretty regulation though the third was a valian effort. So England need 205 to win and we mostly think that is about 50 short of a par score on a Taunton wicket.
The Reply
Beaumont and Winfield open for England and the first thing that is very obvious from the 2015 version of the side is that they are much more willing to go airborne if the shot is on. Now that could be because of the stature of the Sri Lankans but it does seem to come from more confidence in their overall ability with the bat. Both the openers play some subline shots, especially to the Caddyshack boundary circumventing two infielders with absolute precision. Beaumont looks promising but goes LBW at ascore of 33. I thought it was high but then she is not a very tall player and on looking at it on the TV it was going to hit about 2 thirds of the way up the stumps. Out comes Sarah Taylor, who from the outset looks a level above anyone we have seen up until now. Together with Lauren Winfield she polishes off the first 50 in half the time the opposition took. That is also the score when Winfield departs caught off the bowling of Kanchana for for 25.
Heather Knight is the next in and immediately starts to work the ball with Taylor to move the score on and not let the Sri Lankans settle. The 100 comes up halfway through the 17th and by the end of the 22nd bboth players are eyeing 50's perhaps and a large win in decent time.
Knight goes to a very good 50 from 57 balls with 5 fours at 142/2 and not soon after the 150 comes up with one ball left of the 26th. This is followed by Taylor's own 50 from 58 balls with 6 fours the last one taking her there and dismissed with absolute disdain. 166/2
From then on it is a game controlled by Heather Knight. She wants it over, she wants it over quickly and sees the best way to do that by smashing the ball to all parts. It is a real shame when she flaps one to midwicket with only 7 needed. It would have been good for her to be at the end but her 82 off 75 balls was the catalyst for a very good and professional English win.
As it is Taylor is left to finish the game in two strokes with a straight four to the River End boundary as the last shot in a victory with 20 overs left. Excellent cricket once again by a national side at a ground suited to this kind of cricket from them. Very enjoyable.