A little more women's cricket in my life NZ v West Indies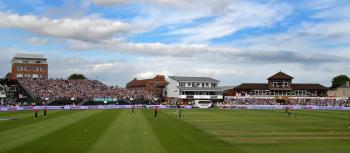 By Grockle et al
July 6 2017
Not quite heaving at Taunton today but as it is close to the end of the summer term there are a lot of primary school trips in for this one. They may not be here long because the Windies women have made Somerset's under-achievement with the bat look like 'Slogfest Central'. Bowled out for 48 by South Africa on Sunday they were 15 for 2 by 10:45 before a lot of the kids had sat down. Could be a short one.
New Zealand v West Indies WWC @ TAUNTON Thursday 6 July 2017
Live Feed
Most of the people who know a lot about women's cricekt expected the batting line-up (the word 'stellar' was used by one person on Sunday) to light up the tournament with style and panache. However since the practice matches they have been fooled, foxed and flumaxed by the bowling attacks of the other countries and shown no real stamina for a game on any ground. Today they face the 'Black Caps' (I assume every Kiwi side is the 'black' somethings or other).
Taunton looks a picture albeit an empty one in comparison to the nearly 4000 people who turned out on Sunday to watch England professionally polish off Sri Lanka. There are a few members sat in the Trescothick, Botham and CA stands but the Somerset stand is 2 thirds empty with the other third being made up of primary school trips who I assume are here for free.
The game started earlier than I anticipated (10:30 I assume) so I missed the first Windies wicket. Hayley Matthews was caught and bowled by Lea Tahuhu for 9 after just 16 balls. She was pretty quickly followed by Knight to the same bowler. Since then the Windies have put the brakes on but so have the Kiwi bowlers with only 43 coming off the first 14 overs. It seems to be either a slow scoring rate or a quick wicket rate with no real in between. If the West Indians open their shoulders it seems that they also lose batters at a pretty regular rate but if they batten down the hatches they play striaght into the very tight and straight bowling attack of the New Zealanders.
Almost immediately Nation and Taylor (both batters of calibre usually) try and break out the structure just fallas apart. Taylor goes for 20 at 53 and then Dottin is caught and bowled without scoring before Nation goes for it and is caught at midwicket without the score moving 53 for 2 to 53 for 5 in the blink of an over or so. So two new bats face an uphill struggle Aguilleira (yep) and Kyshona Knight look to move their side on from 60 for 5 after 20 overs.... facing another poor performance and heavy defeat.
Knight and 'Christina' move it to 91 with the latter smacking a mighty 6 to the boundary to take them into the 90's. Unfortuantely she misreads the next one and is well stumped. But they did add 31 and in the context of this game that is significant. Daley however is not so adept and while Knight continues to loos for openings she is hamstrung when Daley picks one out of the "Somerset Farmer's batting shot Almanac" and is bowled middle stump while looking to plant a decent ball somewhere is Morrisons. 108 for 7 (the 100 came up in at 30.2 overs). Kyshona Knight looks like the only hope of a decent total here and that is going to be somewhere around 150 at best which is a strange definition of 'decent' I suppose. Meanwhile Fletcher at the other end is missing everything without getting a nick. It may only be a matter of time.
Night does get the score moving and has reached 141 before she succumbs for a good 41 herself. The question is then whether they can make 150. Fletcher answers this by hitting two consecutive boundaries and running a single before the last two girls are in and then out. West Indies all out for 150 with 7 overs to go.
The Reply
It was doubtful that the New Zealanders would be hanging around with run rate etc being important and they go off at a real belt with Rachel Priest hitting 51 off 29 balls (9 fours and 2 sixes) while her opening partner Suzie Bates just holds up the other end for 16. After 9 overs they are nearly halfway there and have lost no wickets. By the end of the 10th they are over halfway and seem in no real trouble at all.
The 100 arrives halfway through the 13th and it looks like Priest will see them home but Anisa Mohammed hhas other ideas and she has her caught by Daley with a score of 90 out of 120 at the end of the 15th. Quite soon after (127) they also clean up Sophie Devine who is bowled by Steph Taylor for only 4. It won't change the end of this game but it does have an effect on New Zealand's position which alters with every wicket they lose.
But they lose no more and go from 127 for 2 at the start of the 16th to 151 with an all run three 2 balls into the 19th over. Windies go down again and the Kiwi's get an early bath. Longer than I expected but the game was over at halfway to be honest - or even when the West Indian side went from 52 for 2 to 53 for 5 in an over and a half.