Slipless in Settle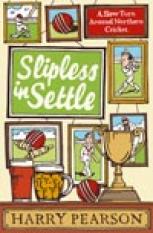 Book review
By Dingy Bags
February 12 2011
Dingy Bags provides a comprehensive review of Harry Pearson's novel describing a tour of watching cricket at various levels from ooooop North, depending what is North. This is good insight into the book and may tempt you to add to selection for the comming season.
Slipless in Settle, A Slow Turn around Northern Cricket
By Harry Pearson
Reviewed by Dingy Bags
In the summer of 2009, Harry Pearson decided to spend his weekends on a grand tour of the league cricket grounds of the north of England. I suppose we'd see him as a kind of Jeff Coleman, with whippets. Except that he travels all over the north – and what he regards as the true north, anywhere above a line drawn from the mouth of the Mersey to the mouth of the Humber (think about that and you realise it makes Geoffrey Boycott a southerner, as he is quick to point out). This takes him to some unlikely sounding leagues (Craven and District, North-East Premier, Northumberland and Tyneside Senior, the North Yorkshire South Durham, the Durham Coast) but he tells us how old they and the clubs that play in them are (late Victorian at the earliest) so that you feel kind of ashamed, as a soft southerner, that we cottoned on to league cricket so recently. At one time there were nearly a hundred such leagues in Yorkshire alone.
The result is an excellent read. He doesn't just describe the cricket he sees, though he's good at that, he also gives you plenty on the history of the clubs, on the famous pros who have played for them, the clubhouse, ground and its environment, and on the towns themselves. Most of these were originally mining communities or "boondock villages". I had to look that up (and I have no intention of telling you what I found). His observational skills that make his reporting of the cricket so enjoyable extend to descriptions of the towns as he now finds them and to the people he meets, either at the cricket or on his travels.
..vast industrial dairies and rows of houses rendered in a colour that squatted grimly in the no man's land between grey and brown. The Irish Sea looked like the contents of a slops bucket
So this is a book about social history too. And about rain, and cricket teas.
There is plenty, too, looking back to some of the great players who graced these leagues, either on their way into higher grade cricket or as pros, when it was financially worth their while to play only at weekends (as recently as Joel Garner, at Littleborough). All the expected suspects are here: we start with Learie Constantine and are quickly on to Sidney Barnes (4000+ wickets as a pro, from 1895 to 1940 – when Saltaire advertised for a pro, he replied by telegram, simply, "Will I do?"). Close, Wardle, Illingworth, Viv Richards, Lance Cairns, D'Oliveira, Hirst, Rhodes and many more make an appearance, with many stories familiar and unfamiliar that are linked to them.
One of the best of all cricket stories is in this book. Cec Pepper, whom I remember as an umpire, was a raucous Australian who would have played for Australia if he hadn't upset Bradman, then chair of selectors. He was an aggressive leg-spinner, known for an ability to intimidate umpires in the Central Lancashire league, in which he turned out for various clubs in between upsetting more people in authority with the strength of his opinions and the language he used to express them. But he met his match one day. Early in an over, Pepper appeals loudly for lbw. "Not out," replies the softly spoken Lancastrian umpire. Two balls late, even huger appeal for lbw. Again, "Not out." Pepper, who has merely gone a shade of red and muttered at the first rejection, this time swears audibly, glares at the umpire and stalks back to his mark. Last ball of the over, the biggest appeal of the lot, with a backward-dancing, arm-waving performance to accompany it. "Not out." This time Pepper makes no attempt to control his feelings: a torrent of abuse is hurled at the umpire with the usual suggestions of blindness and illegitimacy. He snatches his sweater and stamps to his place in the field, which happens to be at square leg, so he's standing next to the man he has just abused so violently. As that over progresses, it occurs even to Pepper that he might have gone too far. The closest he comes to apology, though, is to ask the umpire if he is going to report him to the league for all the bad language. "No," comes the reply, "I like a chap who speaks his mind." Pepper is still thinking how refreshing it is to meet such a broad-minded umpire as he starts the next over. Second ball, another huge appeal. "Not out, you fat, bald, Australian bastard," replies the umpire, softly.
There's plenty of that – and some of the stories come from first-class and test cricket in just the way a chat at the cricket can ramble from the game in front of you to other contexts. There's also plenty of humour from Pearson himself, some of which missed the mark a little for me, but some of it made me laugh out loud, such as this on persistent England injuries:
...think of Michael Vaughan with his knee, Ashley Giles with his hip, Kevin Pietersen with his persistently swollen head...
or this, on the troubles in Britain in the nineteen eighties:
There was social upheaval, strikes, turmoil and Saint and Greavsie
and this:
A Manchester tart is basically a bakewell tart with meringue on top, because everything from Manchester is a bit showy.
But we keep coming back to the cricket. A nice touch is that every chapter ends with a few details about how the two clubs playing in that chapter got on by the end of the season, and how certain players (and not always the pros) fared overall. Evidence of the skill of his writing is that, briefly, he has made you care about these games, so you are genuinely interested to read these details.
I greatly enjoyed this book. If any publisher reading this would like me to produce something similar (though every chapter would probably be about a day watching Middlesex), I'll do it for a very small fee. More seriously, if, like me, you are not an easy person to buy Christmas presents for, then you could do worse than put this on your list for Santa. It's not as good as actually watching a game, but it's the next best thing.