The Test Era Of Mike Brearley Part 3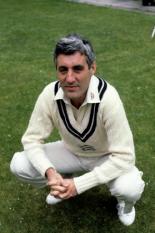 Middx Capt Ashes success
By Seaxe Man
December 2 2011
Here is the much awaited Part 3 of Seaxe Man's Mike Brearley's Ashes captaincy success. Seaxe Man gives report on five notable Ashes matches achievements under the tenure of Mike Brearley. And to think there were still more Middlesex captaincy Ashes joy to follow in future years. For those who missed out Parts 1 and 2 are linked ( Maybe parts 4 and so on will follow at a later date)?
This was to be a five match series, which today the ICC describe as of iconic status.

Match Notes.

Australia had debutants in Len Pascoe, Robinson and Craig Serjeant.

Staged as a Jubilee Test, to commemorate 25 years of the reign of Queen Elizabeth the Second. The match produced then record receipts of £220,384 and a total attendance of 101,050. Brearley began his reign as England captain after Greig had been removed from office because of his involvement with setting up World Series Cricket.

Rod Marsh set a new Australian record for this series (70) when he dismissed Chris Old. Old took his 100th wicket in 32 Tests when he dismissed Robinson. Willis returned the (then) best figures of his Test career 7 for 78.

Middlesex had one other player in this match, Graham Barlow who batted at six. He made 1 and 5 and was not to feature again. His place in the 2nd Test went to Geoff Miller of Derbyshire, now National Selector

Over five hours were lost to rain. Brearley made 9 and 49. His opening partner Dennis Amiss made 4 and 0, and was replaced in the 3rd Test by Geoff Boycott.

Toss England. Result. Match Drawn.


Debuts. Australia. Len Pascoe, R.D.Robinson, Craig Serjeant.

Scores. England - 216. Woolmer 79, Randall 53.and 305. Woolmer 120, Greig 91.

Australia. 296. Serjeant 81, Greg Chappell 66, Doug Walters 53 and 114 for 6. David Hookes 50.



2nd Test at Old Trafford on 7,8,9, 11,12 July.


Match notes.

England completed their victory on the fifth day at 12.34pm. Remarkably, considering the venue, no time was lost to rain or bad light during the match. Woolmer scored his second successive hundred of the rubber, it was the third and last of his Test career and all three centuries were made against Australia. Underwood took his final fivefer for Tests in England.

Toss Australia. Result: England won by nine wickets. Debuts: Australia: Ray Bright.

Scores: Australia: 297. Doug Walters 88.and 218. Greg Chappell 112.


England: 437. Woolmer 137, Greig 76 and 82 for 1. Brearley 44. ( 6 in 1st)


3rd Test Trent Bridge 28,29,30 July and 1,2 August.


Toss Australia. Result: England won by seven wickets.


Debuts; England I.T.Botham.


Match notes


At 4.42 on the fifth afternoon, England gained their first win against Australia at Nottingham since 1930. Boycott returned to Test cricket after a self-imposed exile of 30 matches and scored his 13th hundred in official Tests; it was his 98th century in first-class cricket. Knott became the first wicketkeeper to score 4000 runs in Test matches and his score of 135 (then) was the highest score by a keeper in this series.
His partnership with Boycott of 215, equalled Englandís sixth-wicket against Australia.; it remains (then) the only England partnership record to be equalled/broken since 1938. Boycott became the second player to bat on each day of a Test.


Scores: Australia. 243. Rick McCosker, 51 and 309. McCosker 109.


England. 364. Boycott 107, Knott 135 and 189 for 3. Brearley 81, (15 in 1st) Boycott no 80.


Willis and Botham took fivefers for England and Len Pascoe 4 for 80 best of the bowlers for Australia.


4th Test Headingley on 11, 12, 13, 15th of August.


Toss: England. Result. England won by an innings and 85 runs.


Match Notes


England regained the Ashes at 4.39 on the fourth afternoon. When Marsh skied a drive to cover, Randall, who turned a somersault after completing the catch.

At 5.49 on the first day, Boycott became the first batsman to score his 100th first-class hundred during a Test; last out, he was the fourth England player to be on the field for an entire Test Match. Brearley was out to the third ball of the match.


Australia made their lowest total in a Leeds Test. Willis took his 100th wicket in Tests (Thomson).

Scores England 436. Boycott 191. Australia 103 and 248 . Marsh 63.


Bowlers England. Botham 5 for 21 (1st) Australia Len Pascoe 4 for 91



5th Test Kennington Oval, 25 (no play), 26, 27 ,29, 30th August.


Toss Australia. Result. Match Drawn.


Debuts: Australia: K.J.Hughes, M.F.Malone


Match notes.


Nearly 12 hours were lost to rain and a waterlogged ground. This was the last before World Series Cricket dominated two Australian seasons and claimed twelve of its participants.


Kerry Packerís schism ended Knottís record England sequence of 65 consecutive appearances and the Test careers of Greig, Malone and Walker. Thomson took his 100 wicket in 22 Tests.


Scores: England 214 and 57 for 2. Australia 385. Hookes 85, Walker 78no, Marsh 57.


Bowlers.


Thomson took 4 for 85 for Australia and Willis 5 for 102 for England.


So concluded Mike Brearley's first stint as Ashes skipper with the considerable reward of regaining them in style by 3 games to nil.


On the Middlesex front. Further satisfaction was in sharing the Championship with Kent. (retained?). And winning the Gillette Cup in the Lordís Final with a victory over Glamaorgan.


Further successes were to follow.