A Passage From India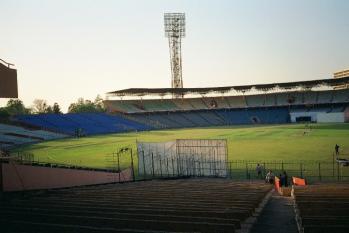 Was Comeback here?
By Comeback Gatt
February 10 2012
In a desperate attempt to provide some kind of match report for MTWD our moderator Comeback Gatt travels to India. He reports on a game that petered out and had very little atmospherics. However, this a fascinating read on what it is like to experience a domestic 4 day match abroad.
My dear old friend Alan invited me to stay with him in Mumbai for a couple of weeks. He returned home 10 years ago when his Father died to take over his business. I was due to follow the Middle in The Champions League in 2007 but the day before I was due to fly out came the terrible bombings.
We had decided to take in some cricket, and as it happen Mumbai were playing a home Ranja Trophy Elite match against Rajasthan. So here is a short report on the game.
DAY ONE
It seems there is a bit of history between these two teams. The visitors knocked Mumbai, the strong favourites having won the trophy in the 2009/10 season, out of last season's competition in the Quarter Final stage. Mumbai had won Group A of the Elite League whilst Rajasthan won their group of the plate. The Q Final was drawn but the visitors won by virtue of first innings lead.
I was looking forward to seeing Indian cricket in the flesh, so to speak. It is an interesting ground with not too much cover. Boy did I need to get out of the sun; it was 34 degrees on each day of the match. The ground was pretty empty, Alan telling me that crowds tend to be quite small but more so for this game as India were due to play the second test v West Indies here in a couple of weeks. Tickets had not been going that well so much so that they had reduced prices. Alan had a ticket for day one.
Anyway, back to the game. Rajasthan won the toss and batted. It turned out to be a real "shirt front" of a wicket with the batsmen in charge throughout all four days. Kantikar was 129 not out at the close from a score of 309-4. The bowlers really struggled so much that by tea; the hosts had used 7 bowlers and 9 by close of play. The fourth wicket going down in the last over of the day. Afterwards Alan said "come and see the press conference" It seems anybody can attend these. What I found strange was that the captain of Mumbai and one of the selectors seem to totally disagree about the days play. The selectors was very critical of the tactics, saying that part time bowlers had been used too early and over 75 runs were scored through the vacant third man area. I did mention to Alan during play that it seemed odd there was no third man; one is just used to seeing them in England.
DAY TWO
When we arrived at the ground it was covered in a heat haze that looked just like smoke. This cleared and Alan's hopes were raised by a few early wickets, including Kantikar for 159. At one stage the visitors were 394-6 but the middle order rallied, and the eight wicket went down at 436. However number 11 Singh batted superbly scoring 34 to help take the visitors to 530 all out. By the close Mumbai had lost two wickets for 104, although skipper Sharma had scored 59 from 34 balls.
DAY THREE
Phew this heat is getting to me, we discussed missing today's play but decided to go. It turned out to be a very good day for the hosts. The runs continued to flow, the bowlers to struggle. Sharma went to 100 from 132 balls before being dismissed which allowed Nayar to dominate proceedings until he seem to jam his hand with the bat and had to retire hurt at 155. Mumbai lost just three wickets during the day to close on 439-5. Match heading for a certain draw.
DAY FOUR.
Hardly anyone in the ground. Score. moved onto 520-6 and the return of Nayar. He decided to play his shots. When the score reached 530 he and Ibal Ubulla raced for a quick single and then celebrated in the middle of the pitch. Mumbai had first innings lead which meant three points to them and only one to the visitors. On 199 Nayar should have been run out, he went for a quick single, Ubulla started, then called no! But which time both batsmen were in the middle of the pitch, but a poor pick up and throw by a fielder and then the visitors keeper fumbled the ball allowing Abulla to complete the run to take Nayar to his 200. He first threw his bat down and stormed up the wicket to have words with his team mate and then acknowledged the cheers from the small crowd. He was finally out for 243, Abulla made 64 and Mumbai were dismissed for 625. Everyone went through the motions as Rajasthan batted again and with score on 70-2, hand shakes all round a match declared a draw.
So that was my first match, and to me too batsmen friendly, Give me the cut and thrust of English county cricket. But an enjoyable four days. The locals were very friendly and found it strange that an Englishman should be watching Indian regional cricket. Well some sightseeing for me until I fly home, back to a English winter from the heat next Sunday (20th November)