MTWD celebrate a Decade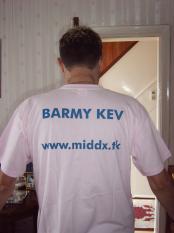 We made 10 years
By Barmy Kev ( with bits from ex mods and a Chief Exec)
March 18 2012
18th March 2002 is a historic day for Middlesex followers. Two students at the time, Jeremy Horne (Barmy Jez) and David Slater (Shrek the Fifth) had the brainwave of setting up an alternative website for Middlesex supporters. It won't last I hear you say. Well ten years to this day it's still going strong. Barmy Kev provides a plotted history of the highs the lows and the challenges overcome that enabled us to reach this point.
MIDDX Till We Die 10th Anniversary
Starter for 10
It was in April 2002 I found MTWD. I was looking at Sportnetwork's Drunken Wasps site and while randomly browsing this Network I discovered there were some cricket sites. Lo and behold I found one for Middlesex and the rest is history.
The early days there were five regulars. Jez and David, me, Moundstander and Lord Of The Chairs, whatever happened to them? Shortly after, Seaxe Man came on the scene, well we all know what happened to him, even if he has aged 40 years in the space of 10. At that time it was about one posting a day and when I put something on, I would continually press the refresh button in desperate hope of a response. I remember ecstatic moments of a response 2 days after my comment. There was a slow trickle of new contributors and the growth was slow.
The first significant event was a meeting Jez and David had with Vinny Codrington that summer. He wanted to support the site and offered to put an ad in free of charge in the Club's Bi annual magazine (it wasn't called the Crusader or Panther in those days). In a short space of time there were many who had previously never heard of us, suddenly contributing. The site started to thrive.
A small contribution to this piece by David Slater himself:
"When we set up the website, it was more as a case of finding something to do; we never thought it would go anywhere. For the website to still be running 10 years later and getting so many hits a month, is incredible and something I am very proud to have been part of
Extra Cover
Jez lost interest after about a year and David kept the site going single-handed. A moderator's life is not always easy and as the demands of the site were increasing. David sadly had personal issues with family illness. At that time not all contributors were well behaved and several bans were issued. David made many desperate pleas for someone to take over the moderating with no response. To his credit, David still kept it going in spite of matters on the site becoming troublesome and the personal issues getting worse. Personally, I was happy to help, but did not have the confidence or ability to take this on my own.
Then to all our relief Ged stepped in. I was his informal back up, but he quickly appointed me as a moderator. Ged was keen to build on foundations laid with some new ideas. Rather than rely on reports based on other Internet related articles he felt it was practical for an attendee to do a match report of their experience. This has proved till today to be a popular feature. We had many ideas for competitions and quizzes to make the message board more interactive. Ged also wanted a more liberal attitude to banning and felt with warning and nudging in the right direction would be beneficial. This 'tolerance' policy had worked in some instances, but gave us many challenges we could have done without. More importantly, however, the popularity of the site kept growing. With this growth, the demands on the moderators were greater.
One of the darker moments was when Ged had a 3 week break. He announced he would be away and for everyone to behave themselves. I was working 12 hour shifts and would come home to find this was a cue for some using the website to provoke trouble. I felt like jacking it all in and the few trouble-makers you know who you are, if you read this, shame on you. On Ged's return, I banned him from going away again and threatened to confiscate his passport. A third moderator was needed for extra cover and relatively new user Comeback Gatt filled this role. I'm pleased he is still with us providing support where necessary.
Also, we have an anniversary contribution from Ged:
"I thank Kev for his kind words in this piece and I would also like to acknowledge his tenacity and supreme efforts for the site throughout MTWD's 10 years to date. Fan sites for sports clubs tend to come and go – very few have staying power. It is an extraordinary achievement for MTWD to have made 10 years and to still be going strong. But moderators can only achieve so much in this regard - MTWD's durability is mostly down to the superb bunch of contributors and regular readers. I have met many wonderful people through Middlesex CCC – many of whom I probably wouldn't have met were it not for MTWD. For the amazing friends I have made through MTWD, I shall always be grateful. It remains one of the best sports club fan sites on the world-wide-web and is a great credit to Middlesex CCC. May MTWD continue to go from strength to strength."
I Heard A Rumour on MTWD
It became apparent over a period the huge role MTWD played with Middlesex CCC, their players and staff. I remember at Southgate a chat John Embrury had with the Turkeys with me in background. The amount of times he said in his rants "Kev don't put this on your site". I asked him whether he reads the site and he said he doesn't but his daughter does and every morning over breakfast she would give updates on the fans opinions. In 2008 season it was known Ed Joyce would be leaving the club and there was all sorts of unfair assumptions on his motives, which he must have read. In Antigua for Stanford tournament he approached me and gave his honest heart felt account and he wanted me to put the record straight on MTWD, which I duly did. On the same trip a very high up person within club commented saying he reads MTWD every day. I won't reveal his name but when asked for a further opinion he said "I Love It". More negatively Vic advised me Murali Kartik and Chris Silverwood turned up at Uxbridge in very bad moods purely due to negative comments about their attitudes on our Message Board. Another instance was Tim Murtagh's mum on Kevin Hand's commentary the day after a false rumour was started on MTWD about his boy joining Sorry, denying this.
In 2010 Ged said in the not to distant future he will be relinquishing moderators duties due to time constraints with other issues. He wanted to leave with the site in good hands. At this time we were looking for another moderator and in Holland I popped the question to Kimmy and she said "I will." ... "I will become a moderator." Luckily I forgot to mention to her what it involved. She was a breath of fresh air with new ideas. She compiled business cards to promote the site and MTWD player of month awards with a trophy and something fizzy as a prize last season.
Ged moved on from moderating a year ago and we are grateful for his contributions. His technical expertise and words of wisdom are greatly missed, but we've muddled through successfully.
Fifteen Minutes of Fame
My proudest moment was at end of last summer when I heard the Sunday Observer had written an article about MTWD and our players' nicknames. Two days later BBC Radio London wanted to interview one of our moderators to find out more about this and other Middlesex matters. I was volunteered or was it the other way round. While I was on the phone awaiting this interview, I could hear Mike Tindall talking about England's prospects in the Rugby World Cup and I was due to follow. Nerves were jangling. I was relieved my interview was a success, but having replayed this many times I over used my quotas of "erm".
On reflecting from a personal point of view, what matters the most is the many friends I have met from MTWD. 10 years ago I would attend a Middlesex game and would be on my own, Kevy no mates. Through MTWD I have been privileged to be in excellent company at matches and feel I'm part of an extended family.
Looking Forward To More Decades
Just as I was worrying about combined time the current moderating team can devote, we have new moderators in Chunky, Diamond with some Beefy bits to fill the gap. After 10 years, I am proud to say we are still going strong. There have been some difficult times and many occasions we have been close to giving up, but we have weathered these storms. Here's to many 10 years anniversaries.
We are Middlesex Till We Die, till we die.
And Finally a Message from Vinny on behalf of Middlesex CCC.
On behalf of Middlesex County Cricket Club, I would like to pass our congratulations to Middlesex Till We Die on the site reaching its tenth anniversary.
I'm sure when the website was established a decade ago, few would have predicted what lay ahead, and that ten years on it would still be a thriving interactive forum for Middlesex members and fans alike to chat about all things Middlesex.
Whilst we've had cause to have the occasional odd stern word with MTWD's administrators due to some postings over the years, we've always felt that it was important for fans of the club to have a place to independently voice their opinions about the club, and this is where MTWD has done such a wonderful job.
Many of Middlesex's most ardent, loyal and passionate fans can often be found residing within the message boards of MTWD, either as those posting or as those administrating, so it's no surprise at all that MTWD continues to offer fans of the club a brilliant environment to debate all the goings on at Middlesex and elsewhere within the game. Our thanks go to all of you for your continued support and ongoing commitment to Middlesex County Cricket Club.
Our congratulations go to all at MTWD for reaching this milestone, and we wish you all the best of luck in the decade ahead.
Well done MTWD – Keep up the good work."
Vinny Codrington, Chief Executive, Middlesex County Cricket Club