Tosh and Becks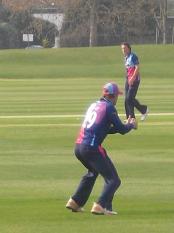 Spot the catch or the fan
By Beefy Roberts
March 23 2012
Beefy Roberts with the world at his Oyster Card travels to Beckenham for a pre season friendly. We hear about how Ireland is Scollay in disguise, how the scoreboard deducted AC 465 runs, some pre quality season moans from the Kent faithful. Oh yeah we also hear about a Middlesex pre season win. Any lack of accuracy blame it on being pre season elements that even affect our rusty reporters. Regardless, an entertaining read to follow. Many thanks Beefy.
There are buds of green in the trees, the smell of freshly cut grass in the air. Yep, the cricket season is here and a good crowd of over 100 is here before the game starts.
I decide to stand on the grass bank near the pavilion as the bell is rung, nobody seems to be in a rush as Kent walk out and i work out we are batting we are looking smart in our new one day shirts. Kent in shirts with no name or number and with no PA it should be fun working this one out, but it is pre-season!
Robson faces the first ball at the pavilion end and after 3 balls our first run of 2012 comes from a wide ball ( a one man standing ovation follows). It's a cautious start and we are 27-0 when soon after Robson (who was wearing Williams jumper earlier) goes for 10 caught behind off the bowling of Shreck. Adam London comes in and the scoreboard has 50 on it from 10 overs, after 15 overs its 63-1 as Malan and London both settle down. When we reach the half way stage we are on 90-1 and both batsmen look very comfortable playing some good shots around the ground. Dawid Malan reaches his well deserved 50 and the scoreboard shows him being on 514 n.o he then goes down to 49 n.o and reaches his 50 again at the same time we get to 101-1 and scoreboard shows him 40 n.o (it is pre-season!)
We lose a wicket as London goes LBW for 40 but shows some impressive pre-season form, long may it last. Captain Dexter is in now and on 9 was VERY close to being run out but survived and we reach 150-2 as our captain sends the ball flying over the bowlers head for a lovely 6.
We get over the 200 as Malan gets a 4 to reach a really good ton ,a very confident innings looks like the Malan from 2010 is back! A wicket goes as Dexter is caught on 37 and the next batsman comes in wearing number 88, so its Ireland then? No,its Scollay in disguise. On 214-3 Malan is dropped on 105 and we also benefit from an overthrow.
A couple of Kent players are getting some bad criticism from their dedicated fans, being Shreck and Harmison, Shrecck tries to be clever and send down a couple of dead balls and trying to stump Scollay (no 88) as he was backing up , it didn't work and really got the Kent moaners going!
We lose a wicket as Malan is out for a superb 128 and that was in the 39th over, a wonderful knock and a joy to watch. Simmo joined Scollay at the crease and gets 5 runs as we finish on 257-4, a good winnable score.
Kent,with same shirts on come into bat, Crook and TRJ open the bowling Crook pav end and TRJ the brick wall end (from right of pavilion) off 5 overs Kent are 26-0 and the moaners are asking if we are playing with a white ball today! Crook gets the first wicket on 28 and the scoreboard gets stuck,same old problem when we play away (but it is pre-season!)
TRJ to batsman 3 and with a good diving catch, Ollie in the slips just misses the ball for a great catch and it goes for 4 runs,3 7-1 off 10 overs. Ireland is first bowling change for TRJ, his second over going for 13 runs, it's 96-1 off 20 overs, scoreboard shows 29 overs gone and 11 overs left and at one stage showed we had got 857 runs off our 40 overs!!
Batsman 3 reaches 50 and Smith is on for Ollie its 126-3 as bat 3, who I find out is Blake, is caught off the bowling of Smith, Key reaches 50 and Malan is on for Ollie and must admit its getting bit confusing keeping up with no PA. It's 158-2 off 30 overs and need 10 per over, but with our tight fielding and bowling it could be difficult to get.
With Smith bowling I see that another fielder is also wearing a shirt with no 11 on it, feel like giving up now!
Its 193-5 as no 5( Northeast?) is clean bowled by TRJ for 30, Malan the century maker is now on drinks duty and Kent need 13 per over. Key is on 94 when Crook gets him caught by Scollay its 203-4 with Williams bowling then he gets a wicket caught Dexter 218-5 the light gets worse and Kent need 30 off 2 overs Bat 15 goes as its 229-6 b TRJ c Scollay on the boundary rope.
We get a well deserved 21 run victory as the light is so bad they would of gone off ages ago in a county game. Oh well it is pre season

The bowling and fielding looked very tight,and batting looked very confident. Hopefully things to look forward to in the season and worth going today to watch.