10 years, 5 glorious moments.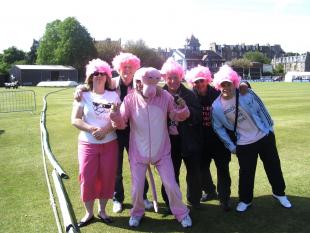 Mad,the lot of them!
By Shrek the Fifth
March 25 2012
Shrek the Fifth as part of our 10th aniversary gives us his top five moments...so far.
When Kev asked me to write a piece about MTWD to mark the 10 year anniversary, I wasn't sure where to start. I could have written about the story of how it started and proceeded to grow, but that wouldn't get to the true heart of all the good times. Instead I decided to share my five MTWD highlights from the past 10 years.
But first, in true Gwyneth Paltrow Oscar acceptance speech fashion, I'd like to thank some people. Jeremy Horne, for being there in the early days, Kev for his friendship and company throughout some trying times, Vinny Codrington for backing the site in it's infancy and seeing the value of it, the players for all the time they have given up for interviews and posing for pictures, Ged for his help and time in taking over the site when family issues meant I could no longer devote enough time, you the readers for helping to make the site what it is today… my dead dog Buster, my car Michelle, my armchair Amy, Kleenex for making the tissues I am using now and Lime Road Tesco for selling them…
Chelmsford 2002
With the college holidays drawing to a close and promotion in sight, 60% of the regular MTWD users decided to head off to Chelmsford for day 1 of Middlesex's County Championship match against Essex. Whilst that statistic may sound impressive it should be noted that a) Only 5 people were using the site at the time and b) two of them had jobs that limited their ability to take a whole workday off to go and watch some cricket.
We arrived in Chelmsford in glorious sunshine (yes, amazingly the sun does shine in Essex occasionally!) and headed for the ground where we had our first encounter with MTWD legend Janet Davis. We settled down for the morning session with the news that Middlesex would be batting first. With Straussy being ruled out with an injury, Owais Shah took over the captaincy and Ben Hutton opened with Sven Koenig. At the time Ben's form with the bat was not great; he either hit a high score or was out for a duck, so when he snuck a single in the first over we stood up and cheered… much to the delight of the Essex fans nearby who feared this would happen every time there was a run.
Hutton took control and made 85, but a middle order collapse saw Middlesex close on 283/7. After the game, myself and Jeremy Horne were able to get some interviews with some players done before heading off for a few drinks and meal before the train back to London.
Well that was the plan. As we walked through the centre of Chelmsford at around 7pm on a warm summer's evening, on the last day of the school holidays, there wasn't a person to be seen anywhere. It was almost like walking through an abandoned city. At any moment we expected the Army to come round the corner in tanks and gas masks, with zombies approaching from behind us. We made the decision there and then to get ourselves to the station and on the first train back to civilisation London.
The pictures I had taken that day were used to make a feature on the site, which sadly I cannot find. Needless to say, we made a bit of fun at Chelmsford and it didn't go down well with one local, who if I remember correctly, promised to beat us up if he saw us again…
Sven Koenig's e-mail – 2005
In the early days of the site, when 67.983% of my summer was taken up by watching Middlesex, one of my favourite players was the machine from Durban, Sven Koenig. At the end of the 2004 season, Sven decided to hand up his gloves and head home to take a job with Investec. That winter, Ged wrote an excellent article entitled "Sven will we see you again?"
Although we knew that some players looked at the site, we had never received any correspondents from them. That all changed in June 2005, when, depressed by family problems and heart-ache, I got home to work to check my e-mails. I scanned the names and one jumped out right away… "Sven Koenig".
Sven had seen the article and had taken the time to send a long e-mail about how much playing for Middlesex had meant to him and how he hadn't even lifted a bat in anger since his last match. I would love to re-publish the e-mail, but sadly over time it got lost and inexplicably I only posted it on the message board, not in the news article section of the site. It was re-printed in the Seaxe Club magazine later that year. If anyone has a copy, please let me know.
Twenty20 Finals day.
It would be impossible not to include this magnificent day in the list of top 5 moments. I missed out on the glory days, and long believed I would never get to see Middlesex win a proper trophy. Twenty20 Cricket had not been our forte over time, so to see the team win 8 out of 10 games in the group stage and top our pool was a pleasant surprise.
A tense quarter final at home for the day, The Oval over Lancashire followed thanks to some masterful batting from Dawid Malan, who, batting at number 6, came in with Middx on 21/4 and produced a magnificent knock of 103 from 54 deliveries, including 10 4s and six 6s. Only Morgan (33) and Saint Tyron of Henderson (21) got into double figures as Middlesex reached 176/7. In a tense run chase, Lancashire fell 12 short, largely thanks to a magnificent over by Mr Malan, which only saw three runs scored. Middlesex were off to Finals Day at the Rose Bowl!
There was a lot of debate over who we'd face in the semi-final (you may need to sit down for this bit...) The Durham v Yorkshire quarter-final was postponed in bizarre circumstances. The ECB received allegations about Yorkshire fielding an ineligible player in their final group game, against Notts. In a hearing Yorkshire were told that they were to be thrown out of the tournament, with Nottinghamshire taking their place. Yorkshire appealed and at the appeal hearing (held barely two weeks before Finals Day) their appeal was heard and rejected, but this time Glamorgan were placed into the draw on a superior run rate, because Notts were not awarded the points for the June 27 game. Confused? Me too. Durham eventually dispatched Glamorgan comfortably 4 days before the main event.
With Kent beating Essex, Durham felt confident and was in no hurry at all. Whereas Kent batted first and scored 173, Durham strolled along to a frankly poor 138/6. Goodleman and Joyce got Middlesex off to a solid start, reaching 20 and 42 respectively, before in came Owais Shah and St Tyron. Owais didn't have to do much as St Tyron promptly hit nearly every ball straight into the crowd. His 59 not out came off just 21 deliveries including two 4s and seven 6s. The only embarrassment for Middlesex in that 8 wicket win was the sight of me being filmed by Sky celebrating the six that brought up St Tyron's 50.
The final was a tense affair. Middlesex batted superbly to reach 187/6, with Shah top scoring on 75 (35 balls, six 4s and five 6s), with a rather dull assistance when compared to his display earlier in the day of 43 from St Tyron. Kent responded well and was never far behind. With five overs to go, the scores were identical. With two overs left Kent needed 28. Dirk Nannes, the Japanese speaking, World Cup skiing, saxophone playing Dutch- Aussie bowled the penultimate over… 6… wicket… dot… dot (22 from eight needed)… 4… 2.
So 16 to win off the last over… St Tyron to bowl. Promising you might think, but his three overs had gone for 46 already… 2… 14 from five needed… 4… 10 runs needed and Bumble points out that provided Kent don't lose 2 wickets, 9 would win it based on less wickets lost… Henderson bowls to Kemp (Justin, not Ross)… Kemp hits it down the ground towards Malan, who throws the ball back to Ben Scott. Only the ball doesn't go to a by now, rapidly retreating Scott, it goes over his head and races down to the boundary, only Nannes running as quick as his ever run before stops it going to the ropes (just) and Kent ran four… 182/4, 6 to win… new bat for Azhar Mahmood… 2… and Kent know three will win them the title on wickets lost… great ball from Henderson… dot ball… Bumble sounds in agony… Henderson bowls, Kemp just gets the bat to the ball, it rolls along the ground to St Tyron, who runs Kemp out. Middlesex win by 3 wickets.
This thread on the message board does a brilliant job of summing up the whole day: http://www.cricketnetwork.co.uk/main/s66/st131275.htm
Barmy Kev's dancing…
The price for winning the Twenty20 Trophy was a trip to Antigua for the farce that was Stanford Super Sixes… The competition came about when Alan Stanford set up a $20,000,000 prize for the winners of a match between England (who prepared by drinking) and the Stanford Superstars (who prepared by spending months hitting Cricket balls miles and miles). Needless to say England lost that match.
Middlesex and Trinidad & Tobago were invited along to give both sides a couple warm up matches, before playing each other for the "Trans-Atlantic Twenty20 Champions Cup", which Middlesex lost by 5 wickets. A rather embarrassing result for English Cricket all round, but why this tournament warrants a mention is for one man's dancing.
Our entrapped traveller, Barmy Kev was the first to put his name down for a trip to the Caribbean, and the first item of clothing packed was his Middlesex Till We Die t-shirt. Lying in front of the TV watching our first match against England, I saw Kev in said t-shirt dancing away… "Sit down lad! Yer in the Caribbean!" cried Bumble as I cringed…
Edinburgh 2009
What Antigua lacked on the field it more than made up for off it, so it was only natural for a group of MTWDers to head off up to Edinburgh for a C&G match at the Grange. I've rumbled of almost 1,800 words now, so I will leave you with two links, the first of Barmy Kev's report and the second the thread of that match, so you can reflect on one of the most enjoyable few days I've had as a Middlesex fan.
Here's to the next 10 years!