The Calm Before the Storm. Sunshine After the rain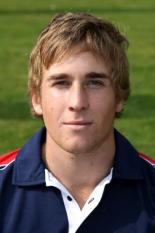 Gritty innings
By Way Out West
April 13 2012
Way Out West makes his debut MTWD report. This is a great read of beers consumed and the fluctuating fortunes of the weather, pitch and Middlesex's progress. Read to the end and you will find out who finished with 15 not out.
The first visit to Lords of the season, always an exciting day and the first day of cricket since that brilliant last day at Grace Road back in September. Get the 10.02 train from Reading, shouldn't be a problem getting to the ground in time, but unfortunately Paddington appears to be one big construction site courtesy of Crossrail.
Get to Lords after the first over via a nice walk through Little Venice and the score is 5/0, Middlesex having been put in by Surrey. Take our places in the Lower Warner and it is overcast and very cold. Thinking about having a beer but seems a little early and a little cold for this, but the MCC members in the Pavilion to my right are wasting no time and it appears the vast majority have a pint in their hand, glass not plastic of course.
Onto the cricket, the first ten overs are dealt with very well and we are 33/0. Straightaway on 10.1 Denly edges Lewis to Davies. Then follows 11 overs of Robson and Rogers looking fairly comfortable. Unfortunately I call the wicket, so apologies Chris, as I state "Looks like Dernbach is trying to get Rogers LBW". Next ball he does.
Dernbach continues to impress and he seems a lot better bowler than the corresponding fixture last season. He gets Malan to play and miss a few times, but at Lunch we are 86/2, Robson 40* and Dawid 10*.
Onto the Star for a pint of Becks but the sudden heavy downpour makes that zwei times Vier. A chance to watch the racing from Aintree and the amazing Big Buck's win yet again. Also treated to a random monologue from a guy at the bar who veers effortlessly from talking about greyhound racing at Wembley Stadium back in the day, noisy neighbours and how to deal with them and Boycott's test average. Interesting in a (very) strange way.
The rain abates and we walk back to the ground, where as ever, the wonderful outfield looks like it hasn't had a drop of rain. The hover cover is firmly on though and doesn't come off until a few seconds before play resumes at 2.55. Tea due to be taken later at 4.45, 12 overs lost to the rain. I am no expert, but the pitch certainly came to life after the rain and lunch break and Robson is bowled by Linley first over back, 86/3, uh oh.
Before I right the following I would like to state that I have always been a big fan of Neil Dexter and think he has been an excellent captain for Middlesex. However, to say he is badly out of form is an understatement. At the start of the season I said that I thought we would give him until the end of April to find form and nothing that has happened so far this season suggests this statement is false. Dernabachs over to him consisted of played and missed, very loud LBW shout, played and missed and then bowled. Not once did he look like getting bat on ball. 91/4.
Simpson in next and again, sorry if this sounds negative, but Simpson at 6 with an out of form Dexter above him, gives us a very fragile looking middle order. First ball edged to Batty, 91/5 and Dernbach on a hat-trick. Berg negotiates the hat-trick ball and looks to be aggressive.
Decide for a different vantage point, the lower Compton clearly being of little benefit to the cause. Move up to Upper Warner and literally the first ball sees Linley clean up Berg, 108/6 or if you prefer 22/4 since Tea. The pitch doing all sorts, keeping low, rearing of a length and some hefty foot marks being made by Surrey's impressive battalion of quicks.
Time to have a look around at the characters that this part of the ground always encourages. "Colonel's Army" sat at the back of the stand as usual including one man who tells us he is a Middlesex, Surrey and Essex member and tries to watch cricket every day of the season, amazing. Also present is the legend that is "Carlsberg Man", I have seen him here at every day of county cricket I have ever attended and you always know it is okay to have a beer when he cracks open his first beer, 11.01 normally. "Tinny o'clock" I call it.
Rayner comes in and never really looks comfortable and eventually goes for a very nervous 2 having hardly played a shot in anger. Disappointing. Murtagh in and plays a couple of edgy fours but any runs welcome and we are 142/7 at Tea, Murts 9*, Malan 32*.
After Tea the pitch continues to play a few tricks with Dernbach having a massive shout for Malan LBW turned down in the 56th over. The light fades and the umpires take the players off at 5.25 with a little bit of rain falling. The Colonel is not happy and tells the umpires to get the players back on, which eventually they do at 5.40 with the light little, if any better.
Murtagh them plays a superb lofted straight drive for 4 and continues to be aggressive until the eventual introduction of Gareth Batty sees him go LBW for 31. Good knock, 182/8, edging towards a point.
Toby Rowland-Jones in next, not my error, the scorecards spelling mistake, not the only one as Jacques Rudolf is opening for Surrey having signed from North Pole CC.
A quick cameo from Roland-Jones, but he falls for 16 with seven balls left in the day. Collymore and Malan negotiate the final few balls but Corey seems asleep as Malan looks for a quick single off the last ball, so Surrey will have first crack at our no.11 in the morning.
225/9 at close, a funny day's cricket with the two delays and the pitch totally changing after the rain. Surrey bowled very well and looked like they will be a big threat to all this year. Middlesex look a batsman short, one solution, not popular to all, may be to drop Rayner and bring in Strauss for the Durham game. Surely Denly, Malan and Dexter can make up his overs?
The key for the second day will be whether or not the pitch still has the demons in it. If it has then we can hopefully restrict Surrey to less than 300 and then give it a real go in the second with Dexter hopefully showing more confidence and hitting himself into form. Men of the day for me were Malan who played wonderfully well whilst all around were folding, and Dernabach who looks like he has come on leaps and bounds in the past twelve months. Carlsberg Man deserves a shout for a steady knock of 15 cans not out.