What Happened Dext?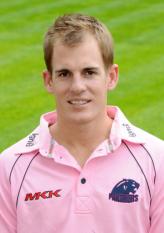 Demon Bowler
By Fozzie
April 13 2012
Fozzie reports on not the most exciting day of cricket, but captures the key moments of a nip and tug match. We also hear of cordial relations with Sorry fans and a call for a Zimmer Frame.
Day 2, and my first day of the season at Lords. First, though, I've got to get there. I'm meeting an old friend who's a Surrey member (just to reassure JW that cordial relations can be maintained even during a derby match) in the Warner Stand, and Beefy's reminder from yesterday about new dress regulations leads me to review and re-review my sartorial plans, consulting the pictures in the new regs as I do so. Eventually I'm on the train, only to get a text that half my packed lunch is still on the kitchen counter. Surely going to a cricket match shouldn't be so difficult….
Still, despite the best efforts of the Metropolitan Line I arrive on time, with bright sunny weather and a reasonable forecast for the day ahead. AC and Corey resume their last-wicket partnership from the previous day, and the first hour of play is totally heartening and encouraging.
Dernbach opens from the Pavilion End. Corey may have been too slow yesterday to take the chance to give AC the strike first thing today, but off the first ball he edges the ball low through the slips and takes a single. The field spreads to give AC an easy single if he wants it, and he does so on the 4th ball, leaving Corey to see out the final two balls with ease.
This sets the pattern for some time to come, with AC regularly taking a single off the 4th ball and having confidence in Corey to survive the remaining balls. An exception is Dernbach's second over, in which AC scored consecutive boundaries with a beautifully timed on drive and cover drive, but as a result leaving Corey to face an entire over from Linley at the Nursery End. But Linley's direction was awry, and Corey faced an entire over without having to play a shot. He was clearly concentrating hard, and there were loud cheers whenever he kept the ball out.
The pattern of singles and occasional boundaries continued, and Batty replaced Linley for the 10th over of the day with the score at 248. There was already a significant rough patch outside the left-hander's off-stump, and Batty got one to turn and bounce to beat AC. But AC still got his customary single to take the score to 249, and after a conference between the batsmen he changed tack in the following over, taking a single at the earliest opportunity to secure the second batting point which had looked highly improbable at 129-7. Dernbach still couldn't dismiss Corey despite running through a repertoire of deliveries, and eventually he was replaced by Jordan who immediately had AC caught behind down the leg-side for 88. 256 all out, and it was great to see the application and good sense with which AC and Corey had played for almost an hour.
My only nagging concern was that if even Corey managed to look so comfortable, it might well prove to be very good batting conditions that Surrey could exploit to the full. Certainly the wicket looked good, though the wear and tear already evident at each end suggested that it might not prove to be so easy. In fact the rest of the session was inconclusive, with Surrey's left-handed openers Rudolph and Davies playing and missing at Corey and particularly Murts (who was unlucky all day) but without actually offering any chances. Gareth Berg had two overs, both maidens, immediately before lunch, and looked in good nick, pacy and accurate. But lunch arrived at 35-0, with no breakthrough.
The pattern of play continued after lunch, with 50 being reached after 25 overs. Both batsmen were starting to look more confident, and when Rudolph drove and pulled Toby for consecutive fours things were starting to look ominous. But Dex then replaced Toby with Ollie from the Pavilion End, and in his first over he lured Rudolph down the wicket and had him comprehensively stumped. There are few more enjoyable sights in cricket than an opposition batsman giving a spinner the charge only to get in a tangle and end up on the floor, and the mood lifted. It was the start of a very tidy spell by Olly, who finished with 1-6 from 6 overs.
Ramprakash was content to play second fiddle to Steve Davies, who was now playing some attractive strokes. He brought up the century with a cover-drive off Berg (less accurate and more expensive than in his opening spell), and then reached his half-century in the same over. At tea the score was 109-1 off 54 overs.
Immediately after tea there was a loud thunderclap and grey clouds appeared, but despite some occasional raindrops there was no interruption to play. Murts and Corey opened after tea, having swapped ends from earlier, and shared a good, probing spell. Davies drove Corey for four, but then sparred outside the off-stump and edged to Simmo. 117-2, Davies out for 62.
De Bruyn joined Ramprakash, and with two batsmen aged 42 and 36 at the crease there seemed unlikely to be many short singles ("Bring out the zimmer frames!" murmured my Surrey friend). Both were cautious and looking rather scratchy against accurate bowling, and Ramprakash earned ironic cheers when a single took him off the score of 6 he had been stuck on for some time. But eventually runs started coming rather more freely off Toby and Gareth, and although the batting was not looking fluent it seemed quite possible that a dominant total was being built.
Then with some 30 minutes left in the day Dex brought himself on at the Nursery End and moved Toby to the Pavilion End, and this brought a significant twist to the day's play. In successive overs they dismissed Ramprakash and De Bruyn, both LBW for 17 with the score at 148. So Hamilton-Brown and Tom Maynard were both new at the crease, and at 153 Gareth held a low catch at slip to dismiss Maynard off Dex - a great fillip to dismiss a batsman who scored heavily against us last season. Hamilton-Brown and Jordan then cautiously saw out the day at 161-5.
So a day that was interesting rather than exhilarating, with under 200 runs scored, began and ended well for the Middle, who in the final overs appeared to wrest the advantage. As a unit they bowled steadily and well for the most part, and in the field they maintained enthusiasm throughout. Dex must deserve some credit for this as captain, and after his difficult start to the season with the bat it was really good to see him make a significant contribution with the ball. The match is finely poised, and the first session on Saturday may well be crucial.