MAYHEM MAYHEM MAYHEM.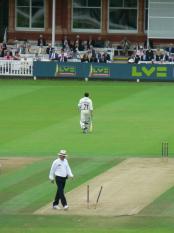 Cheerio for the last time
By Lower Pavillion
April 14 2012
Lower Pav makes his debut MTWD report on a day of absolute mayhem with the Vemin Army descending to the pavillion suited and booted. We hear how there was some horseplay to distract them and someone who knows Lords well seemingly forgetting his way to the pavillion. More importantly all the twists and turns are revealed with Middlesex finding themselves really up against it.

Where to begin on a truly extraordinary 3rd day at Lords when 19 wickets fell. How about at the beginning.

I arrived by car and eventually managed to park. I then met up with The Vermin Army in The Pavilion and we decided to watch from the top tier. It was a pleasant view but very cold indeed.

Play commenced with Surrey on 161 for 5. We took the new ball shortly afterwards. Diamond then made an entirely inappropriate comment about Jordan's chest that I could not possibly repeat but it was very funny.

Please forgive me if I do not describe every wicket in detail because otherwise I will be here all night. Suffice to say there were lots of playing and missing just like the first innings. At last Bingo. Murtagh bowls Jordan 184 for 6. Batty comes out and nicks one for 4. Another wicket Batty gone off the bowling of Collymore a great catch by Denly at point. 189 for 7. Hamilton Brown out LBW to Rowland Jones and the rest of the innings folded quickly . Surrey all out 222. Middx have a useful lead of 34.

We made a decent start and then a very bad moment. 5 minutes or so before lunch Denly chased a very wide one and was out. At lunch we were 63 ahead with 9 wickets in hand and surely still in a decent position.

This then becomes very painful. 2nd ball after lunch Rogers out and we were 29 for 2. We then made a brief recovery with Robson and Malan until the latter was out bowled Dernbach. At that point we were 65 for 3, 99 ahead with 7 wickets in hand. Then complete mayhem. I really do not have the space or the spirit to go into the horrible details. Suffice to say we collapsed to 106 all out. Our batsmen either out bowled LBW or caught behind. I am sure you can see the details for yourselves.

At this stage I was in the minority of one. Surrey needed 141 to win and i really thought we had a good chance.

At about this point we had to go inside as it was freezing cold and stood in the members bar on the top tier.

Hope burned brightly. Rudolph out LBW Roland Jones 14 for 1. Davies out quickly. Then we had a Ramprakash incident. He was out caught in the slips for 1. At this stage, particularly in domestic cricket, it is customary for a batsman to wander off. Not apparently in this case. Mr Ramprakash waited and waited, our boys seemed to think he was out, until the umpires were forced to have a very quick chat and gave Mr Ramprakash out and this time he wandered off for surely the last time at Lords. Oh Dear Oh Dear.

Back to planet earth. I should say at this point I had moved to the Middlesex Room because my view was constantly being blocked in the aforesaid member's bar. Unfortunately many members seemed to be shouting at the tv watching The Grand National. Forgive me I thought this was a cricket club. After a grey horse had apparently won by a nose we could once again watch the cricket.

Unfortunately only one more wicket fell and the players went off for bad light with Surrey on 95 for 4 needing just 46 to win with 6 wickets in hand.

My summary. It clearly was difficult wicket but whether 19 wickets should fall in a day is not certain. However at lunch we were I think 63 ahead with 9 wickets in hand and really should have set Surrey at least 200 to win which I think would have been very difficult to get.

Never mind. I shall be at Lords tomorrow in the hope I can witness something remarkable.