Wellington to Boot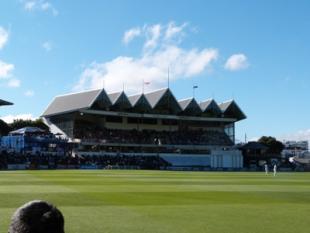 By London Leprechaun
March 18 2013
The London Leprechaun tour of New Zealand moves to Wellington.We hear of frustrations of obtaining tickets and the weather. We get a Geography, Science and History lesson all in one. And yes there's some interesting cricket stuff too.
Wednesday March 13th -The way to Wellington
Reading the morning papers on a sunny Queenstown morning before leaving they are full of the Australian cricket crisis. And coverage is not exactly sympathetic, especially given the other scandals in Aussie football and swimming. There is an interview with the Australian High performance director about Shane Watson which could have substituted the words KP for SW and been an exact replica of what the England management were saying last autumn. Maybe playing India has the same effect on Australia as SA do on England!
Also in the papers today they are saying that Wellington only has 20 days of water left. On the flight up the middle of the South Island you can really see the extent of the problem. The scenery is dramatic – towering mountains some still snowcapped, - with small settlements and farms in the valleys, But the fields are brown and there are many, many dried up rivers. Not just streams, but real rivers, big rivers, wide rivers with hardly a drop of water in them. And this is the South Island still not officially in drought. I am feeling slightly guilty about coming to a city to watch a match dependent on this continuing good weather when this country desperately needs rain – a lot of rain.
And the irony of course is that we are flying over water – lots of water on the flight into Wellington – "and not a drop to drink."
The plane is full of English supporters – it's like a regathering after everyone split up after Dunedin. Lots of independent travellers. NZ is probably the easiest place to do a cricket tour without an organised group because tickets are not a problem. I sit next to a guy who is a MCC member but doesn't watch county cricket because he only likes cricket at the highest level. Well he should be coming to Middlesex soon! Another perk of MCC membership is the ability to pull strings all over the world. A letter from the MCC was good enough for free tickets in Sri Lanka and temporary membership at Dunedin and Wellington – thought at least the tickets had to be paid for. Very useful for shelter in the rain at Dunedin. Maybe I should join MCC for those overseas perks.
Wander round Wellington in the late afternoon to find the cricket ground. Still not signposted or any sign of the Test match but the ground is more obvious as you approach. But I could still wander round it at will. One end is very windy and the pavilion is in shade – it will be cold in the evening. Maybe MCC membership does not always lead to the best perks! But definitely a ground for lots of layers.
Stroll back to the city centre by the harbour. It's a beautiful evening and yachts, rowers, canoeists are out in force. Water sports are big in NZ – and you can see why they vie with GB for Olympic medals. That's the trouble with this drought. Harbours and oceans are so appealing in warm sunshine that it is hard to wish for rain – lots of rain.
Thursday March 14th March - Woeful Wellington welcome.
NZ is good at many things but there is a definite influence of Mordor in this place which makes unfathomable things happen. Or maybe being on the largest roundabout in the Southern Hemisphere let to their ticketing system resembling a magic roundabout today.
It all started so well; it's a beautiful morning and it's a gentle stroll to the ground past the harbour all bright and sparkly. Pubs and cafes en route are busy already with very English breakfasts. NZ radio are talking about long queues outside the ground but as I get nearer only one queue looks any worrying length. The toss is done under cloudy slightly ominous clouds; NZ had already said they would bowl if they won the toss, but slightly surprisingly Cook says England would also have bowled. This is all happening while I, and many others – English and Kiwi are trying to find the right queue for five day match tickets. There is no signing, no stewards and the only information is from word of mouth between people in the queues. It turns out there is only one queue for match tickets, picking up prepaid tickets and card payments. And it is the longest queue and the slowest moving. Officials keep telling us we can pay cash for one day tickets but don't do anything about the ever lengthening line we are in as the one day queue diminishes. The match starts, the queue lengthens and inches forward – literally. Officials keep telling us the same thing, radio commentators remarks on the queue and even start sympathising with us. And there is a definite bonding between English and Kiwi supporters over our joint plights. Radio and crowd noises keep us informed – the first runs, the first boundary; the first wicket ; the first drinks break – yes it took that long. Just as I am nearly at the booth the system gives out and actually says they have no tickets left at all! Another five minutes of watching a man play with a computer to override the system, and then the only match tickets available are for the grass bank which, says the radio is already jam packed and I don't have a seat or anything else with me. So in the end I get seating tickets for two days and will give up Saturday for sightseeing or maybe come back if it looks critical – thought I might need to be here very early!
So at 11.45 I am finally in the ground only to find that no one is checking any tickets and people are sitting wherever they want anyway and the ground though busy is nowhere near full. So I could have got a match pass anyway! AAAGH
If you lost the will to live after reading that imagine how we felt in the queue and there were a lot of people behind me.
And now for the cricket
Compo and Trott are settling in for the long haul. Not a bat out of place, not a careless thought in their heads, the Dunedin collapse exactly a week ago is a distant memory. Slowly and surely they tear the heart out of an honest but limited NZ attack. With no movement to help them, and nothing in the pitch their options run out. After the exceedingly watchful pre lunch period, England dominate the afternoon, and gradually open up the scoring. Though it never gets really out of hand. And there is plenty of opportunity to get distracted by off field activity. Steve Finn wanders past to the nets, clearly not worrying about having to bat for real anytime soon; Matt Prior follows soon after, Geoff Boycott and Graham Gooch have an animated conversation and the radio get very concerned about a lone paradise duck which is fielding around the covers and keeps getting peppered by Compo. Apparently its mate died the day before the Test and it is still looking for it.
Only duck of the day What do you?

After tea the race is on to the century – Trott wins it by a whisker though Compo has taken fewer balls to get to his. With England well on top it is a surprise when Compo is out, thought it takes a good catch to get him. KP is scratchy for the last half an hour as the wind gets up and the sun dips into cloud. The job is not wholly done for England unless he stays in a while tomorrow. England dominated but maybe not quite fast enough.
And then to round of the day – a queue to get out of the ground, and past the many tour group buses lined up outside. As the buses whizz of I stroll back through the harbour which is preparing for a dragon boat festival on Saturday – I think sightseeing will definitely be on the agenda for that day!
Friday 15th March-Fair dinkum day.
NZ sports radio is sponsored by fair dinkum sheds which just about sums up England's day, good enough but not totally outstanding.
We need quick runs today to consolidate yesterday, especially as bad weather is being forecast (bad for us – good for this drought stricken nation). To that regard the early dismissal of Trott may be a blessing in disguise as it paves the way for KP and the other stroke players to take the game to NZ. But there seems to be a strategy developing of playing the seamers sensibly but trying to hit Martin out of the attack. The result is odd. KP hits Martin for six off his first ball, but then there is a curious innings which mixes up some classic stroke play with missed stampings, dropped catches and a general instability. This transmits first to Bell and then Root who play unnecessary shots. And when KP is out just after lunch England are in danger of gifting NZ back in the match after all the hard work yesterday. And Bruce
Martin - an ordinary spinner is beng flattered by the wickets he is being gifted. Especially when Broad is also out cheaply. Enter the new batting hero – otherwise known as Finndulkar. He hung around while Prior got the score up and running, and then played some real cricket shots of his own as the partnership got England to a decent score, if not a match winning one yet. All this while everyone is being distracted by a visit to the Barmy Army from Geoff Boycott, where the bugler plays songs by Katy Perry. For some reason GB is a fan of KP – that KP anyway.
There is a marked difference when NZ bat. Anderson and Finn make life distinctly uncomfortable for the NZ openers, Fulton is out quickly, and though Williamson and Rutherford give some glimpses of a bright future for NZ batting, two wickets in two balls from Broad who is otherwise the least likely of the England bowlers, put them on the back foot. Weather permitting England should be in a position to win this one by tomorrow.
In the evening it gets cloudy, and windy, and they announce that Saturday is almost fully sold out. Get to the gate early is their advice. After yesterday's ticketing fiasco I am not taking that chance. So it is sightseeing and an Asian food and cultural festival alongside the dragon boats tomorrow.
Saturday 16th March Hilly sights and NZ climbing a mountain.
I am glad I decided not to try the cricket today – they closed the gates by 9.45 – for the first time in many years. So my sightseeing day is well on. First stop a hop on; hop off bus tour – often the best way to see a City, But this is not like most other city tours. The bus only goes once an hour- it is actually just one minibus, so you have to book on a specified start time and if you get off say whether you want to be picked up one hour later or two. This lack of flexibility means I decide to stay on for the whole loop and then decide where to go later. So we get a great view of the city from Mount Victoria – including seeing how small the airport is, how brown the countryside is and how hilly Wellington is – actually how hilly NZ is.
I managed to listen to the cricket up to the point Broad took the first wicket but then don't get to hear anything until the lunch break. On a ferry trip across the harbour, ice cream by the harbour with the dragon boats, a wander down to the very impressive railway station I hear the rest of the New Zealand innings, which seems to have gone a bit like – Broad bowled very well, Finn is out of sorts, Panesar is not turning the ball, Anderson may be injured and did not bowl much, we dropped slip catches - oh for the days of Strauss and Swan - but NZ lose wickets regularly enough, including some gifted to us and the radio commentators have the standard discussion about whether we should enforce the follow on if we get the chance.
When we do make NZ bat again, it turns out that this is the first time we have enforced a follow on abroad this century. And you can see why people are reluctant. It sounds painful bowling as Anderson is injured, Finny is having an off day, and it takes a reflex catch to get the only wicket to fall. But it still seems unlikely that NZ can bat two days. Tomorrow is another day, and even the weather forecast has improved, though cyclones are circling.
Sunday March 17th
Irish Rain is falling
Its St Patrick's Day today and there are a few Irish flags around the City and quite a few people in green. Sadly there is a very Irish feel to the weather. There is high grey cloud, and as play is about to start there are light rain drops falling. But there is no question of any delay and play starts with high expectation that England can wrap it up today before the cyclone really hits. With Rutherford going quickly and the day warming up, and Monty starting to turn the ball, there is real expectation. But only for about half an hour. Ross Taylor comes in to strong applause – he is a very popular here – avoids a duck courtesy of a KP misfield and then settles in with strong defence and well chosen counter attacking. England bowl solidly, but there is little in the wicket, NZ are resolutely waiting for the rain, and the frustrated reaction to misfields reveal the anxiety. Lunch comes along with rain, and that is about it. The wind off the harbour is strong, the clouds bank up, the hills disappear, I meet yet another Games Maker courtesy of the anorak and although there are odd breaks in the rain they are never long enough.
After running across Ed Smith yet again in a coffee queue, I decide to head back to the city and spend the afternoon at the Te Papa national museum. It is a fabulous place telling the story of the making of the earth, and the volcanoes and earthquakes that have shaped New Zealand. It is so realistic that there are warning signs that earthquake victims may find it distressing. Very thought provoking too – did you know that before the first Maori settlers there were no mammals in NZ? Nothing on four legs. And now the economy is built on lamb and cattle.
After a happy few hours there I come out to a brighter afternoon and an imminent restart. Do I go back? But there are dark clouds hovering over the harbour and it doesn't seem worth the risk. Sure enough
By the time I have made it back to the hotel it is raining again and this time terminally. Domestic cricket is all off today as well. It is hard to feel annoyed at this when you hear that water rationing is on the cards and farmers are having to sell off their stock, but could it not have waited until the night?
No news about ticketing tomorrow but the forecast is poor anyway.
I have found a local office for the company doing the ticketing for the Tests; i think i will get the Auckland match pass tomorrow and try and avoid any repetition of the fiasco on day 1 here. It is a bigger ground so there should not be a problem, but.....
Just seen on the news that Auckland had two minor earthquakes today – what else can a visiting England cricket team do to New Zealand's climate?
Monday 18th March- Wellington wellied and Auckland sorted
You know that kind of rain that is not very heavy but very persistent. The kind that gets heavier every time the cloud gets brighter. The kind that is great for soaking drought affected grass but is useless if you want to play cricket. Well that was today. Every now and again the rain stopped and the sun almost came out, but most of the time it just rained. So a day of doing practical things – get a new battery for my watch and most importantly get my match tickets for Auckland. So I get cash out to avoid credit card charges, go to the shop, get my tickets, offer my $100 for five days (very good value) only to be asked for $5 ticketing fee. For cash. 5% fee for a cash transaction? When there is no fee on the gate. Don't ticket companies just love to rip rip you off. But at least I have the tickets and won't have the shambles of Day 1 here.
On the way back bump into Posh Margaret – the first new Middlesex connection I can give you, apart from an Ed Joyce look alike in the queue at the supermarket.
By mid afternoon, it is actually quite a bit brighter so time for a trip on a cute cable car – a bit like riding the Central Line vertically and a stroll through a very pretty Botanic Garden. It is the end of their summer and the drought has taken its toll but it is still nice to see native trees, even if it raining hard again by the end of the walk back to town.
Ferry boat cruise tomorrow with a chance of seeing dolphins.
View a Printer Friendly version of this Story.
Wellington to Boot
Middlesex till we die (IP Logged)
18/03/2013 14:55
What do you think? You can have your say by posting below.
If you do not already have an account
Click here to Register
.
Edited 1 time(s). Last edit at 2013:03:27:00:23:31 by BarmierKev.
Re: Wellington to Boot
18/03/2013 17:06
Another great report. One thing we have our fair share of here is the rain, I ran a Half Marathon yesterday in the worst conditions I have ever run in. Desperate.
Sorry, only registered users may post in this forum.