Robbo rains again.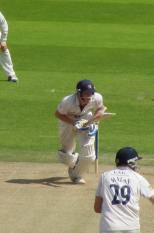 The lads at it again :)
By Diamond
May 8 2013
On a short of reporters day live at the game Diamond picks up the baton from a Twitter,5Livesports extra,internet perspective.
I awoke this morning to rain in London and a not very plesent forecast for Birmingham during the day,in some ways I was glad I hadn't committed to four days in Brum. I got my out and about list of "holiday jobs" done and was home just after 11am thinking I had missed the start of play only to find the comms mike open on BBC Coventry and Warwickshire butno one speaking directly into it. A check with Kevin Hand via Twitter informed me it was a shared link up and that they would be staerting at 11:30,just enough time to crack that first can of the day then.
We won the toss (yet another one this season) and decided to bat first,the Brum guys were sounding very glum that Boyd Rankin was the spearhead of their attack due to injuries and Lions call ups.22-0 after not many overs on what was described as a juicy wicket was a solid start by Buck and Robbo.48-0 off the first 10 overs.I then spent a while ushering one of the local moggies who thinks he lives here out of the open patio window,many is the time I have found him asleep on my bed,thing is he's the same colour as mine just twice the size so gets away with it now and again.
Buck took a blow on the elbow from Rankin and the run rate slakened off a bit.Trott was brought on to bowl in the first hour (how desperate is that?)and Middlesex moved on sedately.Patel on after an hour and a quarter too.
At lunch we had reached 84-0 with Buck 33 n.oand Robbo 48 n.o. Hang on...where's my beer,drunk it I must have,ah well go to the fridge and get another.Comms a bit slow to get back to the mics as play recommences (see it's not just Kev who is late on parade).
85-1 first wicket down as Buck is caught by Ambrose off the bowling of Rankin for 33.PC is playing up,too many windows open at once so I shut a few down,one of them being a very quiet MTWD,where are people during games? Robbo goes to his 50 of 82 balls and I'm now totally confused as 5live sports extra seems to have a different feed than our game ,ah well ,bye bye 5dead then. The 100 is brought up with a Robbo 4 whilst the two BBC west Midlands comms guys are dicussing women shot putters from the 1970's,keep it real guys!!
Chance!! Clarke drops Robbo at slip,sharp one into his stomach off the bowling of Mills and he fails to hang on to it 129-1.Next thing the same guy on a dodgy leg and in the side to bat only is bowling,desperate or what?150 comes up and in the 43rd over Robbo gets a single off Clarke to bring up yet another ton in what has so far been a very good season for him.
Denly then gets himself out coming down the wicket to Patel when he is stumped by Ambrose for 35.Once again looking set this was an unnessecary shot to take on. 180-2. (Robbo 103 not out).Malan gets off the mark with an edgd 4 and I lose the comms link again.No stress in Kevin Hand's voice as I get it back informs me we have not lost another wicket.Lots of banter via Twitter with the guys in the box and the 200 up in 50th over for a bating point.Malan goes LBW for 37 to Patel with the umpire seeming to take forever to raise the finger on him.(First bowling point for Warwickshire).Tea is taken with the session having produced 3 wickets for 164 runs. Robbo 130n.n and Dex 3 n.o.
250 up straight after tea off Trott and with the weather starting to close in neither batsman is looking to play anything too expansive.Dex gets a life off Patel as the rain starts to set in and at 4:52pm the covers are on. Robbo 136 n.o. Dex 21 n.o.
No play at Worcester or Bristol where the rain is coming from and the comms guys think there will be no more today in Birmingham,this is confirmed by Kevin Hand at 5:25pm when he announces on the internet feed that play has been abandoned for the day.
Not my prefered way of "watching" cricket but far better than doing it by checking Twitter on the Motorway (when stationary) and a bit of fun with the banter and everything.
Days 2 and 3 will be covered "Live",let's hope our reporters get some cricket,the forecast is not looking too clever though. Superb knock from Robbo once again,the lad goes from strength to strength.