A rural walk to Radlett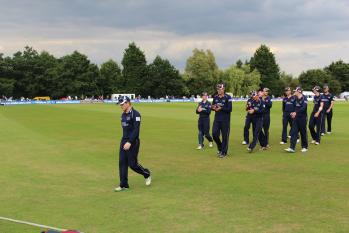 Looks like they walked
By Adelaide
March 13 2016
In the interests of economy, fitness and the environment, Adelaide gives us a detailed guide to a country walk to Radlett Cricket Club. Who needs Google or Sat Navs.
Golf is a good walk spoiled, in a quote attributed, probably mistakenly, to Mark Twain. I'm not sure that Twain's thoughts on cricket are recorded anywhere but perhaps he would have appreciated the 30 minute country walk I took from Borehamwood to Radlett CC for the Kent match last year. Why did I do it? To see how easy it was, basically. And as a service to impoverished supporters who might like getting there for free.
Borehamwood is not high on the tourist wish list, though it does house the studios in which Eastenders and other programmes are made. It also boasts a small Debenhams in one of the retail parks. Not quite as unexpected as Fishpools in the midst of dross at Waltham Cross but a bit of a surprise.
Borehamwood has always been in Hertfordshire but a fair proportion of its housing was originally built for the LCC/GLC. It is near enough to London have a couple of London bus routes, which means that you can use your Oyster, Freedom Pass etc. on them. You can also use a Freedom Pass (at least) to get to Borehamwood Station
The 107 runs between Barnet and Edgware. En route from Barnet it serves the highest point in Greater London, at Arkley, then descends to the border at Stirling Corner. However, the bus we want is the 292, which takes a more direct route from Edgware via Mill Hill and the Barnet by pass. It also serves Borehamwood Station on its way to our intermediate destination at Rossington Avenue. Not the most attractive of destinations but nice and close to the Green Belt. Take either Rossington Avenue or Wetherby Road to get to the main road Theobald Street then turn right
Where the housing is about to run out, you will see a Public Footpath sign on your left
Take this for a few hundred yards and you emerge into a field with a well-defined diagonal path. You are heading for a point near the corner of the field where the railway crosses above the footpath
Go under the railway and continue for a couple of hundred yards, at which point you hit a major road – OK, a major path (note: this is the easiest point to get lost when returning to Borehamwood). Turn right and this takes you at an angle towards another railway bridge. But at this point you need to turn left away from the railway. According to the OS map the field on your right has a "short cut" path across it but I could see no sign of this. so I continued along the path to the corner of the field. Then turn right walking along the western edge of the field, with a wood on your left. A few more minutes and the cricket pitches come into view on the hill ahead. Just carry on past the car parking on your left and you are there, ready for hog roast and ice cream.
The walk is probably not to be recommended when the weather is wet, unless you don't mind gettting your footwear muddy. Mind you, somebody has told me there is a bus from Potters Bar to Radlett that goes by the ground, so I might try that this year…