Yorkie Bar Meltdown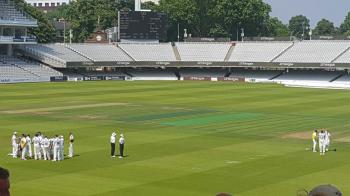 Another drinks break
By Beefy and Hobbo
June 19 2017
Beefy with Hobbo bits describe a hot succesful Middlesex day from their different perspective. MTWD recommend some cold liquid refereshment before reading.
Crucial toss to win. 2 scorecard changes Ollie for Ravi , Hi Fi for Harry. Higgins on debut. There was a minutes silence for the victims of the awful Grenfell disaster.
It was hot and slow start. Our first 8 runs included 6 extras. Hobbo my Yorkie friend arrives at 12:20 just as Compo out 64-1 and he gives a very very loud cheer. Eski survives a drop at 3rd slip soon out for 4. Hobbo complains about the Yorkie players missing and his beer being warm in the sun. It's 88-2 at lunch.
Good afternoon everbody it is sweltering here. Harry Brook is fielding by Hobbo , he looks about 10 and he asks him if Jack Brooks is his dad. Hobbo takes his shirt off and it gets stuck. His mate Deano blames his duck fat . Meanwhile after yet another bar visit there are still complaining about warm beer as soon as it meets the sun. The over rate is -4 and most of the crowd are heading for the shade. At tea it's 228-2. Hobbo continues to moan about warm beer and where have Middlesex fans disappeared to.
Robbo and Stirlo bring up their tons in close succession. Stirlo is out for Nelson. At players drinks break score is 228-3 . Hobo says scoreboard is wrong and shouts "Yorkshire " Yorkshire".
New ball taken it's 292 -3 over rate is -2. I'm knackered so any reporting stops here. Just to say I have seen a Middlesex batting masterclass , shame about the sub standard Yorkie attempts at comedy.
cooler beer