An Uxbridge Too Far for Kev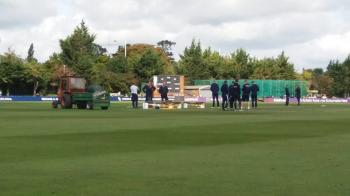 More inspections
By Barmy Kev and Phil Catchpole
September 15 2017
Barmy Kev reports on his frustrations without making to Uxbridge whlie Hants fan Phil Catchpole reports on his frustrations in the ground.
Today unusually for my current circumstances had a free day where potentially I could have watched 96 overs of cricket at Uxbridge. Even if it is a bonus points battle it's a day at cricket.
Ok I would have been fashionably late but in bright sunshine with no overnight rain I was expecting some cricket. I receive a text from Phil Catchpole no play before lunch inspection 1. Also hospitality tent where I thought can have some liquid consolation is sold out. Phil advises "The Groundies have got the water off the square but no groundstaff doing anything till lunch. Ludicrous situation"
I thought still possibly of seeing half a days play. Then there was inspection at 2 then 3 O'clock. Over this period there are still blue skies in Edgware. I gave up then was alerted to a 3:30 start. Had nothing better to do ,so I head for Uxbridge. As I left my front door blue skies turned to grey and by time I was at Canons Park it was peeing down. This rain hit Uxbridge just as players coming out.
Phil Catchpole texted saying play will start 4.15. I didn't believe him. I decided to turn back and do some shopping. Meanwhile play did happen. I have no ball by ball commentary but we seem unlikely to achieve a batting point and Somerset are closing on a victory.
I like to take positives. Glamorgan is a nice place to visit in the summer.
Final comments from Phil. Middlesex 159/7 at close in brilliant sunshine. They spend so much time putting the covers on- well Fletch Lorraine and Gus did. And on a lovely warm sunny evening they come off at 6.10 because "GUS QUOTE" Thats the rules" We've sat around from 10.30 till 4pm waiting for cricket because its not playable but when its playable they stop playing. A Hampshire fan was complaining loudly about play ending ending in sunshine. Gus came over to and spoke to him. He handled the situation well and gave some compensation from his pocket.
Lots of theory as to how tomorrow will go and will Hampshire get 3 quick wickets, declare after a few overs and see what the hosts do. The crowd today about 50 here, mainly Hampshire
View a Printer Friendly version of this Story.
An Uxbridge Too Far for Kev
Middlesex till we die (IP Logged)
15/09/2017 11:59
What do you think? You can have your say by posting below.
If you do not already have an account
Click here to Register
.
Edited 1 time(s). Last edit at 2017:09:18:12:15:52 by BarmierKev.
Sorry, only registered users may post in this forum.