is it all over? It may be soon.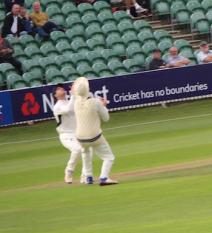 One crucial catch
By Rogers and Out
September 25 2017
Rogera and out reports on a day of fluctuating tension, nerves and lots of wickets. A possible defining day.
Our six year stay in division one is under considerable threat after a bowlers' day at Taunton. Whilst Ravi Patel's seven wickets appeared to put us in a good position, the pitch and the bowling of Jack Leach late in the day would appear to have left us in dire straits.

Arrival at the ground was delayed as many of us boarded the cheaper 9.06 train from Paddington. We were further hindered by the nearest entrance not taking cash admissions, although we were cheered by Harry's opening maiden over from behind a sight screen.

On arrival, we discovered that we had opted for Ravi Patel and Paul Stirling instead of the injured Ollie and Toby.

32/0 after 10 overs was the score when we arrived, and spin in the figure of Ravi Patel from the River End was soon employed. Ed Byrom was fortunate to scoop him just short of Stirlo at a short third man in his first over, but his judicious use of the sweep, both reverse and conventional, brought up a fine half century.

Just when it looked like a totally barren first session for Middlesex, Byrom popped a Stirlo delivery to Voges at slip and our hosts took lunch on 93/1.

That seemed a good total under the conditions and although Trescothick was LBW for 37 to Patel soon after lunch, leaving them 114/2, one felt we had it all to do when we were to bat.

I must admit I missed several wickets whilst trying to get some food at this hopeless ground - ice cream only, and 'I've done for the day' (at 2.45), meant I went hungry whilst we bowled well. Ravi had looked quite ordinary before lunch, but a demon after and he ran out Abell, as well as bowling Bartlett.

A smug home supporter told me they were 204/4 in the toilets after tea, but by the time I'd taken my seat, Ravi had taken another couple of wickets leaving them on 206/6.

Our hope now was to dispatch them for under 250, which was comfortably achieved, with Ravi taking 7/81 from 29.4 overs , and Somerset all out for 236.

If we could make 250 in 110 overs, we would be safe, but, sadly, that looks miles away. Spinner Leach bowled the second over on the dark brown pitch but it was pace man Craig Overton who had Compton caught behind with the last ball of the third over.

The ball was doing plenty, as it had all day, and Leach soon cleaned up both Robbo and Eski. We closed on 18/3 after 15 overs, and the Middlesex faithful headed for the Ring of Bells fearing the worst.

I struck out for the station, this being my last day of cricket for the season, wondering how costly our two point deduction is going to be.