The Kings of Summer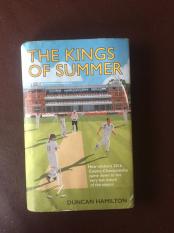 Happy Memories
By Primrose Hillbilly
November 27 2017
Primrose Hillbilly provides us a with a review of the Kings of Summer book, which describes the build up to us winning the County Championship. Remmeber that feat? We hear how heart warming the book is from a Middlesex perspective and the value of four day county cricket. This atrickle hopefully will help cheer you up on these cold winter months and may offer a clue for a seasonal present.
Following the Championship is undoubtedly a passion, and, for some, unquestionably a vocation. Those who don't like it, dismissing the four-day game as a tour - de - force of wasting time, often ask me why I love it. Let me count the ways, I reply. I love the quiet, ruminative atmosphere. I love the small, comfortable rituals of match – day: buying a scorecard, even though the modern scorecards make it unnecessary: the first cup of tea and then the second, the slice of afternoon coffee cake, perhaps a rummage through a second hand bookstall. I love the fact that you are free to roam around a ground as much as the sun does, watching from wherever the mod takes you – a few overs from directly behind the bowler's arm, a few more parked at deep mid – on or deep square leg or from the highest vantage point you can find, where the set of the field is clearer"

"Anyone sceptical about the sporting terms "in the zone" has only to look at Roland – Jones to realise it isn't a myth".

I think I first read about this book in a newspaper, which means it must have been the Sunday Times, and I don't even bother with that any more now. "Hmmmmm .....must look out for it," I thought, and went on to other things.

However, soon after, I was browsing in Waterstone's in Hampstead. A cover in the newly published rack caught my eye, and, much to my surprise, there it was. The vivid blue sky, the white clad figures, and that dark haired one in the middle, with mutton chop side burns, wheeling away, oh, yes, I knew him! Not only that, but I knew exactly the moment captured. where I was, and with whom I'd been sitting. So many little details came flooding back to me. How many books are going to be written about a sporting occasion that you attend, and written in great detail too? It's not as if I might worry about the content. Life is not a dress rehearsal. So, another browsing session ended up with a purchase, and here I am.

"....I love, above all, the camaraderie of Championship cricket. You can watch in solitude while knowing talk and cordial company is easily found if you want it. At any county ground, anyone can go and sit beside a perfect stranger and talk without a formal introduction".

I have quoted these passages to illustrate that this is not a book simply about those few amazing days in September, 2017. It is a homage to county cricket, as it stood in 2017, backed by that unforgettable finish to confound those who would kill it off, before being further emasculated by further fixture reductions by the ECB. As the author comments, the County Championship is being incrementally dismantled, until the opposition (people like he, myself and others) all concede to the inevitable, and chuck in the towel, while the ECB claim to value the competition, whilst doing everything possible to undermine what they see as an anachronistic nuisance.

This book also chimes with me because it is written in tribute to one of the greatest cricket writers, Sir Neville Cardus, whom I used to see in the streets of Marylebone when a lot younger. Cardus loved county cricket and the characters it threw up. Before play on Day One, the author re-traces the route that Cardus would have taken from his flat up to Lord's. He wonders what Cardus would have made of proceedings, but also reflects that Cardus found Lord's "a mass of signboards, teaching you your manners and position in life", as the author also ironically discovers how inhospitable and austere "Lord's, your home of cricket" can be.

However, that is to carp along with the author, Duncan Hamilton, about the backdrop and settings to a play, the outcome of which we know, but whose each turn, twist in the plot, each mini tragedy and disaster leading to the final drama, we may not recall.

He narrates events over four chapters, each dedicated to that day's play, reflecting upon the respective championship positions, the players involved in the match, including the mighty contributions of Tim Bresnan, sparing a thought for Marcus Trescothick and his Somerset team mates, the roles that Gus and Gillespie played for their respective charges, and reports in detail on every significant occurrence as the game evolves – Yorkshire's dropped catches in our first innings (I only remember the ones that Compton dropped in both innings), Gubbin's narrow escape when only one person (maybe two) didn't think he was out, apparently. He describes Mala's getting out to the filth as a moment of pure tragi – comedy, with a diverting aside to J.M. Barrie, creator of Peter Pan,'s abilities as a slow bowler. Comments from the crowd aimed at the players, or those that he overhears add to the atmosphere, as do his descriptions of the glorious autumnal surroundings. It is a glorious portrayal of life as we lived and breathed it and as it gripped us for those four days.

When I read it for the first time, I was still too close to the action, and felt it did not capture exactly how amazing those few days were. Now, having re-read it for this review, I find it achieves this, as well as being a loving tribute and memoir. I greatly enjoyed the wider perspective applied to the game in general. Duncan Hamilton has done an excellent job in describing the climax of the 2016 County Championship, and of reminding us how exciting some four day matches can be. He even gets his wish. – Does anyone know to what I refer?

We end with him looking over the ground, on which there will be no play until next season, and reflecting that – like a lot of us, I guess – as he walks away, he is not really walking away from one cricket season, but towards the next one.

I thoroughly recommend this book. I find it as charming as I do county cricket, and believe that anyone who reads this site would enjoy it.

Now to seek out a browsing opportunity with Duncan Hamilton's other book about county cricket, "A Last English Summer". You never know........... "