Q & A. The opening session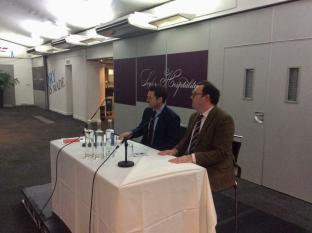 Match made in heaven
By Seaxe Man
December 3 2017
As first of two parter Seaxe Man provides ball by ball commentary on the opening session of the Middlesex/ MCC Q & A. Lots to take in about our relationship with the MCC , with many constructive answers. Read on.
The evening opened with the top table being Guy Lavender the new MCC CEO and Richard Goatley the MX CEO.
On a freezing evening a gathering of not massive, but sufficient numbers to generate questions were present.
The first ten minutes were spent with a statement from Guy Lavender spelling out how he saw his job panning out.
Said he was new to the job, so whilst aware of some issues like the MIddlesex Room, did not profess to have the complete picture as yet.
Mr Lavender, previously of Somerset was also the CEO of the non Test Grounds.
He put the development of the partnership between MCC/MX as a high priority.
He said cricket was changing rapidly and MCC no longer in their old position needed to determine their future role.
On the cricket front he felt that Test Cricket was falling behind - that MCC need to change the perception that were held by many as being a bit stuffy. .
MCC are at the moment bidding for the next round of international matches hoping for 2 Tests and 1 ODI. This covers the period 2020 to 2024.
Also mentioned MCC's re inner city areas and their need to get involved more in encouraging youth in those areas.
Coming up in 2019 staging an Ashes match and the World Cup.
Middlesex Room situation - taken over to provide sufficient office room for MCC office staff. Also there is a need to provide ICC observers with an observation position for the World Cup.
The original plan was to take possession in 2015 with a view to reinstate in 2017.
The proposed ground development did not happen, so, space remained at a premium.
Their were two feasible options 1) reinstate or 2) a new structure upstairs.
The first option if passed by the appropriate MCC Committee before Christmas would enable its return in 2018.
The Upper option would need to be put before the MCC AGM in May, so, even if passed would not be available until work could commence in the winter of 2018.
Scheduling - he quoted women's cricket - MX T20 Blast matches in 2020 he still saw as viable - referred to new franchise T20 competition as an opportunity to get in a new audience - opening up the ground - MCC commercially strong - strengthen community links. End of statement.
RG. scheduling - 7 championship matches at Lords will give MX the chance to get back in Division 1.