Ashes to Ashes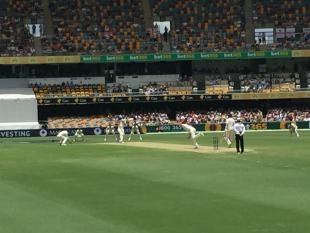 The Gabbatoir
By Pantherlike
December 10 2017
Panthelike MTWD's Aussie correspondent reports on the final nails in the coffin of England's demise in the first Ashes test. This is a great read if you are an Aussie.
Making the trip up from Sydney on the morning of the fourth day, I held a firm belief that the Aussies could finish the game that day.
This was based on a few observations and also a good working knowledge of the Gabba! First the English batting lineup was new and inexperience on Australian soil. Root and Bairstow would be the keys to the English batting as for mine they both possess the deepest reserves of mental fortitude, that intangible quality that test cricketers must have some of, but those with deep reserves can be able to withstand the naked hostility that Australia would be throwing at them in the second innings.
The second innings, is like the second half of a football game. The stakes are higher, the pressure greater and like many round ball games in Blighty, the home team finds new ways to prevail. This was what I expected.
Anyway, I'd made the very early flight to Brisbane from Sydney and apart from missing the next train at the airport, and dropped the bag at the hotel and made it to the Gabba by 9am, an hour before play!
So, I sat down in area 49 or 50 of the lower member's stand, can't remember which and settled for the fray, before the mates arrived. Initially during the warmups, the England players were indeed seen kicking the afore-mentioned round ball around, and if I might conclude: they had chosen their area of sport well (cricket that is…)
The Aussie pace attack, whilst hot being lit up like Guy Fawkes when Mitchell Johnson was the spearhead, still had Starc and Cummins who are just as quick and accurate. This was going to be a handful for the English batting.
Won't bore you all with the stats, which can be readily accessed on Cricinfo, and I bet there's a few who are active in keeping your own records! If ever anyone wanted a copy of the annual ABC cricket book, let me know and I'll see if I can get a copy or three sent over….
As it was, Stoneman and Root who had commenced the day's play, started very well. The bowling from Starc, Hazlewood, Lyon and Cummins were okay and quite satisfactory in that first hour, but Root and Stoneman were cantering along at three or four an over with little trouble, building the English lead out to around seventy.
Just before the drinks break, it all changed. Stoneman managed to get bat to an excellent off break from Lyon and Smith held a sharp catch. You could sense the relief in the arena as most had settled in to the routine of watching a partnership build. That's test cricket, you'll get those phases of the game, where it just goes at its own pace; then Whammo! It changes gear!
Enter Dawid Malan! This little Panther was very excited to see some Middx involvement in the day, given that Finny and TRJ had been necessary withdrawals before the campaign even began. Dawid, initially combatted Lyon and then managed to get Cummins away. I managed to get a couple of photos of Dawid in before, what I felt was inevitable (refer below), in his dismissal, though to a conventional delivery from Lyon, that will have Dawid no doubt ruing. It was a soft dismissal, and set the scene for what was to come.
The Gabba is a unique place to play test cricket in Australia. Doesn't hold a huge crowd like the MCG, but it has a feeling of closing in around you (if you're a visitor) and with the parochial rowdiness of the home fans (even in the members), it's a combination that can unsettle visiting sides, especially more so when they're inexperienced.
Root as the new skipper was in great touch. Working balls to leg, then hitting hard through off, he was clearly in a focussed mindset to go big as his opposite number had done the day earlier. But, after flicking Hazlewood for a boundary to bring up his fifty, fell foul of a full length straight one, that he really should have gotten bat to. Josh, had been aiming to get a full delivery in the right spot (had been spanked a couple of times by the new batsman Moeen Ali) but this was on the money and the England captain was found out in front, and with his dismissal went England's hope sin the game.
From there the wickets fell fairly regularly, but by then, I and mates (one of whom was hosting from a member's perspective) had adjourned to the member's luncheon room and had a wonderful regaling of the Tale of the Bail, a poem written for the Ashes by a local celebrity Rupert McCall, and wonderfully recited by the man himself! If he's agreeable, I'll send over a copy.
Ali contributed as did Bairstow, but once Root was out you knew it would be a matter of time…
Anyway, that night we found a pretty good Thai restaurant and feasted on Moreton Bay Bugs – an absolute must whenever any of you are next in Brisbane.
Cheerio, and here's to a good rest of series!
View a Printer Friendly version of this Story.
Ashes to Ashes
Middlesex till we die (IP Logged)
10/12/2017 19:10
What do you think? You can have your say by posting below.
If you do not already have an account
Click here to Register
.
Edited 1 time(s). Last edit at 2017:12:19:22:49:29 by Leprechaun.
Re: Ashes to Ashes
10/12/2017 19:53
Mitchell Johnson .... Guy Fawkes?

If Mitch had have been born in York (like Guido) I'm sure our English bowling coaches would have wrecked his 95mph pace.

Nice report even thought the outcome was not good for those from Blighty.
Sorry, only registered users may post in this forum.