From Indian Tree cutters to Phil Edmonds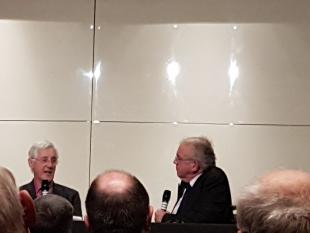 Could still play
By London Leprechaun
March 11 2018
London Leprechanun braved the lack of snow in London and used a good Tube service to attend the Cricket Society meeting with Mike Brearley last week. Lots of topics covered;highlights are here.
Considering the weather there was a decent turnout for the Cricket Society meeting featuring Mike Brearley. As ever he was balanced, thoughtful, erudite and still looks like he could play tomorrow. The evening was the usual format: in the first half he answered questions from Chris Lowe culminating in a conversation about, and plug for, his latest book. In the second half he answered audience questions. We covered a range of topics in the evening from what he thinks about the demise of third man as a fielding position, to the D'Oliveria affair back in the sixties. These are just some of my personal highlights in no particular order:
The difference between being in the zone and being in form. Being in the zone is when you hit the perfect cover drive – technically and aesthetically. In form is a whole different thing and much more difficult to pinpoint and understand why we dip in and out of form – in life as in sport. That is what the book is about. (Which explains why it started out as a paper to a University group and turned into a lengthy book!) To try and illustrate this Mike used the example of an Indian tree cutter he met during his frequent visits to the country. He was intrigued by the skill and physical ability of the man who would scale trees without any safety equipment, often sit on top of the branch he was cutting and knew exactly how to cut individual branches. Over time Mike saw this man develop from a tree cutter to a manager of others, training them in the same skills. From conversations Mike drew parallels with sport asking the tree cutter about how he felt when cutting trees and if he ever felt off form. To which the man replied that he knew when he was making good decisions up the tree and that there were times he knew when not to go up because he would not be safe. In the zone or off form?
Trickiest person to captain: without a doubt Phil Edmonds; both at Middlesex and England. Because Edmonds had the ability to look at someone – even Brearley – as it they were talking absolute rubbish. But the problem was as much, as that arrogant outer persona hid someone probably deeply insecure. An observation not totally surprising to those of us around Middlesex in the Edmonds era.
The future of test cricket. He is concerned about that – that in ten years or so there may only be two or three countries playing test cricket. A Test Championship has not happened yet because of logistics, money and: said only slightly tongue in cheek – there has been no way found to make sure that India will win it!
The state of the domestic game. He is concerned about the marginalisation of the County Championship by the ECB and maybe now by players. But money is important and the ECB have used a lot of the money recently generated to develop women's cricket and disability cricket. There is always a balance and a wider picture.
The changing nature of the MCC. When he played MCC was an arrogant, pompous inward looking club but had great influence on all parts of the global game. For all sorts of reasons, it has changed greatly and become much more locally community minded. He cited things like the Dementia Days at Lord's as examples of this. (As a Lord's volunteer I can agree with him on this! There is going to be an Easter Egg hunt at Lord's in a couple of weeks. Unheard of even ten years ago). They have also made a conscious decision to focus support on elite young cricketers. There are many other initiatives for grassroots cricket.
The Stokes affair. Some of what Mike said on this I can't repeat because of his comments about what may have happened at the incident. But he agreed it seemed illogical to suspend him while the incident was under investigation, then allow him to play once he was charged. He has not met Ben Stokes but he seemed like the kind of person you want in your team but you would be unlikely to have a conversation about philosophy with him after play.
And finally
The D'Oliveria affair and his part in it. A member asked what inner resource Mike drew on when he effectively opposed the governing body of the day and supported the sporting boycott of South Africa (which happened soon after). He explained that he had toured South Africa a little earlier as a young player and was, at the time, not especially political. But what he had seen in the country (remember we are talking about the sixties here) had radicalised him – an interesting use of the word. So, when all the issues happened with the tour to South Africa and then the Stop the Tour movement here there was no doubt he had to speak out. And now there is little doubt that the sporting boycott had a big part to play in the ending of apartheid. And, No, he had never considered going into politics. He is more interested in how and why people function and make decisions. Party politics is not compatible with that.
A really good evening and I am glad I made the effort to go. And it was not even that bad weather in London! The book is called "on Forn" and is available from all jungle based stores and others. Published September 2016.