More Harissment and 2nd Degree Murtagh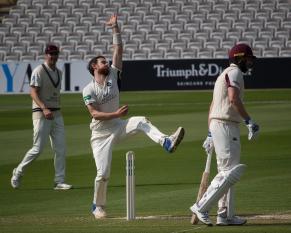 Had a good match
By London Leprechaun
April 15 2018
London Leprechaun gives a remote view of a short and succesful day with Middlesex bowlers carrying on pretty mucn where they left of yesterday.
After the merriment of Day 2 of this match I knew I was not going to make day three in person. So it was a chance to sample the streaming service and the commentary for the first time properly.
I was not able to tune in until about noon by which time it looked promising with three quick wickets. Checking the BBC website, I liked the comment when Hutton came in at three, wondering why Northants had sent a night watchman in just after the start of play. Never found a reason why! Not that it mattered much as he was one of the three early wickets as it sounded like Murts and Harris were carrying on where they left off yesterday. However, in the hour listening just to the commentary while doing some errands, Northants sounded like they were showing a bit more resilience and the commentators suggested that we lacked a bit of intensity. Newton and Wakeley seemed to be batting relatively easily and the scoring rate was healthy enough for me to be glad that the target was still high. Not that Northants were optimistic. Their commentator has little faith in the their batting and at one point reeled of Newton's entire set of scores from last year – lots of forties but nothing higher; making the point that he with others keep getting in, then getting out.
Now one of the problems with listening on a phone is that the commentary keeps cutting out. And so I didn't hear the fourth wicket, but did hear them commenting on a very good catch by Simmo. And then did hear Hilton Cartwright's first over for Middlesex and his first wicket, and the commentator's view that he has a good pace about him. So I was home in time for lunch – mine and Lord's which was just as well because my internet connected TV is very clunky and it took a while to get the feed up on screen. But it was nice to watch the rest of the match as if it was actually on TV especially with very good synchronization with the commentary. It is odd though watching with just the one camera. There was one moment when Cobb heaved a huge shot behind the wicket and the commentary described Simmo and Robbo running back to try and make the catch. But all we could see was Murts standing halfway down the wicket watching as if he was just a spectator.
Not that I had very long to watch as the match finished very quickly. Almost a wicket an over after lunch. Just as well with rain around. I saw a decent catch from Ollie, two obvious lbws, and the easiest caught and bowled you can probably get. All very handy when you can only see what is going on on the pitch and aroiund the slips. It looked and sounded an all round excellent bowling performance – not just today and even without Ollie having to bowl no worries about the over rate. Hard to think of what more you could ask to start the season. Momentum is everything. And selection will be interesting when all our batsmen and bowlers are fit. And nice to see James Harris having such a good all round match.