The Price is not right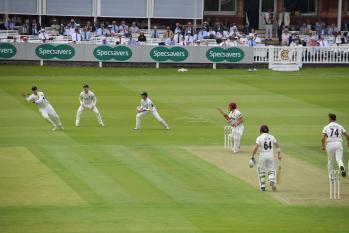 Always good for a catch
By Beefy
April 22 2018
Beefy gives us a concise report on day 1 of our match ast Derby; but we get to hear about prices of various things and even a mention of the Mexicans.
Warm,sunny and blue skies welcome the first day at Derby. After a 25 min treck from the station following two 'cricket people' I arrived at the ground. Both teams warming up. Accept my appologise for a short report,as during the day having chats
I find out we have inserted Derbyshire. Murts opens bowling from racecourse end; We find out the racecourse closed in the 1930's but players used the jockey changing rooms for a few years after. Toby is from City end. 1st wicket as Reece goes for 18; Murts wicket as safe hands Ollie takes a brilliant one handed diving catch to his right. Harris is warming up after 10 overs,and,at 41-1 is on for TRJ.
Food is needed,and reporter uses the mobile food van,£4 for foot long hotdog; looking for Sainsburys tomorrow! Helm and Harris are bowling in tandem,and Harris takes Slater wicket for 32. it's 75-2 Helm appeals for lbw at Hughes,ball kept low but not given by umpire Daggers. We have a conversation about entrance fee,ranged from £14-16,I paid £16,another £14 No idea!
We keep switching bowlers,and,last over before lunch it's wicket for Cartwright it's 117-3,and we get 1st point. Brings in our old friend Billy G.He gets a quickfire 17 then Harris takes his middle stump..that's better! 139-4 . Madsen is facing Murts,and on 47 an appeal for lbw,umpire raises finger and 143-5. 147-6 as Wilson plays a poor lofted shot from Harris and is easily caught by Robbie White off Harris. Chatting to a Derby member,he got educated about our Mexican friends and why Mexican,he is going to tell others! At same time,to my right,someone is talking about being a Middlesex and Mexican member (You can't make it up!) So I explain to Derby member that he is 'Bi' Over rate is -2 as derby are 167-7; Critchley gives Murts catching practice.
Cartwright bowling,on scoreboard he has squad number 99,but he is 35!! A wicket and they are 248-8,strangely enough,a wicket same as lunch, tea was called. I'm guilty to missing wicket! Soon,Derby are 265-9 And then 265 all out With Ollie taking 4 catches. We start to bat,Max soon goes caught behind for for 1,tight bowling by ex-mex Rampaul Keeping us in check,we are 18-1 off 12 overs and 11 Extras. 23-2 as Robbie White is out,caught 2nd slip. Our overseas player Hilts comes in. During our early inns,a sub fielder for derby comes on,covering for Billy who limped off. Our new overseas star,Hilton Cartwright comes in; it's 45-2.Soon,our score reaches 45-3 as Cartwright plays a poor shot and edges to slip.This brings Ollie as nightwatchman (I don't like the use,but hey ho).